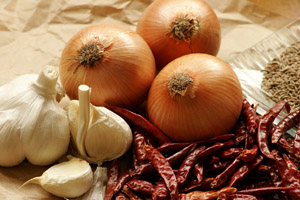 What inspired your decision to become a chef?
I fell into it, so to speak, through the back door. While trying to make it as a musician (lack of talent eventually won out), I washed pots and pans in a restaurant to keep body and soul together. I quickly discovered that I had a real interest in cooking and never looked back.
What is the one item in your kitchen you can't live without?
A good set of knives. To me these are essential in any kitchen and, even in a domestic situation, make life a lot easier when preparing any food.
How do you think the Australian restaurant scene has changed in recent years?
It has become far more professional. No longer an industry staffed by part timers, it is now regarded as a serious career choice with a subsequent improvement in standards. Also, the number of chefs and front of house staff who have worked overseas in some of the great restaurants has lifted the bar.
Why do you think your show has been able to achieve such success? What is your secret?
We have never lost sight of the fact that our show is about teaching people to cook — getting them out of the freezer cabinet and take away shop and into the kitchen. Good, simple food with flair made with freely available ingredients.
What's on the cards for Huey in 2007?
Another series of Never Trust a Skinny Cook (the first series aired in over 90 countries), and another 200 episodes for Huey's Cooking Adventures.
The markets in Thailand, many of which are open day and night, are fantastic. My favourite was the bustling Night Bazaar in Bangkok, which was complete with a huge auditorium surrounded by food stalls of all shapes and sizes. Actually, this is about Thailand's oldest market site because it was situated on the original China-Southern Thailand route and, for centuries, it is where the various nationalities have traded their wares. It is also where I tasted some fabulous mussel cakes, which I couldn't wait to attempt to recreate .
Thai mussel cakes with stirfried beanshoots
Serves 4
Ingredients
1kg mussels, debearded
50gm plain flour
40gm cornflour
1 egg
1 tbsp Asian fish sauce
1 tspn shaved palm sugar
60ml water
vegetable oil
2 handfuls beanshoots, washed & drained
6 spring (green) onions, shredded
1 garlic clove, crushed
soy sauce
2 long chillies, seeded & sliced
Method
1. Cook mussels, covered, in a little water until opened, removing them as they do so and discarding any that don't.
2. Remove meat and chop coarsely.
3. Whisk the flours, egg, fish sauce, palm sugar and up to 60ml water to form a smooth batter.
4. Add chopped mussels and mix well. Then heat a thin layer of oil in a large pan and drop tablespoons of the mussel mixture in without overcrowding. Cook until golden on both sides, then drain well on kitchen paper towels.
5. While the cakes are cooking, heat a little oil in a wok (or non-stick frypan) and quickly stirfry beanshoots, spring onions and garlic until crisp-tender.
6. To serve, arrange cakes on a large plate (or individual plates), sprinkle with a little soy, mound with beanshoots and then sprinkle with chillies.