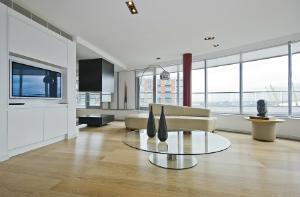 Seagrass, a boutique residential development by Sydney-based property developer, Augusta Properties, is set in Byron Shire on the New South Wales far north coast, adjacent to the Ocean Shores Golf and Country Club and across from the Pacific Ocean.
By Lynn Malone
Surrounded by miles of pristine ocean shorelines, 11 national nature reserves and the Brunswick River, the development consists of 16 architecturally designed private residences, each with three bedrooms, 2.5 bathrooms and a double garage, with an emphasis on indoor/outdoor living and landscape and incorporating state-of-the-art sustainable building practices. Living areas range from 190sqm to 230sqm, and total on-title area, which includes living area, garden and garage, range from 250sqm to 430sqm.
September 2008 marked the Augusta Properties completion of the $22.5 million Seagrass development and the commencement of a sales and marketing campaign, with homes priced from $1.175 million to $1.65 million. The project was completed on time and within the established budget.
A few years ago while on a family holiday in Byron Bay, Augusta Properties director Martin Hillier discovered the existence of the 5062sqm undeveloped property through local real estate agent, Richard Ferris. In Hillier's view, the Ocean Shores property ticked all the boxes as a prime site for an exclusive residential development: close proximity to, and expansive views of, the ocean (a 400m walk), and the property backs onto a championship nationally ranked golf course and has equally impressive views of the hinterland ranges. Fellow Augusta Properties directors Brian Tasker and Wayne Smith concurred and the Ocean Shores property was purchased in December 2005. 
The Ocean Shores property came with a development approval to construct a 26-room hotel complex, however the Augusta Property directors believed a luxury residential community as initially envisioned by Hillier was a better use of this prized coastal building site that offered prospective residential property buyers an alternative to regional townships such as Byron Bay and Bangalow, which have enjoyed significant capital growth over the last several years.
In addition to the its proximity to the sea, the Ocean Shores community has a lot going for it, with access to three airports, proximity to Byron Bay cultural and shopping infrastructure, and recreational amenities such as a championship golf course on the doorstep. Ocean Shores Golf & Country Club, ranked consistently by Australian Golf Digest in the Top 100 Australian Golf Courses, is a par 72 championship golf course designed in 1972 by USPGA golf professional and golf course architect, Bruce Devlin. The 6359m course is known in golfing circles for its tight fairways contrasted by generously sized putting greens.
With major highway roadwork now completed from the Gold Coast to the area, Seagrass is a 30-minute drive from Coolangatta Airport and 30 minutes from Ballina Regional Airport, which allows comfortable accessibility for regional commuters and dual-resident owners from capital cities such as Melbourne, Sydney and Brisbane. Seagrass is less than two hours from the Brisbane International Airport and Brisbane CBD.
Once a project brief was determined by the directors, the next step was to appoint an architect with the skill set and experience required to transform the elevated building site to its full potential. The quality of design concepts were not to be measured in terms of maximising the number of dwellings on the site, but on building a residential neighbourhood that embraced the land, created an environment people wanted to call home, an asset to the Byron Bay shire, and a viable commercial investment for Augusta Properties and its clients.
Hillier had long admired the architectural style of Nanna and Stephen Lesiuk and their Palm Beach-based architectural practice, Lesiuk Architects, and was on the lookout for an appropriate project to engage their services.
Best known for a landscape-driven design vocabulary and use of sustainable and locally sourced building materials long before it became fashionable, Lesiuk Architects was selected as the Seagrass architectural and landscape designer. In Hillier's words, "We wanted an architect with design magic.
"Appointing the right architect proved key to the Seagrass success. The design and construction team led by Lesiuk Architects sought to invoke best practice standards throughout all aspects of the development. In a joint collaboration they worked up to and beyond any statutory obligations to provide sustainable and comfortable living spaces for the Seagrass community that complements its natural environment," Hillier says.
With a reputation as one of the top quality northern coast region building contractors, Ware Building, an Australian-owned and managed company, was appointed as Seagrass builder under the supervision of construction manager, Marty Brennan.
It was the intent of the architects to design dwellings that integrated into the landscape and the built form to bring together a sense of harmony and balance as epitomised in nature. Stephen Lesiuk adds, "Seagrass development in its totality is crafted as a landscape — a landscape for living.
"The character of the development was drawn from the traditional vernacular structures of the NSW far north coast, such as overhanging roof scapes, wide verandas and the textural building materials," he says. "These traditional and historic references have been integrated with contemporary craft of environmental design and specifically, energy and water conservation."
Split-level structuring positions the homes to unimpeded maximised vistas to the sea, golf course and hinterlands, while retaining privacy of its respective residents. The 16 homes are positioned as a cluster of three separate buildings in a stepped configuration following the natural contour of the elevated building site, with streetscapes formed to create a village-like characteristic symbolic of the Byron Bay shire towns and villages.
Each home has a uniquely detailed floor plan and features, yet there is a consistent design vernacular that resonates throughout the development. Interior finishes and surfaces are purposely varied throughout the 16 homes to enrich the diversity and individuality. A warm colour palette and combination of textural materials such as Australian hardwood floorboards, locally sourced limestone pavers and natural wool carpet contrasted with rendered masonry walls create a setting to enhance the liveability, functionality and easy maintenance of the homes.
Seven of the homes include private outdoor plunge pools and water features, with gardens planted to impart the lush tropical vegetation for which the NSW far north coast landscape is renowned. The centre cluster of homes has internally focused gardens and verandas with mature trees canopies.
Interior and exterior living spaces are seamlessly transitioned by way of oversized sliding glass doors, regarding the outdoor living spaces with equal significance and attention to detail. "Indoor and outdoor living is the essence of Seagrass," states Lesiuk. "The landscape permeates the development's village-like structure, creating a diverse configuration of outdoor rooms and spaces unified by the establishment of a tree canopy and ground plants. Specific indigenous trees and understorey native plants were selected to ensure they were in keeping with the NSW far north coast environment."
Architectural elements and building materials have been combined to reduce the energy requirements of the Seagrass homes. Thermal comfort, energy usage and water consumption are measured by the NSW government BASIX index. Seagrass homes provide an average 43 per cent surplus to the standard building requirement, with 12 homes achieving a 5-star rating and the balance achieving a 4.5-star rating. For Seagrass residents, the results limited the need for mechanical cooling in the warmer months and heating in the cooler months, with minimal daytime artificial lighting required.
What Augusta Properties perceived as a potential concern that did not actuate was its dealings with the Byron Shire Council, well-known for stringent development guidelines. The Seagrass development application was submitted and approved in less than four months, an unprecedented achievement.
Mayor Jan Barham says, "Augusta Properties came to the shire with good intent and appreciated what Byron Bay is about in terms of protecting and enhancing the local environment, which made it easy for Seagrass to move through the development approval process.
"They handpicked a quality architect who worked co-operatively with council from day one to understand the various requirements it places on new developments in the area.
"Seagrass is a reflection of the culture and sense of place that Byron offers. This eco-sensitive development will be used as a showcase for other developers planning to move into the area," Barham adds.
"It is a great example of Council and a developer working together to achieve an outstanding quality designed and eco-friendly development result for the local area."
Prospective Seagrass buyers are metropolitan business owners and professionals looking to purchase a holiday home with the intention of making it their permanent home as their initial careers wind down. In particular, a buyer seeking a residence away from the hustle and bustle of Byron Bay with the conveniences the town offers, given it is only 15 minutes away. As Hillier surmised, "We're picking up on the trend where southern Queensland residents are relocating from highly populated areas in search of a less hectic lifestyle yet with accessibility to airports, vibrancy and growth. It's the laid-back lifestyle that Byron Bay was several years ago."
The Seagrass team has strived to invoke world-best practice construction standards and worked above and beyond any statutory obligations and expectations of its finished product in providing sustainable and comfortable living spaces for a new community and its place in nature.
Augusta Properties has expertise in residential, commercial, industrial and retail property markets, having successfully undertaken development projects along the Australian eastern seaboard in both regional and metropolitan localities. Winning the prestigious Property Council of Australia Best Development in Australia award for Riverside Corporate Park in 2000 is indicative of the standards and values that Augusta Property directors, Brian Tasker, Martin Hillier and Wayne Smith apply to the company's development projects.
Select Augusta Property developments currently underway include a business park in Bankstown, a waterside development at Pottsville Beach and a Southern Highlands residential subdivision.
LESIUK ARCHITECTS PTY LTD 1118 Barrenjoey Road, Palm Beach NSW 2108 TEL 02 9974 1010 FAX 02 9974 5502 EMAIL lesiukarchltects@bigpond.com
AUGUSTA PROPERTIES Level 2, 16 Byfield Street, North Ryde NSW 2113 TEL 02 9889 7550 FAX 02 9889 7559 WEBSITE www.augustaproperties.com.au
WARE BUILDING Tuncurry Business Centre 20/60 Manning Street, Tuncurry NSW 2428 TEL 02 6554 8171 FAX 02 6555 6372 WEBSITE www.warebuilding.com