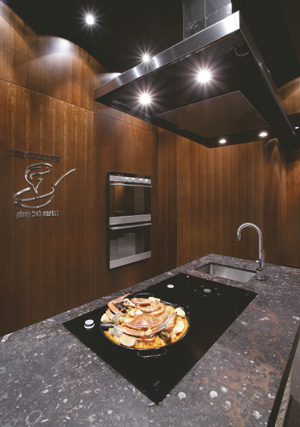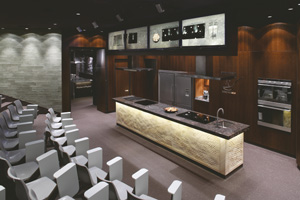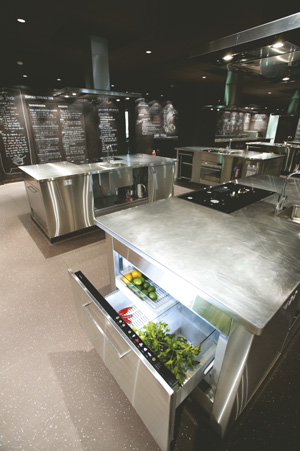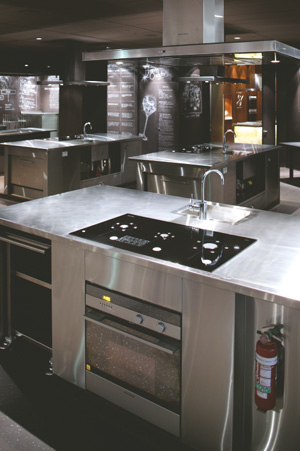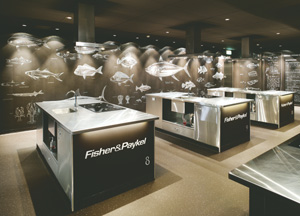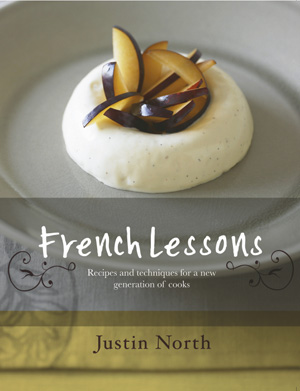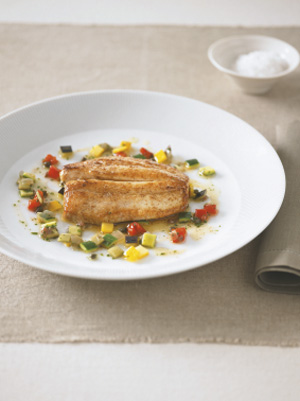 ISSUE NUMBER 17.1

I arrive with some trepidation at the Sydney Fish Markets on a warm November evening for my first foray into the Sydney Seafood School's cooking classes. Making my way up the stairs, I join a throng of eager classmates waiting to enter the newly refurbished school, designed by Michael McCann of Dreamtime Australia.
The door opens and we file in, past an exquisite spot-lit, sculpted sandstone slab, sandblasted in a fisherman's net relief pattern by renowned artist Mick Purdy, and I note with pleasure that the sandstone is repeated on the front of the island bench in the demonstration kitchen. It's a lovely natural touch in the midst of some pretty upscale technology.
The kitchen is fitted out with the latest in Fisher & Paykel appliances including two ceiling-mounted Izona VentSurfaces, an Izona Cook Surface, an induction cooktop, a pyrolytic double oven and a massive designer refrigerator. A stunning aubergine granite benchtop is the perfect match for the oak-clad kitchen which features teal-coloured Icelandic salmon leather-clad walls.
Justin North and his assistant, Kim, are already in motion in the demonstration kitchen. Tonight we are cooking two dishes: Sweet Corn Veloute with Sauté of Prawns and Sherry Chantilly, and Flathead wrapped in Serrano Ham with Potato Fondant, Carrot Purée and Jus Gras.
Kim has begun preparation on the Jus Gras, as this takes quite some time, and is making a batch that will be shared by all the students. Justin takes the opportunity at the beginning of the presentation to share the food philosophy that is put into practice at his restaurants, Becasse and Etch. He also explains the process they undertake to source fresh produce and tells us that the menus change according to seasonality and what is available. "Seasonal equals regional," he tells us. "Regional is not necessarily rustic but it is cuisine suited to the produce."
Then it's onto the actual demonstration. We whip out pens and stare fixedly at the action, trying desperately to absorb all the detail and information we are given. Four flat-screen televisions are mounted above the demonstration bench in place of the more traditional slanted mirrors.
The information comes thick and fast with plenty of detail, not just about what we are cooking, but why, when and how. I learn a few new facts — potatoes kept in the fridge will stay fresher longer as the cool air slows the ageing process.
Almost before we can blink it's time for any final questions, then we move through to the adjacent hands-on kitchen. Spot lighting from Hettich around the perimeter gives the space a dramatic quality, while gleaming stainless-steel benches stand at the ready. We divide into groups of five and gaze, with quite some trepidation, at the task list in front of us.
There's no time for panic, though, so we delve into the Fisher & Paykel CoolDrawer and begin to divide the various items between each dish. Our team works well together — no egos or grandstanding — and we quickly allocate tasks. I'm given the job of peeling and deveining the prawns — a messy job but one I relish. I just wish I was as quick and deft as Justin was in his demonstration!
All in all, we progress well and are on time with most tasks. We only suffer one slight setback when we discover there aren't enough blenders to go around and we need to share with another table, but this only holds us up momentarily.
The décor in this part of the school is slightly different to the demonstration kitchen. Painted in a deep chocolate chalkboard, the walls are decorated with white chalk artwork from Joy Godley of Wallcandy and feature a plethora of ideas and information from native fish and shellfish species to recipes, utensils, techniques etc…
The stainless-steel benches are equipped with the same Fisher & Paykel appliances as the demonstration kitchen, as well as soft-close drawers and strip lighting from Hettich.
Justin and Kim circle the room, along with a couple of attendants from the school, to offer assistance, advice, and even lend a helping hand when needed. Finally, we are finished and we plate-up, feeling extra professional as we do so. Taking our plates, we move through to the dining room and take a well-earned seat to enjoy the fruits of our labour.
Among our group, we give each other a pat on the back — it really was a team effort. After devouring our meal (we were all quite hungry by this stage) we fill out a short questionnaire and make our way home with tummies full of delicious food and a great sense of satisfaction that we created it ourselves.
Q&A — Justin North
What (or who) sparked your love of cooking?
It wasn't just one thing or person. It was more like slow food — a gradual awakening. The more people I met and the more chefs I worked with, the more passionate I grew. I was always around fresh produce as a child and my parents grew their own vegies at home so I was exposed to the idea of seasonal produce from a young age.
What is your favourite dish to cook for family and friends and why?
I like to keep it very simple. We are really rushed during the day so I try to keep it simple, but healthy. I want to give the kids a good start but I also feel my wife and I should eat well in order to support our busy lifestyles. Not everything can be organic but we try to make sure it's fresh and beautiful and that we have a balanced meal every night.
What is the one item you can't live without in the kitchen?
Salt. It's so important to season food properly. It brings out the flavour of food and can make something bland into something interesting. I don't promote excessive use of salt, but it is one of the most integral ingredients in cooking.
What do you love about cooking for a living in Australia?
The diversity. I love how in touch and how close we can be with producers. This builds great relationships and ensures we offer the best produce available. I also love the opportunities that Australia offers — not just with the restaurant but also the chance to write, and I find Australia a great platform to communicate my passion for food through cooking schools, cook books, TV, radio and other media.
What's next for Justin North?
Two of my books are being reprinted and relaunched in 2010 and I've got lots of ideas for other book titles. But we doubled the size of our company in the last 12 months so in the near future we'll be consolidating our position, getting the right systems in place and making sure we have things running smoothly. We want to build a good team and then move forward from there. There's lots I want to do but now is the time to focus and strengthen our brands.
Pan-fried John Dory
There are few things better than tender fillets of white flat fish, fried in butter to a crisp golden brown and served with a wedge of lemon. But if you want to go one step further, try serving this Dory with Confit Kipfler Potatoes, a chunky Caponata Dressing and a Sweet and Sour Capsicum Emulsion.
Serves 4
Prep time five minutes
Cooking time eight minutes
4 x 200g John Dory fillets, skins on
salt and pepper
20ml grapeseed or canola oil
60g butter
few drops of lemon juice
Season the fish fillets lightly on the fleshy side. Heat the oil in a heavy-based frying pan on a medium-high heat. Add the fish to the pan, seasoned side down, and fry for three minutes. Season the skin side. Add the butter to the pan and cook to a light brown foam. Lift the fish carefully to check its colour, and when it is a light golden brown turn onto the skin side. Add the lemon juice and continue to fry for another couple of minutes, basting continuously. Use a sharp knife to check the fish at its thickest place; it should still be slightly translucent.
Serve straight away, skin down, on warm serving plates.
French Lessons by Justin North $59.95 (Hardback). Published by Hardie Grant Books.
WHO, WHAT, WHERE

SYDNEY SEAFOOD SCHOOL
Bank Street, Pyrmont NSW 2009
Phone (02) 9004 1111
Email sss@sydneyfishmarket.com.au
Website www.sydneyfishmarket.com.au
Bécasse
204 Clarence Street, Sydney NSW 2000
Phone (02) 9283 3440
Website www.becasse.com.au
Etch

62 Bridge Street, Sydney NSW 2000
Phone (02) 9247 4777
Website www.etchdining.com