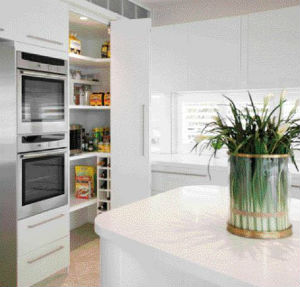 Soft, contoured lines give way to an edgy, bold design.
With no harsh corners or edges, this kitchen is extremely easy on the eye. Dean Welsh and the Sydney Kitchens team have utilised the building's unique circular shape and built a kitchen to become the home's star attraction.
Dean has used the room's distinctive dimensions to his advantage to create an incredibly practical and functional space. To maximise storage, rows of long, linear drawers line the stretch of rounded wall, while a host of matching polyurethane cabinetry was also incorporated into the design. The drawers and cupboards are equipped with a collection of internal hardware including soft-close mechanisms to elevate the kitchen's workability.
A circular island bench, topped with crisp white Corian, was fashioned to match its curvaceous surroundings. "I really like the form of the island — the way joinery creates a seamless appearance with the Corian benchtop material," says kitchen designer Dean Welsh. "This enables you to create curves that follow the detail of the shape of the island in the ceiling." Complete with a handy sink, seating area and higher-than-average benchtops, the island easily caters for food preparation, casual dining and entertaining.
With its soft, contoured shapes coupled with practical cooking, preparation and storage solutions, the kitchen has become the defining feature of the larger living area. The Sydney Kitchens team has definitely thought "outside the square" with this design and crafted a stylish, innovative design that makes great use of the circular surroundings — and the stunning water views.