Many companies are involved in exciting new developments and are releasing innovative products.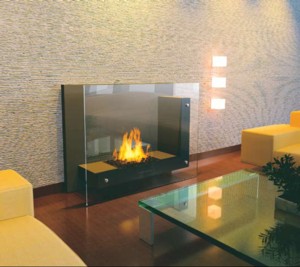 New sense of fire
"Biofires are set to be the next big thing in decorative fireplace solutions," says Nicholas Agnew of Agnews Fireplaces in Melbourne. According to Nicholas, "With an increase in apartment and townhouse living we are often asked to help with fireplace settings for spaces that are not always ideally suited for wood or gas burning systems. The Planika range of biofires has given us some interesting new options for awkward areas and upstairs locations, where conventional fireplaces can't be fitted." Biofires are fuelled by eco-friendly ethanol-based fuels. The burner unit is a compact refillable, self-contained module that contains enough biofuel to burn happily for two to five hours, depending on its size. No smoke or smell is emitted, just a bit of steam and very low levels of CO² in proportions similar to those contained in air exhaled by humans. "The Planika Anthracite is proving to be a real hit with contemporary homemakers," comments Nicholas. "It's a compact freestanding fireplace that sits well against a feature wall or even as a stand-alone piece. Its modular styling and use of lacquered finishes, stainless steel and glass co-ordinate successfully with today's popular furnishing mix. I'm sure there will be a growing interest in these fireplace options as people get to understand the benefits. They've already taken off in a big way in Europe and the Australian home-maker won't be far behind."
For more information, contact Agnews Fireplaces on 03 9426 2900 or visit www.agnews.com.au
Indulge your senses
An exciting and exclusive new product available through Aqua Bathroom Wares is the new A1210 Series two-person luxury spa bubble bath. Its functions include a double massage system with 18 water jets, 16 air bubble jets and a 15-inch flat colour LCD TV/AV. It is also fitted with speakers, a water level detector, underwater colour lamps, touchscreen control panel, double water pumps and thermostat control. All of Aqua Bathware Wares' spas have been tested and comply with the safety and electrical standards of Australia.
For more information, contact Aqua Bathware Wares on 08 8359 8373 or visit www.aquabw.com.au
Comfortable with crystals
Imagine snuggling into bed with an unparalleled Swarovski crystal quilt set. Made from taffeta silk with encrusted Swarovski crystals, this quilt optimises comfort and decorating opulence. Available in a range of colours and designs, these quilt sets are so unique you can even have your own name or design encrusted onto the quilt in Swarovski crystals. All quilt sets are one of a kind in Australia and exclusive to Casa Viva Interiors.
For more information, contact Casa Viva Interiors on 07 5529 2962 or visit www.casavivainteriors.com.au
Such a breeze
Breeze uses the famed Hularo brand (of Germany) polyethylene loom fibre over a galvanised frame. Ideal for those who don't want bulky cushions but still want comfort for outdoor lounging, this inspired design is suited to outdoor use but works equally well indoors for a seamless transition from inside to out. Breeze is the latest in the extensive range of woven outdoor furniture by Casualife, which also boasts commercial and residential ranges of teak and aluminium outdoor furniture and specialist shade products. Available nationally.
For more information, contact Casualife All Weather Furniture on 03 9702 3222 or visit www.casualife.com.au
Classic furniture
"The Classics" by Stanley Furniture is a range of bedroom collections that epitomises the unique style and universal appeal of simple, statement-making design that never goes out of style. It is offered in five mix-and-match timber finishes in each style. The three ranges within The Classics collections are: Louis Philippe, British Colonial and American Traditional. Traditional styling, eclectically mixed. This range is only one in more than 50 different groups within the Stanley Furniture Collection, including Young America, which features children's bedroom furniture.
For more information on the range, contact Globe Imports on 02 9899 4768 or visit www.globeimports.com.au
Rain or shine
No matter what the weather, with the Iizel range of IP56-rated weatherproof outdoor LCD TVs, you can enjoy your favourite movie or watch the latest sporting event alfresco. Of robust design, Iizel TVs provide high-quality image performance and make it possible to enjoy the best that digital entertainment offers. The TVs are available in six sizes, starting at 32 inches and ending at 70 inches. Optional speakers are also available, as are twin-lock, theftresistant weatherproof wall mounts. Iizel TVs are designed to work in temperatures up to 45 degrees Celsius and in windy, rainy, dusty or humid conditions.
For more information, contact Herma Technologies on 1300 730 025 or visit www.herma.com.au/iizel
New and Improved
Redefine the way you think about fireplaces — where they should be located and how they should look. The small, square shape and shallow depth of Soho allows for creative installations as big as your imagination. The clean design merges simplicity and elegance. Define your fire with a black, brushed stainless-steel or glass façade. Modern black onyx, multi-coloured pebbles or crushed glass allow you to combine art and fire to accent your décor. Reflective panels offer unsurpassed ambience and style. No power is required for The Soho, with its battery-powered Intellifire Ignition System. Being a balanced flue, the Soho is a completely sealed system, drawing 100 per cent of combustion air from the outdoors and exhausting all combustion by-products back outside, with no effect on indoor air quality. In addition, cold air drafts are eliminated and heat output is maximised. No electricity, power venting or fan is required to operate, eliminating the need for a conventional chimney and allowing for installation in nearly any room of the home.
For more information, contact Jetmaster on 1300 JETMASTER or visit www.jetmaster.com.au
World's first textured splashbacks
Kitcheners Kitchens shines with the world's first textured coloured glass. The company is delighted to offer clients exclusive Designer Range splashbacks with their new custom-made kitchens. These innovative splashbacks have the world's first patented coloured textured finishes on toughened safety glass. According to Michael Kitchener, "It's the most stylish way to give a kitchen a facelift, creating more depth, light and feeling of space." Thanks to the unique ultra-violet inhibitors, the glass provides exciting design options for all kitchen styles. Made from imported crushed organic and man-made materials, they are offered in a limited range of textures and colours.
For more information, contact Kitcheners Kitchens on 1800 826 144 or visit www.kitcheners.com.au
Reaching new heights in brick
Taking an adventurous approach to colour and finishes and replacing the earthiness of conventional brick appearance, PGH Bricks and Pavers™ is launching a new, semi-glaze range of products — the Altitude collection. The four products — Apollo, Olympus, Everest and Polaris — have been derived from a collaborative relationship between PGH Bricks™ and Colourways, an independent forecasting body located in Melbourne. The palette is sophisticated in appearance and each colour exudes its own unique warmth with the variation in intensity of colour across each face. With their sharp contours, there is nothing superficial — they are honest and simple in their appearance, disguising the complexity of their composition.
For more information, contact PGH Bricks & Pavers on 131 579 or visit www.pghbricks.com.au
Music to your ears
There are four pianos in the Yamaha MODUS Digital Piano range and these funky keyboards are now available from Len Wallis Audio. The digital pianos not only look stunning, but can play music on their own (there are 50 pre-set classical and jazz numbers) and when you do play them yourself, the key feel and sound are extraordinary. Based on Yamaha's famous and proven Clavinova technology, these digital pianos are about as close as you can get to their acoustic counterparts. The piano "voice" is sampled from Yamaha's famed CF111S concert grand, with a truly authentic realism. The keyboard uses wooden white keys to recreate as closely as possible the experience of playing an actual acoustic grand piano.
For more information, contact Len Wallis Audio on 02 9427 6755.
All-in-one
The new CNes 6256 combined refrigerator-freezer, 91cm wide with a net capacity of approximately 500 litres, is a perfect example of Liebherr quality. It features the elegant French door design for the stainless-steel doors, solid aluminium handles and a virtually uninterrupted front. This innovation is an eye-catcher in any kitchen environment. The freezer compartment of the new CNes 6256 freshness centre is composed of two extending drawers mounted on telescopic rails. The professional NoFrost technology provides "never defrost again" convenience. The food is frozen with chilled re-circulating air, as in appliances for professional use, making defrosting a thing of the past.
For more information on this Liebherr product, contact Andi-Co Australia Pty Ltd on 1800 685 899 or visit www.andico.com.au or www.liebherr.com
Minimal footprint
Lift Shop is Australia's leading residential lift specialist with a wide range of home elevators that are custom-designed for customers yet still present incredible value. BRW magazine recently recognised Lift Shop for the fourth successive fast-growth award, an amazing achievement given the national downturn in construction. Lift Shop attributes its incredible and sustained performance to a hard-working team, quality finishes and products, incredible features and a massive technological edge over the competition. Clients are intelligent and do proper research; if you are not genuinely good you will not be selected. Pictured is the Elfo, an Italian-designed and -made styled-to-suit solution, making a minimal footprint and taking up little space. It is the preferred choice of Michael McCann, 2008 Australian Designer of the Year, and is beautifully demonstrated at Steel Restaurant in Sydney's CBD.
For more information, contact Lift Shop on 1800 440 714 or visit www.liftshop.com.au
Warmth and comfort
Real Flame fireplaces are renowned for enhancing the mood and ambience of any home. Unlike other fireplace companies, Real Flame not only heats space, but creates a feeling of warmth and comfort. The 1800 Panorama, the widest fireplace on the market, is one of Real Flame's flagship designs. This unique, visually outstanding fireplace will be the focal point of any home. Real Flame also has many other fantastic standalone fireplace concepts, such as the Captiva 600 — an environmentally friendly fireplace — Pyrotech, Heatseeker, Modular and Power Flue system.
For more information, contact Real Flame on 03 9428 4443 or visit www.realflame.com.au
Style and strength
Create a stylish and durable kitchen with the versatile range of engineered stone surfaces by SmartStone. Combining the look of natural stone with the latest engineering technology, SmartStone Quartz is an ideal choice for benchtops and splashbacks. It is made from 95 per cent quartz plus advanced resins that make it remarkably strong and virtually maintenance-free. For the kitchen floor, SmartStone Marble offers a luxurious range of surfaces combining the timeless beauty of marble with the superior performance and consistency of engineered stone. They are remarkably durable and easy to work with compared to natural marble, and are available in polished and matte finish, the perfect solution to suit today's contemporary kitchen style.
For more information, contact SmartStone on 1300 888 607 or visit www.smartstone.com.au
Planet leather
For those individuals who value unique design and quality, Sovereign Interiors has sourced the finest Italian leather furniture. Clients of Sovereign Interiors are able to customise their beautiful made-to-order leather lounge — Planet Leather — based on their individual requirements. The leather hides that are available vary in thickness from 1.4mm to 2.5mm, and there is also a wide variety of gorgeous colours to choose from. There is the right lounge to suit every décor, from classic to ultra-modern.
For more information, contact Sovereign Interiors on 07 5592 0161 or visit www.sovereigninteriors.com.au
Beautifully detailed
Part of Robertsons new British collection, this recycled handcarved Georgian mirror has been made from old English reclaimed pine timbers. Beautifully detailed and quite exceptional, the piece is 2.68m in height x 1.68m wide. The collection includes old worn leather Chesterfields, aged recycled wood tables, and eccentricity pieces. Limited issue and exclusive to Robertsons.
For more information, contact Robertsons Furniture & Interior Design on 07 5592 1677 or visit www.robertsonsdesign.com.au
New kids on the bok
Designer Daniel Calleja of Bok Design + Joinery has launched a new range of designer entertainment units called Bok Basics. The units are available in three sizes — 1800mm, 2100mm and 2400mm wide — and are finished in a new wood-grain-textured laminate with frosted-glass aluminium doors and custom-designed and -made cast feet exclusive to Bok Design + Joinery. The feet give the unit a chunky, contemporary, industrial feel. These units are aimed at the mid-range market and are designed and manufactured here in Australia. These units will soon be available through select stockists and Bok Design + Joinery will also be bringing out other pieces to complement the range.
For more information, contact Bok Design + Joinery on 03 9830 1200 or visit www.bokdj.com.au
Bathroom elegance
The prestigious and elegant style that is the world of Versace meets high function and design in your bathroom and home. Versace Home has created a collection of luxury tapware, bathroom accessories and cabinet hardware to appeal to the most discerning home owner. Versace designs highly aesthetic and functional faucets, taps, showerheads, towel rails, bidet sets, thermostatic mixers, toilet brush holders and door handles. Precious materials are used throughout the collection and each piece is individually hand-finished. Each piece in the collection is diecast bronze for a lifetime of use and is finished in 24-carat gold and palladium or chrome. Versace Home accessories integrate sophisticated elegance in all areas, with tissue holders, soap holders, glass cups, lidded jars and liquid soap dispensers also available. Versace Home interior design services are now available throughout Australia.
For more information on the Versace Home collection and services, contact 02 9550 4885 or email versacehome@palazzocollezioni.com
Pure luxury
"Peluche" by Australian manufacturer, Velieris, is the ultimate in deep-pile luxury carpet. Made from pure, undyed alpaca fleece, Peluche is one of five wall-to-wall styles from The Alpaca Collection. Available in an elegant palette of six natural colours, from deep charcoal to natural white, the carpets show to advantage the silky softness of the fibre while being durable and resilient. Velieris' natural, undyed alpaca carpets are an investment in the future, designed to last and age beautifully.
For more information, contact Velieris on 03 9496 8000 or visit www.velieris.com
Outdoor fabrics
These striking fabrics are a few of the designs from Unique Fabrics' Outstanding collection: a contemporary collection of multi-purpose outdoor fabrics. The composition of these fabrics is 100 per cent solution-dyed acrylic, which gives them excellent technical properties for outdoor use. However, with their soft handle, these stunning designs are equally suitable for interior purposes. The designs include jacquards, broad stripes, grids and textured plains. The colour palette includes taupes, black, white, red and navy. For more information, contact Unique Fabrics on (Australia) 1800 145 855, (New Zealand) 0800 UNIQUE or visit www.uniquefabrics.com