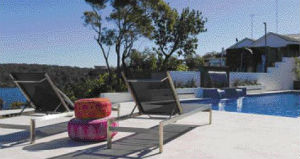 Add a touch of splendour to your outdoor project with natural stone
Location is always the best inspiration when designing your outdoor space. For this featured home overlooking one of Sydney's beautiful waterways, the main design goal was to seamlessly integrate the outdoor elements with the natural setting.
Keen to make a definitive style statement, the owners of the property wanted the focus to be on durable natural materials. With this in mind they chose nature's gift of stone to create surfaces that would provide a feeling of matchless warmth, style and beauty. Natural stone has the ability to enhance any design; not to mention offer a timeless finish, and it was this quality they wanted for their outdoor areas.
Insisting on only the best, the owners looked to Marble & Ceramic Corp, a leading manufacturer and distributor of high-quality travertine, limestone and marble products. Marble & Ceramic Corp supplied Classico Travertine for the courtyard and swimming pool surrounds, ensuring the flawless integration between home and outdoor spaces that the owners demanded.
To complement the travertine paving, one of the owners designed a stunning stainless-steel waterfall-style outdoor table. This is a focal point that can be enjoyed from the stylish poolside cabana with its fully equipped kitchen and bathroom. For the bathroom, Marble & Ceramic Corp supplied the polished Classico Veincut Travertine stone tiles.
To add to the natural appeal, the steps leading from the home to the outdoor entertainer's retreat were made of unique pieces, each cut to size.
Marble & Ceramic Corp has a keen understanding of the creative process and can provide top-quality stone products to make the most of any design. In fact, their range of natural stone is extensive and includes Travertine Classico (Pompeii), Bianca Perla Marble, Pietra Gray Limestone, Persian White Marble as well as many other stone choices.
All the standard sizes are available and should you need something out of the ordinary, the company can produce various custom-size formats and finishes. By having this capability, homeowners, designers, architects and specifiers can achieve their common design objective, which is to create a stunning outcome such as the beautiful outdoor entertaining area featured here.
If you want to create environments that are durable, timeless and stunning, choose a natural stone. And, if you want a look that of enduring sophistication, choose Travertine Classico.
For more information
Marble & Ceramic Corp Pty Ltd 33-35 Green Street, Banksmeadow/Botany NSW 2019 Phone (02) 9666 3800 Fax (02) 9666 3803 Email info@marbleceramiccorp.com.au
Website www.marbleceramiccorp.com.au Pool/cabana/outdoor table by C.B. Carpentry and Construction Mobile 0412 494 273 (Craig Baxter)
Pool accessories by Ganapati Home & Gifts 253 Oxford Street, Darlinghurst NSW 20210 Phone (02) 8065 3022 Email info@ganapatihomeandgifts.com.au