After a viewing of showroom displays, the owners knew immediately what aspects they wanted of their home.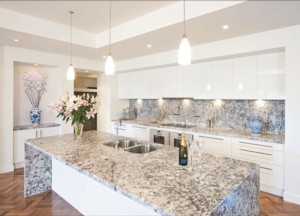 Having taken just one trip to the Amalgamated Marble Richmond showroom, the clients of this Warrandyte home discovered and fell in love with the Black Mosaic display and knew immediately it was something they wanted to incorporate into their home. Following this inspiring discovery, they headed to Amalgamated Marble's head office and warehouse in Tullamarine to source the slabs and discuss the project further. The results speak for themselves, with Aran White and Black Mosaic granites selected as the main features in the wet areas of the home. The extent of the Aran White granite was used on the benchtops and splashbacks in the kitchen, laundry and butlers' pantry. By incorporating the Aran White slabs into all three areas, Amalgamated Marble ensured continuity and style to the interior design. A unique element in these areas is the honed finish on the Aran White granite. This finish is traditionally used with marble, though it is becoming a more popular finish for granite surfaces due to the luxurious and practical results.
In the kitchen a sleek, black hotplate lies flush-mounted against the granite benchtop, while dual polished sink cutouts sit opposite in the island bench. Dramatic style was created by designing mitred drop-down sides for the island bench, creating that warmth one requires in the heart of a home. It was particularly important to Amalgamated Marble and the clients that the Black Mosaic slabs, which were used in the master ensuite and separate powder room, were of the highest quality. Amalgamated Marble hand-selected the slabs overseas prior to shipping and although both the Aran White and Black Mosaic granites are from Brazil, the slabs were ordered especially for this project from Italy, where the processing and finishing of the slabs is superior.
To enhance the natural tones within the Black Mosaic granite in the master ensuite, charcoal-grey cupboard doors, white sinks and bath have been used. The smooth oval shapes of the granite have also been mirrored by these features, which creates a peaceful ambience to the room. Mitred edges have been used on the benchtop for an elegant finish. On the outer wall the shower is an innovative and unique feature. While the shower floor and side panels are Black Mosaic granite slabs, the back wall is actually a floor-to-ceiling glass window that opens up onto a private pebbled garden — a simple and relaxing personal oasis. Natural stone merchants since 1965, the people at Amalgamated Marble pride themselves on excellent quality and great customer service. Along with taking the utmost care in each project, all types of natural stone are stocked, including marble, granite, onyx, travertine and slate. Amalgamated Marble also specialises in exotic stone, including its Semiprecious Collection and the Carrara marbles, which include many types of Calacatta.