When it comes to the benefits of insulating windows and doors, the Australian consumer is in need of information. Here are a few things you may not have known about double-glazing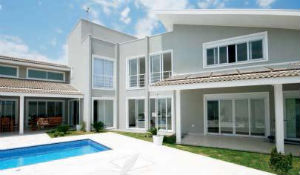 After reading the following facts and figures, you will probably think long and hard about what you install in your home. Ecovue shares its expertise on the variables and components you need to choose well to ensure your insulation performs at its optimum level.
1. Double glazing. Two panes of glass with a gap between is the only effective way to insulate a window. Single glazing doesn't work and that's why double glazing is compulsory for new builds in most countries (including NZ and China), yet Australia still favours single-glazing. When you measure the amount of heat that can be transferred through windows (87 per cent heat gain during summer and 49 per cent heat loss in winter) you can't help but ask why we haven't been shown these figures before.
You do have to question the logic of insulating your roof, walls and floor but not your windows, which in Australia represents a high square-metreto- floor ratio.
2. Low-emissivity glass. Known as Low-e, this glass has a coating applied to reduce the transmission of radiant heat and UV. The coating is commonly applied to single glazing as some sort of a compromise — and it will certainly perform better than untreated glass. However, it is less effective than a soft coating applied to the inside of a double-glazed unit, which can reflect up to 75 per cent of UV and radiant heat — enough to make facing east or west comfortable in summer.
3. Noise reduction. By increasing the size of the air gap between two panes, more sound is blocked. When you combine that with the right seals, you can stop up to 44 decibels or 80 per cent of outdoor noise — which is ideal if you live near a busy road, under a flight path or simply have neighbours who enjoy their late and loud evenings.
4.Thermally effective frame. Selecting the right glazing is not enough if you are trying to ensure comfort all year round. Aluminium frames (which currently constitute 80–90 per cent of the Australian window market) are conductors of heat and cold, transferring the outside climate directly into your home. If you are interested in double glazing, ensure that you also choose a thermally insulated material such as timber, fibreglass or the newer uPVC, a UV-treated plastic that lasts a lifetime with minimal maintenance.

5. Airtight seals. The seals of your windows are the final piece of the puzzle. It goes without saying that you'll want to let fresh air in when the temperature outside is comfortable, but if your home is breeze-proof you have complete control over what air comes through your home. By having flexibility in your windows and doors you can decide what is the best mode of staying cool this summer and you'll likely find you don't need to use your air-conditioner nearly as much.
If you are interested in having windows that insulate, stop noise and reflect the summer heat — and require little maintenance get in touch with Ecovue direct
Eco Vue
Tel 02 9648 1777
Email sales@ecovue.com.au
Web www.ecovue.com.au