The recent Eurocucina design fair exhibited a consolidation of ideas and introduced some interesting new concepts.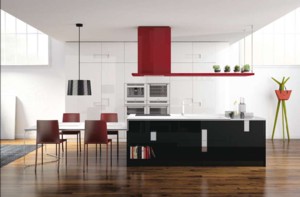 KITCHENS
Kitchens are still designed as work centres; aesthetic additions have not been forgotten but functionality is playing a key role in design and layout. Many companies are still using very wide, chunky benchtops — often offsetting this with a cantilevered piece in natural wood or wood tones. However, Eurocucina did present the beginnings of a return to thin benchtops to balance the more bulky cabinetry below.
Walls featured a range of floating shelving, with all support structures hidden from view. A lovely arrangement of boxes adorned many walls in an interesting arrangement of squares and rectangles in an asymmetrical design for fabulous visual effect. We are seeing an increase in specialised work spaces that are practical centres hidden behind pocket doors that fold away and can be closed to hide any mess. These spaces often house open shelving above, with a worktop in the centre and full-extension drawers below. Another growing trend is the increase in the use of stainless steel within the carcass of the cabinet, particularly behind lift-up units. This brings a fantastic industrial element that is only revealed when the cupboard door is opened. The trend towards the streamlined effect is still evident, although when handles are used they tend to be very chunky and serve as focal points within the space. Custom hoods are appearing in increasing numbers where the kitchen materials — either benchtop or vertical surfaces — are reflected in the exterior of the rangehood to make it a cohesive part of the kitchen space. Lighting is also playing a key role in design, with plenty of LED lighting featuring both within cabinets and as an exterior addition.
BATHROOMS
The keyword in design this year was "soft" — soft curves, soft edges and soft colours. The cocooning bath design that has been seen in recent years was very much in evidence, with high-backed baths and matching contoured basins. Some colour was seen and, when used, was extremely striking, but most of the elements on display were white or gentle creams. Matt tones are certainly popular but high gloss was certainly not forgotten.
The creation of the home spa was certainly a main design theme, with many items designed to induce relaxation and calm. Soothing water features abound, with tapware designed to aesthetically work in with the other elements. Designer names are increasing in prominence, with many bathroom companies working in conjunction with a well-known designer to release specialised product ranges that simply ooze luxury. The special releases were very much seen on display at the recent Salone del Bagno in Milan, which runs in conjunction with the Milan Furniture Fair and Eurocucina. Also popular in Europe is the use of solid surfaces as shower bases in a variety of sizes, shapes and colours. These pieces are designed as aesthetic additions to the space, with a functional element that is very popular.