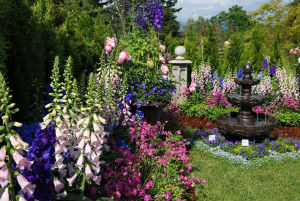 A garden makeover can be a lot of hard work, but with good planning, the end result will be worth it
Story: Georgia Harper, MAILDM MLIAV
If you're up for the challenge of designing your own garden, there are a multitude of aspects to consider. To make a design work, you'll need to have a clear grasp on what you want to achieve and be realistic about what you can do yourself. And you need to set a realistic budget — the more built structures you want to incorporate (decks, paving, retaining walls etc) the higher your budget will need to be. The challenge is to tick all the boxes while keeping within your time and budget parameters. With careful planning your dream garden should be achievable.
Drawing up your site plan
An accurate site plan is extremely important, especially if you're doing a major overhaul or if there will be hard landscaping and built structures involved. It's important to know exactly where everything is, including any level changes (for instance, from the house floor level to the outside level), so that you can accurately estimate quantities when ordering topsoil, pavers or other materials.
Most people will have some kind of site plan tucked away with the property documents they were given when they bought the house. If not, it is an exercise to measure things up yourself or, if you have a big or tricky block, you can commission a surveyor to do it for you. This can cost anywhere between $500 and $1500, depending on block size and layout.
When doing it yourself, take note of all doors, windows, downpipes and drains as well as power, stormwater and sewerage lines. Also consider the level changes from the inside of doors to the outside — is it flush or a couple of steps down? If you have existing retaining walls, note where these are and their heights. You will also want to take note of neighbouring properties and where their main outdoor living zones are, as well as windows or doors you might want to screen out. This is also a great opportunity to have a good look at the condition of things — for example, you might notice that an old retaining wall has a bit of a lean on it, so fixing this might become part of the makeover project.
A good, all-around scale to use when you draw your site plan is 1:100 (that is, 1cm = 1m). Once you have everything drawn up, make several copies so that you can use one for your site analysis and others to sketch some ideas onto.
Assessing the site conditions
Armed with your site plan, go out into your garden and note the conditions of the whole site. Things you need to consider include:
•Sun, shade and wind: Do you need to create some shade in one place but open things up a bit in another? Are there issue with prevailing winds anywhere on the property? Make a note and this will help you choose appropriate plant species.
•Dry and wet: Have you got some very moist areas or some very dry ones — or a combination? Again, make a note so you can choose appropriate plants. It is usually better to work with the conditions you have if you can (and it's much cheaper).
•Soil type: What's the soil like? Give it a pH test to see if it's acidic or alkaline, so you'll know what to plant or how to change the pH. Check all over the garden to see if the soil has a lot of clay or sand in it. Again, this gives you a clue on what to plant or if you need to change things by adding to the soil.
•Neighbouring properties: Have the people next door put a huge extension on that you'd rather not look at? Or can they see you from their deck each time you venture out? If so, this will show you where you need to employ screening measures.
•Views in and out: If you have a great view of the beach or bushland, you'll want to enhance this or you might want to ensure you can see the kids playing when you're in the kitchen. Conversely, you might want to mask your view of something, such as an ugly garden shed.
•Access: Where are the main access points from the house into the garden, and from the front garden to the backyard? If you're thinking of a pool or major structural works, then good access is important.
Gauging your family's needs
This is probably the most important thing to get right as a well-designed garden is a user-friendly garden. Be realistic about how areas are to be used. Ask yourself who is going to be using the space, both now and in the future? Do you have a big family or is it just the two of you? And if you don't have kids now, do you plan to have some in the future? What about pets? You need to know who will be using the space and how.
To determine what the design needs to achieve, create a checklist listing your priorities from highest to lowest. For example, your list might look like this:
• Level lawn area for kids
• Entertaining/barbecue area
• Fix drainage — water pooling along back of house
• Water tank
• Veggie garden
• Water feature
• Clothesline
• Spot for a hammock
• Sculpture
Having decided what you want, create a timeline to get it all done otherwise it will become an unpleasant, long-running process with a much less enjoyable result.
Establishing a realistic budget
For a brand new garden, there is no magic figure, but a general rule of thumb is that you'll need to spend about 10 per cent of the value of the house. This can go up if you need a lot of built structures such as pergolas, decks, retaining walls, pools, pavilions and so on. Or it can go down if you have a nice, flat block with very little structural work required and a greater emphasis on planting.
Garden renovations can be a bit trickier because it's harder to see what needs to be done and often doing one thing reveals something else that needs doing. And there can be additional costs when you have to rebuild a wall or fix some footings as this can lead to demolition and reconstruction work. My recommendation would be to design your dream garden and, if it's over budget, do it in stages.
All the other considerations
Of course, you have to decide what style of garden you want and whether that is practical. You also need to be realistic about whether you have the skills to do yourself. So often things look a lot easier than they are — professionals make it look easy because they have a lot of practice. And even if you have the skills, do you have the time? Are you prepared to spend every weekend, month after month, working on the garden? 
My advice is that if you'd like to do at least some of the work yourself but your time is limited, get the professionals in for the hard stuff, leaving you to do the planting, mulching and finishing touches. To find a good landscape contractor, consult the relevant association in your state. Landscapers listed with these bodies must adhere to strict codes of practice, be properly licensed and carry the right insurances.
And don't forget planning permission. Councils and states differ in their requirements, but generally you'll need a permit for anything structural such as decks, pergolas, car ports, patios, swimming pools, and some retaining walls. If you're replacing existing structures, the need for a permit may be waived, depending on the council.
Choosing plants and materials
Choosing plants is a matter of knowing your site conditions, soil type and garden style. You can then ask for advice at your local nursery. For materials, get out and explore the showrooms of paving, decking and landscape supply companies. If you find a paver you like, ask if you can take a couple of them home so you can see them against your house.
If your paved area or deck is to be a showpiece, invest in quality. Don't be put off by natural stone or 'boutique' pavers as you'll find them very price-competitive. Also check what the base preparation needs to be — does it need a slab under it or will crushed rock and sand be better? Don't be afraid to ask so you can factor it in to your budget.
Do the same amount of research into all the other elements you'll need. Check out what's new in clotheslines, play equipment, lighting, sheds, water tanks etc. These are constantly evolving and something you thought impossible might now be available.
And a word on planning a work schedule. A good rule to follow is to work from back to front. That is, from the place furthest away from the access point into the yard to the area closest, that way you're not trampling over work already done.
While there is no denying the value of obtaining professional design advice and working with an experienced contractor, if you really want to try doing it yourself, don't be afraid to have a go. Designing and constructing a garden makeover is a big job, but the rewards can be huge.
To save money

•Paving: Paving can be pressure-cleaned, re-painted and re-sealed. The result will be paving that looks as new, but this is only appropriate if you're happy with the style, size and location of your existing paving.
•Fences: Rather than replacing them, screen tired or dated fences with hedged plants. Or you can use one of the various screening options available, which range from willow to bamboo panelling to Natureed.
•Masonry walls and retaining walls: As long as they're stable, you can clean and render old masonry walls, cover them in stone tile or stone cladding, or paint them with one of the many textured exterior paint finishes now available.
•Trees: If you can, keep and reshape an established tree by careful pruning. You'll be left with a nice-looking tree of a substantial size that you may be able to use as a point of interest or as a source of natural shade.
The work schedule

1. Clear the site: First off, clear away anything that needs be removed. Then carry out any excavation work, digging of trenches for drainage and power etc and pruning of any trees that are to be kept. Clearing and excavation are the messiest parts of any makeover project, so you want them completed before any other works commence.
2. Structural works: Next, you'll want to undertake the building work: decks, pergolas, swimming pools, retaining walls, tank installation, plumbing etc.
3. Hard landscape works: Following on from the structural work, the next tasks to be tackled will be those that relate to the hard landscaping, such as paving, cladding, drainage works, and timber edging.
4. Soft landscape works: The final part of the process largely relates to the planting and things like mulching and irrigation. This is also the time you get to have a little fun with furnishings and garden décor.
Find a professional

Australian Institute of Landscape Architects
www.aila.org.au
Australian Institute of Landscape Designers & Managers
www.aildm.com.au
Landscape Association of South Australia
www.lasa.org.au
Landscape Contractors' Association of NSW Ltd
www.lcansw.com.au
Landscape Industries Association of Tasmania Inc
www.liat.com.au
Landscape Industries Association of Victoria 
www.liav.com.au
Landscape Industries Association of WA
www.landscapewa.com.au
Landscape Queensland Industries Inc
www.landscapequeensland.com.au
Swimming Pool & Spa Association of NSW
www.spasansw.com.au
Swimming Pool & Spa Association of Queensland
www.spasa.com.au
Swimming Pool & Spa Association of Victoria
www.spasavic.com.au
Swimming Pool & Spa Association of WA 
www.spasawa.com.au