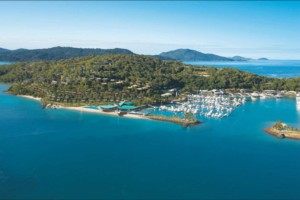 The weekend was a huge success for the new owners, who have invested heavily in Hamilton Island and the adjacent Dent Island, with a new world-class golf course and club house. The new yacht club and villas on Hamilton Island, designed by renowned Australian architect Walter Barda, represent the repositioning of Hamilton Island as a world-class resort with a distinctive and authentic Australian style, setting a benchmark for the future of tourism for the island.
"Our long-term vision for Hamilton Island is coming to life," said chairman, Sandy Oatley. "As we transform the island into an international world-class holiday destination, we are determined to showcase the very best Australia has to offer in terms of architecture, hospitality, leisure, entertainment and natural beauty," he said. The villas reflect architect Walter Barda's vision of an informal, yet sophisticated ambience that makes the most of the beautiful and unique island setting.
The 35 stand-alone villas featuring natural rough-sawn and dressed timbers, sweeping lines and stunning views draw on thematic elements from the local environment, including shells, petals, marine and bird life. Each villa is set within lush landscaping — by celebrity landscape designer Jamie Durie — which, when it matures, will offer privacy and seclusion for residents. "From day one the location was unique, offering direct water views from all of the villas. I saw an incredible opportunity to present a standout design reflecting the new direction of Hamilton Island," said Barda. The yacht club was officially opened by the Queensland Premier, the Hon. Anna Bligh, at a cocktail party and fireworks display attended by celebrities, residents, visitors and the media to coincide with the start of the annual Audi Hamilton Island Race Week.