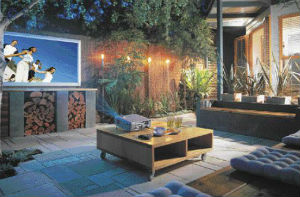 Turn your outdoor room into a home entertainment haven with the latest technology
Story: Catherine Stewart
Entertaining outdoors used to mean just a simple family barbecue but new technology now lets us completely rethink how we can use our outdoor space. Rather than shutting ourselves away indoors, living outdoors with all the same creature comforts is now a possibility, as outdoor spaces become kitchens, living rooms, games rooms and even home cinemas. By turning your home "inside-out", you can enjoy a meal, a movie and your favourite music alfresco among glossy foliage, delicious scents and ambient lighting.
Outdoor environments are really punishing to electronic equipment. Sun, high and low temperatures and wind take their toll, but it's moisture in the air, particularly in humid coastal locations that really does the damage. When combined with salt-laden winds, the effect is multiplied and any equipment being used near a pool is also very susceptible. This means you can't just take an ordinary sound system or television and start using it outside, even if it's under cover, as moisture will soon start to corrode and damage the components.
Although outdoor viewing equipment is designed for use in brighter light, direct sun will be too much light, so for daytime viewing, you'll need to have an east- or south-facing wall or mounting, with a background large enough to protect from surrounding glare.
Electronic equipment still tends to be made in silver (aluminium), black or white casings. The size of the pieces makes disguise difficult but by bringing other metal elements into the garden design such as stainless-steel and brushed aluminium furniture, planters, artwork and fencing — even large outdoor televisions — will blend and co-ordinate.
Remember that water and electricity do not mix. You must have a safe and reliable outdoor power source installed by a licensed electrician and only use equipment that has been purpose-built for outdoor use. Outdoor entertainment equipment usually runs on 240V power but there are some 12V and battery-powered units as well.
An outdoor television must be weatherproof, dustproof and have a high screen brightness to be viewed easily in daylight. Brightness is measured in "nits" and the higher the number, the brighter the screen. Look for an IP 56 rating, which confirms the unit's ability to withstand dust and water intrusion, and also check for antireflective and scratch-resistant coatings on screens, as well as waterproof remote controls.
Contrast ratio describes how well dark scenes can be viewed on the television with higher ratios being better contrast, such 1600:1. The models available range in price from about $1700 to nearly $10,000. A battery-powered (2.5 hours viewing before recharge) 14.5-inch television from NU costs $1699. Sunbrite's range of high brightness (800 nits) weatherproof (IP 56) televisions, with stereo audio amplifier and water-resistant speakers, range from $4200 to $9200. With no tuner included, they need another input such as a set top box or DVD player.
iizel televisions offer 500 nits of brightness and retail prices range from $4600 for a 32-inch to $8200 for the 47-inch model, but look for online discounted prices. Stands and mounting brackets are also available. Evervue televisions are waterproof (the remote controls even float!) with 500 nits, the ability to operate on either 12V or 240V and come with a built-in tuner.
Another option is the 17-inch flat-screen QED Splash, which retails at around $4999. The unit is completely sealed to prevent water and dust getting between the screen and its glass front, which is heated to prevent condensation. The remote control is waterproof and the unit is designed to be mounted into a wall.
If you're planning more of a full theatre experience rather than watching a DVD on a plasma television while enjoying a casual meal, you'll need to start thinking in terms of projection screens and projectors.
Projectors have to have a high lumens (for example, ANSI 2200 lumens) output to show well against a city's bright night sky but also check for suitable contrast or dark scenes may look washed out. As your projector will need to be taken back indoors when not in use, use demountable or discreet wall brackets. Check that the projector-to-screen throw is long enough for a good picture on a screen that may be five or six metres away.
Inflatable screens can be put up and then taken down in about 10 minutes, avoiding the need for a permanent installation. A 2.45m-wide screen costs $2499, and $3199 for the 3.6m from Cinemalite. Of course, you can choose a screen that you can hang up on a permanent mounting then put away after use or, if in an undercover area, one that rolls back up into a protective housing.
A cheaper alternative is Screen Goo, a paint-on screen for any smooth wall. A $330 kit creates a 3m x 1.5m screen on any non-absorbent wall surface and then can be "framed" to look like a real screen.
Many companies offer one-night hire options so you can try out the whole outdoor cinema idea before you invest the $6000-plus for a good projector, screen, cabling and sound system.
Sound gets easily lost in an outdoor environment as there are fewer surfaces to contain it and more background noise. The number and placement of the speakers is critical; against a wall will produce the best sound with good bass levels.
Outdoor speakers can be run from an indoor sound system using waterproof control panels and remotes if the amplifier has enough power to support more speakers. Wired speakers can be difficult to install but make sure battery-powered ones will switch off after a period of inactivity. Speakers even come disguised to look like rocks that will disappear into your garden.
Bose, Niles, Aaron and Boston all make very good-quality outdoor speakers ranging from $399 up to $1299.
Moisture can be a real problem, so choose panels specially sealed for outdoor use. Remote controls can use infrared repeaters to operate indoor equipment from outdoors.
Theft is potentially a real threat to your outdoor entertainment systems. Make sure equipment is installed using theft-resistant brackets and mountings.
And don't forget the impact on your neighbours. The deep bass notes of a sound system or a home theatre sub-woofer can be very penetrating. Council regulations will control how late and loud you can have your speakers but be courteous and locate your speakers for minimal disturbance.