Building your own home means it caters directly to your needs and your life, and gives you the necessary control over space and style.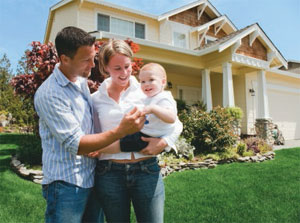 There are very few Australian families who don't harbour the dream of owning their own home, tailored to their needs. And for many of us, creating a home that is truly ours has to start from the ground up. Rather than buy a "second-hand" home, we want to have our say in our homes from the floor plan to the colour of the curtains and everything in between.
When you are building a home there is so much to consider and you really only have one chance to get it right, which is why planning is so important. In a journey that begins with finding a block of land, then finding a builder, then finding a home design, and ends months later with your very own home, there are daily choices and decisions you need to make regardless of whether you contract a builder to do everything for you or you act as an owner-builder.
When you are choosing a block of land, there is much to consider, beginning with the location. Is it in an area you'd like to live in? If you're moving suburbs or towns, are you willing to uproot your entire family for this move? Is it a reasonable commute to work? Once you've narrowed down suitable locations, you need to start looking at each block of land for suitability. How big is the block (and how much land do you realistically want)? Is it flat or sloped? What is the aspect? All these factors will determine whether it's suitable for your family.
Once you've got land, your next decision is finding a house plan and a builder. If you're going to build a custom-designed home, you'll want to find the best builder in town. Research your options and ask around. Don't be afraid to ask a builder to put you in touch with some happy customers or show you some of their work. If you're going to build a project home from plans, you've got two approaches: either you choose your builder then pick their plans that best suit your needs or you look at all the building companies available in your area and choose the best plan. There are now many companies that provide plans and help you subcontract builders to finish the job, which broadens the options available to you and gives you more control.
When planning a home, you need to consider what you can fit on your block of land, which will be dictated by the size and shape of the block, and also what your family requires. While it's nice to think of sprawling rooms with acres of space, bear in mind that you have to work harder to pay for and maintain larger houses.
A major trend in recent years is the size of housing and in the past couple of decades the size of the average Australian home has grown massively: the average new home in 1984 was 162.2m2 but in 2002 this had grown to 227.6m2. This is similar to the average new American home but twice the size of many new homes being built in Europe. While we've become conditioned to believe more is better, many of us are realising this is not necessarily the case.
Many Australians are now questioning the whole notion of working hard to pay off the mega-mortgages, then spending weekends maintaining these spacious homes. And from an environmental standpoint, large homes are simply unsustainable. Before you commit to a home with two living areas plus a study and separate bedrooms for all the kids plus guests, consider how much space you really need. And if you're thinking you need a large house to keep all your "stuff", the solution may be as simple as having less stuff.
Once you've found a home plan that meets your needs and is affordable, most of the big decisions are out of the way and it's time to plan the fun stuff, such as the colour of the kitchen bench and the finishes in the bathroom.
Building your own home is an adventure — one you'll find richly rewarding.