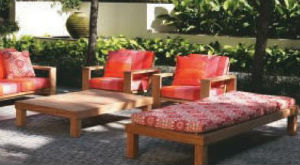 Getting comfortable in your outdoor room is easy thanks to the array of designer lounge furniture
Words: Natalie Raad
With outdoor rooms being designed to look more and more like their indoor counterparts, many manufacturers are now designing furniture with outdoor use — or co-ordinated indoor-outdoor applications — very much in mind. In particular, you will find a growing array of lounges and sofas designed specifically for use in outdoor rooms or outdoor lounge-style areas. These furniture pieces look like their indoor equivalents but have been constructed to be durable as well as UV- and weather-resistant. This is because we now demand that our outdoor furniture be sturdy enough to withstand the elements yet stylish enough to make a statement in our outdoor rooms.
Comfort plays a big part in the design of outdoor rooms — basically, the more comfortable and inviting an outdoor room is, the more we'll want to use it. A simple way of ensuring your outdoor room exudes comfort is by including a lounge or sofa.
There are many different styles of lounges available for use outside. From two-seaters and three-seater chaises to ottomans and lounge chairs, there are many different ways to inject comfort into your outdoor room. And if you're after style as well as comfort, you'll be spoilt for choice with an array of fabrics, prints and accessories such as cushions, coffee tables and rugs to complete the look.
Colour and pattern have as much impact outdoors as they do indoors. One trend in outdoor lounges at the moment is for bolder and vibrant colours, with shades typically used inside such as pastel blues, turquoise, fresh yellows and greens. Brown and taupe are also popular, giving a classic look and a feeling of warmth, as well as black and white, which are always smart and fresh looking. In terms of patterns, there's a lot of variety lately and everything from polka dots, bold paisleys and stripes can be found in outdoor lounges.
Outdoor lounges are available in a wide variety of materials and today's outdoor fabrics are better made than ever before, offering luxurious textures that were previously only available for indoor use.
The important thing to remember when incorporating a lounge into your outdoor room is scale. To ensure your lounge is the right size for your outdoor room, measure the area and choose a lounge that fits in nicely, while still leaving plenty of room for moving around.
Before you select your furniture, consider how many people will be using it and look at the size of the space. Do you want to add a coffee table or occasional tables? Does the furniture offer dual functionality? Some seating, for example, can also serve as storage space. Cushion boxes are a good example of this with more styles coming onto the market all the time.
Another consideration when it comes to outdoor lounges is style. The aim is to achieve a cohesive look, so ensure your outdoor lounge is compatible with the style of your outdoor room. Manufacturers are today creating outdoor lounges in various styles — including traditional, contemporary, casual, formal and rustic — so no matter what the look and feel of your outdoor area is, you'll be sure to find a matching lounge or sofa.
Other factors to take into account when furnishing outdoor spaces are any focal points. Like the rooms inside our homes, which require a focal point to anchor the space, outdoor rooms also require a feature element. Why not make your lounge the focal point of your outdoor room by choosing a vibrant sofa or cushions in bold colours or artistic prints for a dramatic effect?
Of course, not all lounge furniture needs to be of traditional lounge suite or armchair style. For extra seating or for more casual lounging about, there are beanbags, ottomans and floor cushions. The high-quality ones will have covers made of sturdy, weatherproof fabric and the filling material, typically polystyrene pellets, will be encased within a waterproof membrane or casing. You can even find daybed and sofa-shaped creations (such as the Coast New Zealand Isla chairs and the Helgo collection from Hay) that are filled with polystyrene pellets and can be used inside and out for reclining or entertaining.
To change or update the look of an outdoor lounge arrangement, you don't always need to start from scratch and buy new furniture. Sometimes all it takes are some scatter cushions and throws in this season's colours and patterns to do the trick. The other option is to reupholster seating cushions. Several companies now produce outdoor fabric ranges (including the Meridian Australian Outdoor Collection from Mokum Textiles, the Mahesh Outdoor and Tick Tock Collections from No Chintz, and the elfresco range from Marco Fabrics), so with a bit of research you are sure to find a suitable all-weather fabric to give your lounge furniture a new lease on life.
And don't forget about the accessories and other items of furniture you need give an outdoor lounge area a finishing touch. There are foot stools and seating stools, side tables and coffee tables, table lamps and pendant lighting, wall art and mirrors, storage and shelving … get the overall look right and your outdoor lounge room will be the place family and guests make a beeline for come the weekend.
When it comes to buying lounges and sofas for outdoor use — in fact, any type of outdoor furniture — comfort and durability are by far the most important aspects to consider. It won't matter how attractive and eye-catching your outdoor furniture if it's not comfortable and sturdy enough to withstand the elements, as you won't want to use it. For this reason, choosing high-quality pieces of furniture — look for reputable brands and a good warranty — will not only provide comfort but also give you years of use.
Think quality when buying your outdoor lounges so the pieces last you and in turn save you money by not having to replace them frequently. If you're worried that you'll have to compromise on style, rest assured as most outdoor lounges today are both stylish and durable, giving you the best of both worlds.