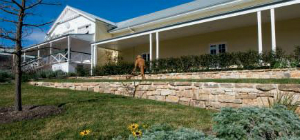 Used to create level areas or add interest, retaining walls can be a design feature
By Catherine Stewart
In sloping gardens, a retaining wall often becomes a part of the landscape design. While slopes can be managed in several ways, it can be the only way to make usable areas on steeper gradients. Retaining walls are also used to stabilise land prone to erosion by slippage and runoff, as well as creating level zones for buildings, driveways and swimming pools.
Raised platforms and planted beds add considerable interest in a flat, level garden, creating interlocking level changes and a vertical face on which to use added colour and texture. So even if you don't have a sloping site, retaining walls can still be useful.
While retaining walls can create usable level areas, don't look to completely reshape your land. Natural topography deserves conserving as much as natural vegetation, so if you buy a steep block don't expect a council will automatically give you permission to terrace it. The cut-and-fill and heavy machinery required can have devastating consequences on slope stability, soil structure and compaction, trees, fauna and habitat, and the movement of soil water, resulting in expensive seepage problems.
Retaining wall types
Three main types of retaining walls used in home gardens are gravity, footed (often also cantilevered) and posts with panels or rails. The first relies on the weight of the wall material, such as stone, interlocking concrete blocks or rock-filled gabions, and its batter (how much it leans back into the slope). The second type has the width of a buried footing at the bottom of a brick or block wall to stop the wall overturning. Post and walling systems use posts on footings at intervals along the wall holding an infill of horizontal rails or pre-made panels.
Retaining walls are difficult landscape elements to design and build. The force of soil and water behind a wall is enormous, so councils require that walls, even as low as 500mm in some areas, have development application approval and be designed by a qualified engineer. Failure of a retaining wall by sliding or overturning can have terrible consequences, including house demolition and serious injury, so seek professional advice.
Stability and drainage
How strongly built the wall needs to be is determined by the load it will bear, its height and also the type of soil that's to be retained, including the stability of the soil profile and how much water the soil holds when saturated. Many people don't realise how thick a retaining wall needs to be if the wall is a metre or so high, or how much excavation will be required for footings, depending on the type of wall being built. Even a one-metre-high wall, if it's subject to heavy load such as a driveway above it, can need a cantilevered footing as wide behind the wall as it is high, involving a huge amount of digging.
Retaining walls can be wet, where water can drain through an open face, or dry, when they are sealed by mortar or render. Both need drainage medium and pipes behind the wall, as poor drainage will cause wall failure. Backfill placed immediately behind a wall must be to an engineer's specifications and fill further back may need to be layered and lightly compacted to prevent destabilising voids.
Materials and design
Different retaining wall designs and materials determine whether the wall needs footings, excavations, its maximum height, if its outside face is vertical or stepped, the ease of making curves, a raked (angled) or stepped down top, whether it can be at least part DIY , and overall cost.
Footed masonry walls need a professional builder, sit vertical over poured footings, are usually waterproofed behind to prevent seepage staining and can be rendered, bagged, clad or painted and finished with a decorative capping course. Wall stepping is easy but raking generates lots of cutting and waste. Bricks are laid onto footings the same way as a double brick wall in a house and can be curved on a radius of about four metres for stretcher bond, or under three metres using a Flemish bond.
Concrete block walls are also mortared onto footings carrying vertical reinforcing rods, and then the open part of the block is filled for greater strength. Reinforced concrete walls can also be cast in situ and decorated with stone facing, render effects, cladding and mosaics. Mortared stone wet walls on footings are made in either ashlar or coursed styles.
Stone walling alternatives
Dry, stacked gravity walls are made from natural stone, recycled broken concrete or gabion mesh baskets filled with stone. Interlocking concrete block systems often step back several centimetres with each course. Walls will seep some water. Low walls are relatively easy to DIY , but need careful preparation of a level and stable base course of crushed rock to succeed. Taller walls need to be professionally built as they require special soil stabilisation using geotextile reinforcing to prevent slippage.
Many manufactured concrete retaining wall blocks are coloured and faced to resemble cut or textured stone, which looks good but catches a lot of dust and dirt, discolouring pale walls. If you're not building a simple straight wall, look for systems with corner blocks, blocks that can be cut for angle changes and curves (with an internal vertical opening and rear wings that can be cut off to angle the block), convex blocks for external curves, and capping pieces with colouring right through.
Timber and other choices
Post and rail/panel retaining walls are built with timber or steel posts on footings with timber or concrete sleepers, or pre-cast panels between. Timber has a limited life and must be H4-rated treated pine. Some concrete systems have posts with formed side slots to drop in lightweight concrete sleepers or panels, which can be smooth or coloured and textured with faux woodgrain or brick-look finishes.
If you need to incorporate water tanks into your garden but also need some retaining walls, there's a system (called Landscape Tanks) that integrates the two, each tank storing 2000–3000 litres, with a planter bed over the top. This system demonstrates the variety of choice available and why it pays to properly research your retaining wall options before making a final decision
Practical Matters
• Solid Foundations: Retaining walls must be built on structurally sound foundations, which means a compacted sub-base material.
• Building Materials: The material you choose must suit the purpose and site, not just be aesthetically pleasing. Choices ranges from precast concrete walling systems to treated timber.
• Good Drainage: A retaining wall will fail without effective drainage. Water must be able to drain down and away from the back of the wall.
• Complex structures: An experienced engineer will be needed for complex structural walls and some councils require that walls over a certain height be designed by an engineer.
Creative Thinking
Just for Show: You don't have to have a sloping garden to make use of retaining walls. You can introduce smaller retaining walls into a garden design to provide structure, define garden zones or add interest and dimension. Low retaining walls around a raised garden bed can double as seating.
Add Some Plants: Once your walls are constructed the final thing you need to consider is the planting. Flowing spill-over plants can soften the appearance of higher walls and add additional texture and colour. Trees and shrubs with invasive roots, however, should be kept well away.