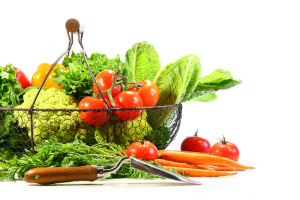 The modern garden centre offers more than plants and potting mix — it offers a lifestyle experience
Story: Natale Raad
Photos: Diane Norris
Today's garden centres have become more of a lifestyle experience rather than just a place to buy plants. To meet the growing demands of consumers, the modern garden centre has evolved into a one-stop shopping experience, selling everything from pots and plants to garden art, furniture and homewares.
It has become a destination in its own right, a place where you can enjoy a good cup of coffee and a bite to eat, while being spoiled for choice with everything you need to decorate or furnish an outdoor room or garden space.
In response to the drought, water restrictions and a changing global economy, today's garden centres have had to take a different approach to the art of gardening. To remain relevant in the eyes of the consumer, garden centres have had to expand their product offering to incorporate all things associated with the outdoors — and they have had to become destinations in their own right.
There are many garden centres now offering this complete lifestyle retail experience, with some taking it a step further. The purpose-built Botanix Lifestyle Centre in Wellington Point, Brisbane, for one, considers itself more of a retail emporium and entertainment centre. It offers a café, art gallery, private function room, florist, gift shop and interior décor in addition to its stock of plants, pots, outdoor furniture, water features, shade products and garden supplies.
Eden Gardens, located in North Ryde, Sydney also has an art gallery, a café-style restaurant and a gift shop. And its extensive display gardens are a weekend drawcard. To help you develop your inner green thumb, there are also Eden Education workshops catering for all levels of experience. Furthermore, Eden Gardens hosts seminars, exhibitions and runs school holiday activities for the kids and has a unique indoor-outdoor function centre.
The Flower Power network of garden centres may not boast art galleries or function facilities, but each store does have an expanded product offering. In addition to a large selection of plants and landscape supplies, you can peruse the aisles at any of the 14 Flower Power stores in New South Wales and Victoria for cushions, homewares, garden décor and outdoor furniture. Each Flower Power store also has a café and offers professional landscaping and garden care services, as well as garden design and paver sealing services.
While many modern garden centres now have a strong outdoor living focus, they're still about plants and gardening. Such is the case with Plants Plus, which has a network of independent garden centre members reaching across Australia. Whether it's gardening in pots, beds or on acreage, Plants Plus garden centres have the plants and gardening gear needed to help any garden flourish.
Plants Plus also offers a diverse range of products for other outdoor living categories such as barbecues and outdoor furniture, pet care items and gifts. There are also in-store cafes as well as everything customers need to start a tasty kitchen garden, including pots, potting mix, tools, seedlings and expert advice.
Like many of the better garden centres, Plants Plus offers do-it-for-me services, from small potting-up jobs to full-blown garden makeovers and landscaping, and they have fully trained horticultural staff who can offer advice.
The Greenery Garden Centres, in the Melbourne suburbs of Heidelberg and Templestowe, also have qualified, well-trained horticulturists on staff seven days a week to answer customer queries. While they pride themselves on the quality and variety of their plant stock, they also have a wide product range (from pots and outdoor furniture to barbecues and gas heaters), a large landscape supply yard and a home garden consultation service.
Although the new breed of garden centre has shifted its focus to encompass the wider outdoor living arena, many places have remained solely focused on plants and are still as successful as ever. Fairhill Native Plants & Botanic Gardens on Queensland's Sunshine Coast is one example. A family-operated nursery, Fairhill is staffed with knowledgeable plants people and offers a vast range of Australian native plants, including the Wollemi pine. Yes, there is a gift shop, but it is the native plant stock and expert advice that keeps people coming back.
One suburban garden centre that continues to make plants its priority is Tim's Garden Centre. Established 21 years ago and located in the Sydney suburb of Campbelltown, Tim's Garden Centre won the NGIA Award for Best Large Garden Centre in 2007 and 2008.
Tim's Garden Centre's specialty is plants and this, Tim says, is the reason his garden centre is unique and successful. On staff are seven qualified horticulturists and five CNPs (Certified Nursery Professionals).
With the selection of plants on offer slowly decreasing in some of the larger garden centres as they turn their focus to garden décor, Tim's product range has remained the same. This pertains to variety and volume. Most garden centres only have around 50 roses; Tim's Garden Centre has 2500.
Tim's Garden Centre also offers garden services such as planting and maintenance. Tim says this is a growing part of his business because of the increasing number of time-poor homeowners who need to rely on people with the horticultural expertise to look after their garden.
Although the latest-generation garden centres have much to offer — and who doesn't enjoy a chance to relax with a cuppa after an hour or two browsing the aisles — it is reassuring to know that there are still some garden centres and nurseries out there that are just as passionate about plants as you are. After all, aren't plants the reason most of us visit garden centres anyway?