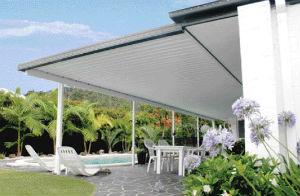 Superior home additions to enhance your lifestyle and boost the value of your property
Spanline Home Additions, an Australian national franchise group, has invested more than 23 years of research and development to produce a building system that's fully engineered to withstand the effects of the harsh Australian climate.
Thanks to Spanline's superior steel roof profile, completely integrated building system and innovative home addition designs, homeowners can now create their ultimate year-round lifestyle solution with a Spanline home addition.
The Spanline Home Additions's integrated building system has unique built-in climate control features such as baked-on paint coats and light-refractive properties. These special features allow you to make the most of your leisure time in any climate or weather conditions no matter what the time of year.
One of the major differences between a competitor's home addition and a Spanline home addition is the superior strength and rigidity of Spanline's exclusive steel Double U roof profile. This shape gives Spanline's roof sheet unique light-refractive properties, which will actually help to insulate your home against excessive cold and heat.
The strength of Spanline's exclusive roof sheet makes it possible to create home additions with wider roof spans and fewer supporting beams and posts. This means your home addition is tailored to suit your needs and the existing architecture of your home. In addition, there's no need for the excessive use of posts, which can mar your outlook.
Spanline's Double U roof profile and integrated building system really is ideal for creating a functional and versatile year-round lifestyle solution. A Spanline home addition can add valuable space for hobbies and leisure while helping to create an environment that's warmer in winter and cooler in summer.
The newest addition to Spanline's extensive product range is the Climatek™ insulated roofing and wall range. The Climatek™ range delivers outstanding insulation qualities, superior strength and is suitable for patios, pergolas, carports, home extensions and most roofing applications.
In the summer months, the sun can heat your roof up to temperatures of 65 degrees Celsius — sometimes even hotter — but with Climatek™ this need never again be a problem. The Climatek™ insulated roofing system significantly reduces heat transmission, is a simple transportable modular system and is quick and easy to install.
Offering the same high level of performance, the Climatek™ insulated wall panel is a versatile, economical, lightweight and highly durable composite panel made to measure in a controlled factory environment. It's installed onsite, thereby eliminating material waste and construction time. Climatek™ insulated wall panel is easy to install for external walls and partitions.
If you are serious about your next home addition, it's worth talking to Spanline.
SPANLINE HOME ADDITIONS
Tel: 1300SPANLINE (1300 7726 5463)
Website: www.spanline.com.au