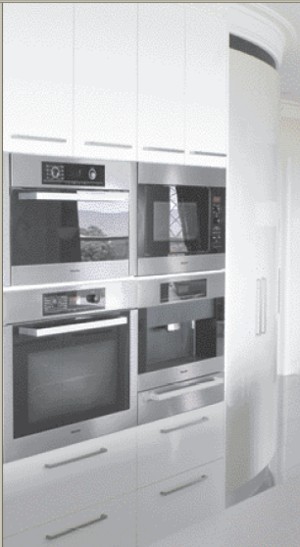 A clever mix of colours, tones and finishes gives this kitchen something special.
A curved wall would have to be one of the greatest design challenges that any kitchen company could face, but that's exactly what Fresh Kitchen Solutions was up against in the design and construction of this new kitchen. The home overlooks the beach and features subtle curves throughout, so it was vital that the kitchen be in keeping with this style without creating an unworkable space. Matching curved cabinetry along the back wall gives the area a lovely feeling of integration. All appliances have been installed within cupboards to keep a sleek, sophisticated finish.
The use of two different colours of Corian and three types of doors and panels gives the space a great feeling of balance, warmth and welcome. To give the bar/casual dining area a point of difference, the second Corian colour was used here with a dramatic overhang and drop down ends added for visual impact and seating area. Of course, every kitchen needs plenty of storage and this clever space utilises every spare centimetre to ensure the owners are able to find room for all their essential items.
This is definitely not your standard kitchen and the owners love the design statement it makes. "We wanted to create a space that was very different to an everyday kitchen — a kitchen like no other," says the team at Fresh Kitchen Solutions. "We think people will find this kitchen special and will love the colours and materials used."