This inspiring thermal pool in Tuscany shows how you can create a stunning extension of the home.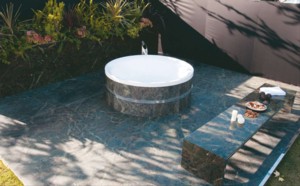 A sense of splendour has been created in this farmhouse in Tuscany. Sitting among the vineyards and woods in this captivating region of central Italy, a thermal pool unites nature with luxury. The owners decided to build a terrace made of stone to reflect the beauty of the great outdoors, and have done so with great success.
One of the main manufacturers of natural stone in the world, Antolini Luigi & C provided the architect leading the project with Verde Borgogna, a material that is practical and layered in its appeal. Not only did this stone add a touch of elegance and refinement to the outdoor setting, it also accentuated the landscape through its dark colour and strength. Characterised by clean and essential lines, the round pool can be compared to the old tubs locals enjoyed bathing in years earlier. The design was inspired by the past but with a whole new twist.
The base of the thermal pool rests on some flooring made of the same stone material, further adding to its dimension. Sourced from Persia, the precious material can be described as a dark, intense green colour featuring white-brown-reddish lines throughout. Natural stone was the perfect choice in this instance as its interesting contrast in lines and colours add character and depth. A Verde Borgogna bench is the perfect place to relax and enjoy the view over the serene landscape. A true wellness spa was designed to offer maximum relaxation and comfort to its guests.
Feel immersed in nature and relax in the thermal pool that features precious stones.