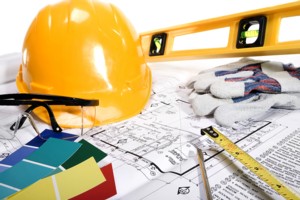 Improving lifestyle, rather than adding space, was the brief for this extensive renovation project
Words by Melanie Gardener. Photography by Ron Tan
Unfortunately, the original 1930s home had been renovated a number of times over the years with the addition of a granny flat that was then joined to the original home, then more bedrooms built above the first renovation and the conversion of a pool into garden space. The result was a miss-match of styles, terrible use of the available space and a home in dire need of some redirection.
Doepel March and Investwest Corporation undertook this venture as a joint project to design and specify the finished product. Their first task was to sort out the mess that had been left from the previous building activity. Space was not an issue, with more than 1000 square metres of garden and nearly 500 square metres of living area, but it had been so badly utilised over the years that, for example, the usable outdoor space had been reduced to a mere courtyard-sized lawn.
The plan was to find a way to turn this expansive home into a lifestyle-friendly, up-market and contemporary space within the footprint of the original home. It was decided to incorporate brand name items and integrate as much technology into the design and layout as possible. To this end, Kim Doepel designed a 'gallery'-style entry hall to set the mood and make an impression on visitors as soon as they entered the property. In addition, a purpose-built and –designed home theatre has been included with individual leather recliners and all the state-of-the-art fittings and fixtures for which a movie aficionado could wish.
While the original home retained a certain amount of character, it was felt that it was not of a suitable era to retain original fittings such as cornices. These were replaced with a more modern shadow line effect not only to all the ceilings, but also as a negative detail around the over-standard-height door frames. As well, the old skirting boards were replaced with 130mm-high square-edged boards in keeping with the modern theme. Investwest Corporation's experience in the Melbourne property market is credited as the inspiration for these design inclusions.
Externally, the gardens have been transformed. Previously overrun with unsuitable plants, the outdoor space now contains a lap pool with adjoining cabana, a limestone-paved entertaining area and substantial lawn space. The poured limestone acts as a unifying factor between the pool, outdoor entertaining and open-plan living areas, accessed via bi-fold doors.
Because of the extensive previous renovation work and 'rabbit warren' layout, there were many unusual challenges to overcome. The floor of the old granny flat was some 60mm higher than the surrounding floor and, when the designers tried to lower it, they discovered that the entire floor needed to be removed and re-poured. As the plan was to lay a direct-stick solid timber floor, a bathroom-style waterproof membrane had to be applied throughout.
The ceiling heights in the gallery and main living area also differed but this was overcome by utilising the lower living area ceiling as the linking element for the box bulkheads in the gallery, while the raised gallery ceiling height formed a recessed feature within the bulkheads.
The last word on this project is best left to John Pitcher of Investwest Corporation: "This home has a feel about it that is unequalled for entertaining or unwinding. Opening up the doors and jumping in the pool or relaxing in the al fresco all have a resort-like feel to it. The owners no longer have to journey away to relax … they just go outside."
PROJECT PARTICULARS
The project was designed by Kim Doepel and Janine Marsh of Doepel March Architects, 246 Churchill Avenue, Subiaco WA. Phone 08 9388 2281.
The project was built by Kim Doepel.
FLOORING
Kitchen, dining and living: WA 19mm BLACKBUTT secret nailed over plywood.
Bedroom: Cavalier Bremworth 100% NZ Wool Commercial grade Heavy Duty
Stair: WA BLACKBUTT hand laminated and shaped
Outdoor: Poured Limestone
Other: Decking in Malaysian 'BATU' hardwood with a cedar style stain
WALLS
Stair: Powder-coated aluminium/Taubmans Sparrow/Blackbutt
Outdoor: Dulux Apparition / Taubmans Sparrow
KITCHEN
Benchtop: Quarella Beige Duna
Splashback: Coloured glass to special mix
Cabinetry: Clear lacquer two pack finish in Dulux white, Perth by Frost handles or push catch
Other: Blum drawers and liners, Smeg dishwasher, cooktop, rangehood and oven, Abey Stainless Steel undermount 'Goulbourn' sink, Gessi 'Oxygene' sink mixer
BATHROOM, SANITARY FIXTURES & FITTINGS
Cabinetry in Wenge Formica with Rogersellor 'Zero' square washbasins, heated ensuite towel ladder, wishwash soap dispenser
Frameless glass showers with obscured glass to toilet, Sussex 'Scala' tapware to bathrooms, 'Domaine' oval spa bath, Dux Platinum series Stainless-steel grate floor waste, Hansgrohe Croma unica shower sets in double showers throughout.
LIGHTING
Low-voltage downlights throughout with HPM gunmetal touch switches. Lighting is controlled by Conson intelligent lighting system with mood settings and dimmers throughout.
WINDOWS + EXTERNAL DOORS
Custom-made oversize Cedar door and sidelight, Commercial section bi-fold doors and windows, CONSON controlled electric blinds to living areas/bi-fold doors, Fermax 'Olympo' colour video intercom with call station linked to all telephone handsets, all doors internal to 2340 height, Gainsborough 'Horizon' lever sets
OUTDOOR
Poured Limestone with bullnose to pool edge and entertaining area, 'Batu' timber decking, 600 x 600 black concrete pavers with white quartz surrounds.
Concrete lap pool with glass mosaics and Hurlcon gas heating, Donnybrook sandstone feature wall and columns, Archistone Ebony slate cladding to water feature.
SMART HOME
Leather individual recliners to home theatre, NEC DLP projector with fixed wall-mounted screen, connected to Foxtel, Internet, Playstation2 and DVD. Entire house is wired for music from server room via DVICO Tvix sound server and Roku Soundbridge. All media is controlled via a single wireless portable remote touchpad (Phillips Pronto Pro RU980)
"A simple, open plan greatly enhances the liveability of the house and eliminates wasted space so common in large homes"
TIP: Make large spaces feel warm and welcoming by decorating with personal items such as photos, special items purchased on overseas trips or children's artwork.