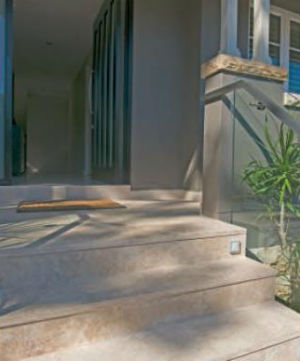 When only the best will do, choose high-quality, long-lasting natural stone
There is nothing quite like the look and feel of natural stone for giving your outdoor room, alfresco entertaining area or pool and its surrounds a look of timeless beauty. Using the best-quality stone is imperative, which is where Marble & Ceramic Corp (MCC) steps in. MCC offers an impressive array of natural stone products, including Classico Travertine, Bianca Luminous Marble (an exclusive line), Pietra Gray Limestone and Bianca Perla Limestone.
The stylish home shown here has used Chiaro honed travertine for all the interior and exterior flooring. Around the pool the owners have used the same material but in a Tumbled finish. This creates a beautiful flow throughout all the areas, as well as providing greater slip resistance around the pool.
To see firsthand how natural stone can add value and beauty to your home, just as it has done in the case of the home showcased here, drop in to MCC's new showroom in Sydney.
MCC's natural stone range is available in a variety of formats and finishes and the colour range is extensive, so you can find the perfect hue to complement any outdoor design. If you need swimming pool tiles, mosaics or engineered stone, they can provide those, too.
MCC is one of Australia's most well-regarded importers of natural stone and the company's enviable reputation is not only due to the quality and variety of its product range, it is also because its customer service is second to none.
As the company manufactures its own products, all of its consultants are well placed to provide detailed information about the particular properties of each stone and its best application. MCC is also able to produce any of its products in custom sizes to suit any design or specification. Quality is assured as you are dealing directly with the manufacturer.
When choosing a natural stone, it is very important to deal with a company that is able to offer a top-quality product and can also provide the very best information and advice. In this way you can be guaranteed of choosing something that will perform in the long term, suit your home and landscape, and will be the perfect fit with both your budget and your lifestyle.
Having consulted with the experts at MCC and selected the stone you want, you can be assured of a quick response. This is because MCC has more than 50,000 square metres of stock in Sydney.
For more information
Marble & Ceramic Corp (MCC) 33-35 Green Street, Botany/Banksmeadow NSW 2019 Phone (02) 9666 3800 Fax (02) 9666 3803 Email info@marbleceramiccorp.com.au
Website www.marbleceramiccorp.com.au