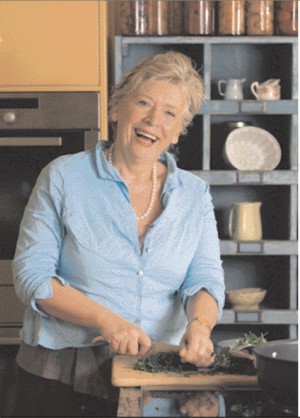 We chat with critically acclaimed culinary extraordinaire Maggie Beer and discover what ingredients are essential in Maggie's kitchen. 
Originally from Sydney, Maggie Beer worked and travelled overseas for many years before settling in the Barossa Valley in 1973 with her husband Colin. It was there that Maggie established Pheasant Farm, which, unbeknown to her at the time, was the beginning of a successful and fulfilling career in farming, food production, exporting and media. Maggie has written several books including the multi-award-winning Maggie's Table, which won the Gourmand World Cookbook Awards in Perigord, France, among others. 
No stranger to the camera, Maggie has starred in her own TV series, ABC's The Cook and the Chef, for which she was awarded the inaugural Lifestyle Food Channel's People's Choice Award and the Sizzler Bernard King Award for Best Television Food Segment. On January 25, 2010, Maggie was presented the Senior Australian of the Year Award by Prime Minister Kevin Rudd in recognition of her devotion to cooking with fresh, seasonal produce. 
What inspired you to become a chef? Was it something you always knew you wanted to do or something that happened naturally?
I guess the path chose me in that it was a necessity that turned into serendipity. When we first started breeding pheasants we could sell them just for novelty value but no one knew how to cook them. Any written recipes that people might have tried were pretty horrific and would have resulted in dry, overcooked birds, so it's little wonder they didn't come back a second time. Cooking came naturally to me, so that's what I started to do. I cook our pheasants and quail, pickle our quail eggs, make our pâté and utilise every bit of the birds. We started the farm shop and sold fresh birds with instructions on how I cooked them and offered roasted pheasant and stuffed quails as picnic food on the side of the dam. I still wonder how I had the audacity, with no experience or training, to start a restaurant (the acclaimed Pheasant Farm Restaurant, which closed in 1993) but I'm so happy I did. And today we're a farm shop again, serving picnic fare, so we've truly come full circle.
What do you love about your kitchen?
How I'd love a few modern things in my kitchen, such as compartmentalised deep drawers to use as my larder, but I'm so emotionally attached to my old Barossa cupboards that I doubt I'll ever replace them. My marble-topped butcher's block is equally prized in my kitchen; it not only provides a preparation space but becomes an ad hoc bar when we have guests over, with everyone milling about, drinks in hand, chatting and jumping in to help out while I'm preparing dinner
What is the one item in your kitchen that you can't live without?
My East/West knife, which is made of the highest-quality steel. I use it all the time. If you can only justify having one great cook's knife, I recommend getting an East/West knife that feels right in your hand.
What is the most used and essential appliance in your kitchen?
My espresso machine!
What are some of your favourite ingredients when in the kitchen?
Good, fresh and fruity extra virgin olive oil. It's the one ingredient I just can't do without. Verjuice seems to make an appearance in my cooking more times than not. It is such a versatile ingredient, giving that "lift" to food that our palate searches for. I've had so many people say that using Verjuice makes them feel like they are eating in a restaurant!
Do you have any staple, easy, homecooked meals that you would consider to be tried and true favourites?
It's a toss up between one of my daughter, Saskia's, Barossa chooks: preferably a super-sized one that is too large for most, served with a traditional stuffing with lots of liver, onions and herbs in the centre of the table. Or, when someone is feeling off-colour, a chicken soup with fresh noodles.
What's your ideal home-cooked Sunday breakfast?
Scrambled eggs, from eggs collected that same morning, with super-crispy Black Pig bacon (another of my daughter's products), thick-cut toast, unsalted butter (of course) and a good puddle of my Cabernet Sauce. All the better, if the weather is on our side, eaten alfresco.
What's next for Maggie Beer?
Given that I love what I do and have more ideas than I have time in life to fulfil, my quest is simply for a bit more time for myself and my family and friends.
What's the best cooking advice you have received?
When in doubt, add Verjuice! My good friend Damien Pignolet once told the apprentices at his restaurant this and it has become a bit of a mantra for me. Sage advice.
What's the best lesson you have learnt cooking at home?
Shop and be seduced by what looks the freshest and the most vibrant and then find a good recipe to follow if unsure of how to cook it. That way your food will be at the peak of its season, at its most affordable and, most of all, full of flavour. The next step is to keep it simple. Follow the principle that less is more — the more being your enjoyment in sharing your table and having everyone in the family involved.