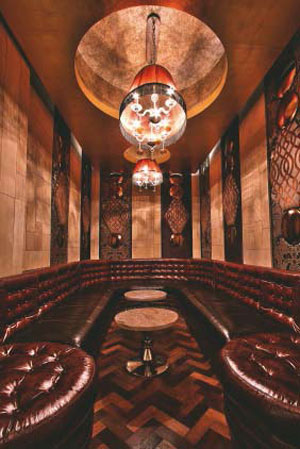 It's all in the detail." Alexa Nice's simple mantra is the core of her powerful design strategy. With an enduring fascination for art, fashion, design and architecture, there was no question Alexa would devote her life to the realm of interior design. Her passion dates back to childhood, with strong influence from her family of home renovators who always encouraged her creative passions. From these early years flourished a young expert in the field, and upon graduation from Queensland University of Technology, she immediately began working at The Buchan Group – one of Australia's leading architectural firms.
After exposure to an array of architectural projects – retail, mixed-used developments and interior architecture – she knew her ardour for hospitality and residential design reigned strongest. She joined The Katarzyna Group,a prestigious hospitality company based in Brisbane, to commence work on 'Cloudland.' This was Alexa's first taste of working on an extravagant, high-end venue. Her solo career followed the success of the opening of this ornately decadent project, establishing Alexa Nice Interior Design.
She draws inspiration from every aspect of her surrounds, absorbing beauty from the simplest things in her environment, and cultivating these experiences into her daily work. "I'm a keen observer of life and I'm inspired by everyday beauty — a simple stroll to my favourite coffee haunt can become a discovery quest," she reflects.
Apart from the inspiration on offer from her daily surrounds, she actively sources products and trends to maintain her savvy stance within the fast-paced industry. Travelling overseas and networking with a sea of industry contacts is all in a typical working week. Yet, Alexa realises trends are subjective, "Trends are fickle. They are always changing and evolving — always in some way reacting to the zeitgeist that produced them." To combat the temporary lifespan of a trend she trusts her own ideas and believes that if you design something that isn't 'in fashion' it won't go 'out of fashion'.
Her company is focused on creating beautiful, functional and unique interiors with a purely customised approach to each project. Her genuine admiration and appreciation for her livelihood is just the cherry on top. "What's not to love about my work? I love that every day and every experience can yield fantastic new possibilities."
For more information, visit www.alexanice.com