Sandstone is a great choice for the pool area if it's sealed correctly.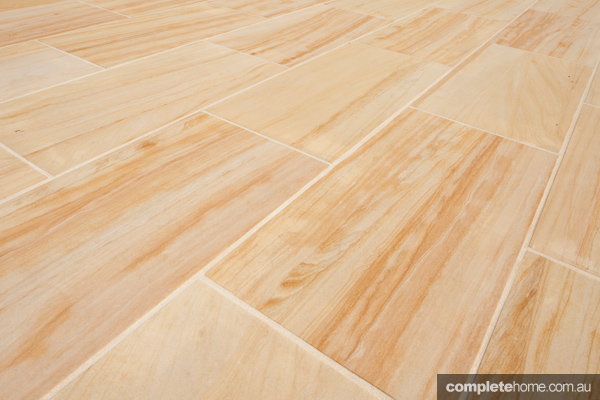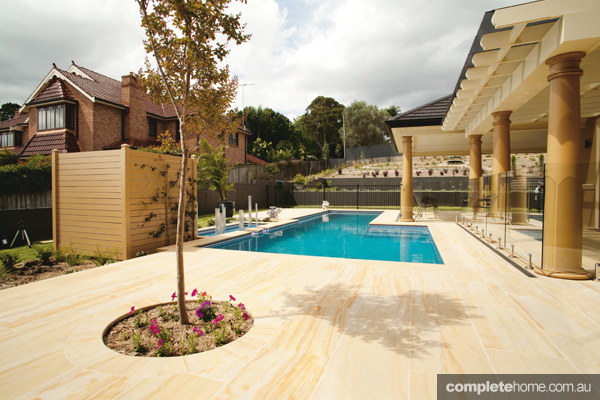 Sandstone can be a stylish addition to an outdoor pool area but it needs a little TLC. If you wish to use sandstone pavers around your saltwater pool, it is highly recommended that you pre-seal your pool coping with Dry-Treat 40SK before installation to prevent that dreaded salt attack. To ensure a beautiful and long-lasting finish, the pool coping should be cleaned and sealed again after installation. Sandstone pool coping, when pre-sealed with Dry-Treat 40SK, provides a distinctive and attractive look without compromising on strength and durability.
Ideal for pavers and balconies as well as outdoor entertaining areas, sandstone complements both contemporary and traditional designs. It can be used for internal and external walls, as well as external paving. As it stays cool underfoot, it is extremely well suited to paving and pool surrounds.
Cinajus carries a wide range of sandstone products, available in different colours, formats, and finishes. Tiles, pavers, cladding, 40mm bullnose coping, and step treads are all available. Cinajus' sandstone will ensure your paving and pool surrounds will last the distance and maintain a look of timeless elegance.
For more than 14 years, Cinajus has specialised in providing attractive natural stone products for all types of residential and commercial projects. The company has remained at the leading edge of natural stone suppliers due to its dynamic product range and depth of knowledge in stone selection.
Cinajus has a dedicated team offering honest advice on a range of quality products. Although the company is based in Sydney, it can supply landscaping and home-building projects Australia-wide.
For more information
Cinajus Pty Ltd 32 Bryant Street, Padstow NSW 2211
Phone 02 9773 5677
Email info@cinajus.com
Website cinajus.com
Originally from Outdoor Rooms magazine, Volume 23