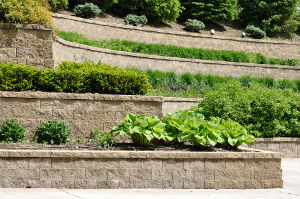 Terraced natural rock retaining walls make the most of this steep hillside block
Story: Karen Booth
Photos: Glenn Weiss
Designing for a steeply sloping site brings with it myriad challenges. Controlling stormwater run-off from the hillside above, minimising soil erosion, improving access from the street to the house and ensuring that the new retaining walls would look completely at home in the natural bushland setting were chief among the challenges that this Brisbane site posed.
Before the transformation took place, getting from the footpath to the front steps of the Queenslander home required an eight-metre climb up an incline of three-and-a-half metres; a walk in the park for a mountain goat but not such a pleasant proposition for a shopping bag-laden human.
To resolve the access problem, landscaper Wayne Giebel built a series of terraced rock retaining walls through which cuts an easily navigated set of flat sandstone slab steps. When you get to the top of the steps, you're greeted by a billabong-style fishpond nestled between a simulated natural dry creek bed and a grouping of bush rocks.
In the rear garden, there is another spectacular water feature. This one comprises a pond and waterfall and has been cleverly constructed to look as if it is emerging from the rock retaining walls. A timber bridge was then constructed across the watercourse to provide access to a flat, stone-paved entertaining area.
Choosing the right stone when constructing a retaining wall is vital for reasons of strength, durability and aesthetics. In the front garden, the retaining walls are of strong, fine-grain Helidon sandstone rock; in the back, they're of hard-wearing porphyry stone.
"A major design and construction challenge was controlling water run-off and preventing water going over the top of an existing rock wall at the back of the house and entering the ground floor rooms of the house," says Wayne. "Dry creek beds were used to control the flow of water on three sides of the house. In a space-saving move, these dry creek beds also double as paths for access around the property.
"The family also wanted to keep the backyard as natural as possible so instead of pavers, the finished surface of the terrace and the clothes drying area is compacted decomposed granite. This material has a natural yellow/orange colour and blends with the colours of the rocks, bark and tree trunks."
To complete the look and give the property a real sense of place, the planting includes several species found naturally in the nearby bush, such as Acacia fimbriata, as well as a variety of native grasses.