By Vicki Holder
A
gainst a backdrop of global financial crisis and cyclical housing negativity, New Zealand's luxury home market has been hit by the turmoil that has affected all property.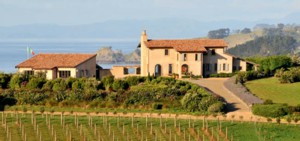 Spring is traditionally the busiest season for property. But this year, sales volumes are down and low house prices are stabilising at best. The downturn has the real estate market firmly in its grasp and it looks like it will be some time before it will let go. In September, the Real Estate Institute of New Zealand said house prices were down 6.1 per cent on a year ago; the weakest annual house price growth since 1991.
The length of time it's taking for properties to sell is 52 days, near historic highs. The government said in its pre-election fiscal update that it expected house prices to fall by a total of 11.3 per cent by March 2009, after peaking in December 2007. Then there's the US financial crisis. Hardly a country seems immune and in New Zealand, the credit crunch has hit our luxury home developers hard as banks withdraw from risky real estate deals. A string of high-profi le housing estates pitched at once-rich buyers have fallen over. Without a swift trade in these residential homes, the developers have struggled to find the finance to keep the ball rolling. Sales of land and house packages at the $2 billion housing development at Jack's Point in Queenstown have been quiet. Five Mile, the $2 billion township which Dave Henderson planned to build near Queenstown, is in receivership. Only a handful of the 36 homes of the 160 planned for Whisper Cove are occupied. The $250 million development at Snells Beach, north of Auckland, stands empty, in receivership. 
At Kensington Park in Orewa, also north of Auckland, a sprawling unfinished housing development has seen 60 new homes completed on a block designed to accommodate 750. The developer, Kensington Park Properties, went into receivership in September, owing millions to lenders and contractors. Several weeks later, Kensington's Huka Falls Resort, an ambitious 450-home development in Taupo, also went bust. And the fallout continues among a swathe of other smaller development companies. Reflecting an economy in recession, new home building approvals fell to a 22-year low in August. The number of approvals tumbled 43.3 percent on a year earlier.
The dramatic drop has had a significant impact on the building and design professions. Just look at the number of tradespeople now advertising for work on the web as evidence of the contraction. But right now, most architects dealing in the top end of the luxury market say they continue to be busy with ongoing projects. So what is happening? Mike Bayleys, managing director of Bayleys Corporation, one of the country's largest real estate agencies, says sales for all residential properties are down between 50 to 60 per cent, with the high-end market (properties more than $1 million) similarly affected. The high end is a small market, says Bayleys, with only about two to three per cent of all homes in New Zealand falling into this bracket. "The market has been slower in this bracket as it has been across all residential sectors over the past year," says Bayleys. "But activity is now on the upswing at the start of the traditional spring buying season, and furthermore we are seeing some buyers who have been holding off making decisions now re-entering the market. "Unemployment is low, interest rates are falling and the economy, which has slowed over the last 12 months, is forecast by many commentators to pick up again by early 2010. These factors should all inject confidence back into the housing market at the high end as well as other sectors." 
However, anecdotally, Bayleys's people around the country report an upturn in buyer activity since the onset of spring. David Rainbow of Bayleys Remuera says despite the downturn, there are always buyers and sellers looking to move for reasons other than financial. They may have been transferred or their existing home is too big or small. "We are noticing an increase in activity now that spring has arrived. Buyers are cautious, but if they're looking to acquire a family home to reside in for at least a couple of years, then they will buy." He cites the example of the recent sale of the landmark Binney home in Remuera with its expansive grounds, heated pool and self-contained living above the garage. It went for $3.2 million, around the CV, in the fi rst week of marketing. Bayleys Auckland Central recorded one of its best months in August and sold several multimillion- dollar properties. Likewise, a good number of luxury lifestyle properties sold this year north of Auckland. In Tauranga, Sharleen Adams of Bayleys Tauranga says lifestyle properties in her area have been something of a hedge against the slowing residential property. "I have had an increase in business in this supposedly soft market." In Wellington, Bayleys's Lucie Ashford says there will always be a market for top-quality, high-end property and she has made many successful sales over the past few months.
Top-end waterfront specialist Jim Mays from Precision Real Estate says he's experiencing "positive, quality enquiry" for properties he's marketing. "I have good properties in the throes of agreements. While we all acknowledge there's turmoil out there, the property that's right, in the right position and priced sensibly will always fi nd a buyer, irrespective of the market." Ray White's chief executive, Carey Smith, says real estate in New Zealand experienced a 28-year low across the board in September 2008. But Megan Jaff e of Ray White Remuera says sales of top-end property are buoyant. "There's a lot of choice. It's about fi nding what people want. But we had an auction on a property on Remuera's northern slopes the other day and we had fi ve bidders. The property was sold for $2.6 million. There's a strong market at the top end." Michael Boulgaris of Boulgaris Real Estate says up to 50 palatial homes in the $10 million-plus bracket are for sale in Auckland right now, "which is not a lot of money for some". He says many are not advertised publicly, or are advertised discreetly. Boulgaris does not believe the luxury market had "been aff ected too much" by today's tough economic climate. Some properties were simply "a once-in-a-lifetime opportunity" and people were still "grabbing them". 
Brent Hulena of Hulena Architects, a firm that designs many luxury homes around New Zealand, is worried about the number of expensive homes on the market. "With so many houses up for sale, that aff ects what people do. Buying could be more attractive than building, which is not good for us." Hulena says while his projects are going smoothly, the market has been slowing all year. "Over the last few years we've been involved with speculative luxury homes for developers. That's just died. It's not happening." Architectural fi rm Bevin & Slessor in Wellington also has several luxury homes under construction. Principal Nick Bevin says there are still people out there with money to spend and he hasn't seen a huge fall off . He's surprised at the number of expats who have returned to New Zealand bringing Euros and pounds Sterling with them, who want to build "very good homes with luxurious finishes; places of quality. People are big on quality at the moment. They're not worried about paying for it, but they want value for money. They want durable homes which perform well and they're prepared to spend a bit more. They're aware of cheapness and want to avoid it." Interior designer Rose Schwarz agrees.
"Design is becoming more considered. People are looking for value for money. I work like that and that's why people employ me. For me, it's a sorting out process that seems to happen every fi ve to seven years. It gets rid of all the crap in the market and makes people rediscover value." She says the money is still there, but people think more about how they're going to use it and live in it. "We're going through a clean-out period. Design has come back. It's not conservative, just more considered. People are thinking about it more carefully." Schwarz says she is defi nitely still busy. Most of her clients are talking positively about a change of government and they are taking advantage of the recession to move ahead.