Rome? Florence? Milan? No, it's in the heart of Sydney.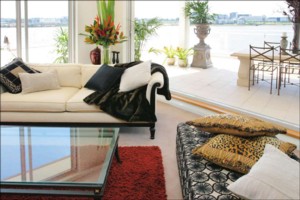 Sydney's newest suburb, Wentworth Point, has embraced the Mediterranean lifestyle, and whether you are strolling on its cobblestone streets, along the boardwalk, or dining in The Piazza, you'll be impressed by efforts to replicate La Dolce Vita. At the pet-friendly suburb you can browse for European delicacies, be pampered at the day spa and hairdressing salon, wander through the colourful and fragrant gardens, or simply people-gaze as you sip a silky cappuccino. Currently around 3000 people live at Wentworth Point, which is on the western shore of Homebush Bay, just 13km from the CBD, bordering Sydney Olympic Park and the 480-hectare Millennium Parklands.
Capitalising on the area's natural beauty is The Waterfront, an environmentally sustainable residential showcase developed jointly by local company Payce and Sekisui House, Japan's largest home builder. Sekisui House is renowned for its strategic thinking, meticulous planning, integration with the natural surroundings and sustainable design technology. The Japanese have a term for preserving the environment while encouraging human interaction with nature for mutual benefit: Satoyama. Sekisui House is at the forefront of this movement, and exhibits the initiative at The Waterfront. The parks, gardens and open spaces at The Waterfront enhance the relationship between its residents and nature and provide a native habitat in their own right. Indigenous trees and native shrubs have been planted to attract fauna, thus fostering a natural ecosystem. At the heart of The Waterfront is The Piazza, which has become a fashionable milieu for social events, and offers an authentic Italian experience. 
The Waterfront's jetty, walkways, dry-stack feature walls, sandstone planter boxes, and hundreds of mature palm trees have residents feeling they are in a holiday resort, further enhanced by the scene-setting names of the 17 completed apartment buildings, which include Capri, Corfu, Bellagio, Valencia, Positano and Sorrento. Mediterranean in architectural inspiration and European in style, these buildings have rendered or bagged masonry façades in a palette of pastel shades, often highlighted with colourful canvas awnings. The Waterfront's two latest apartment buildings, Corsica and Catania, were rushed by purchasers when released off the plan. Construction of Corsica is well underway, and Catania is expected to start around October, 2010.
The feverish sales underline the demand for affordable accommodation in Sydney, where the chronic undersupply is predicted to reach 35,000 dwellings by the end of this year, further forcing up rents and prices. The next stage of The Waterfront will be launched shortly. Messina comprises two separate buildings with an aesthetically coordinated look and consistency of character.