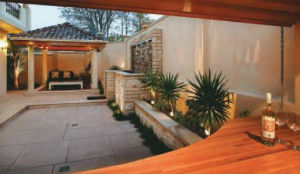 From the alfresco lounge pavilion to the outdoor bar,this Perth courtyard has it all
This once dated front courtyard boasted an infrequently used swimming pool and little else, which is why Ritz Exterior Design was brought in to transform the space into a functional outdoor entertaining area.
"The old courtyard was a real eyesore, with an old pump shelter one of the main problems," explains owner of Ritz Exterior Design, landscape architect Guy Mouritz. "The solution was to turn it into a bar to service the new entertaining area. Now, this cosy bar sits at one end of the courtyard, with a new gazebo and stacked stone water feature at the other."
To ensure the new gazebo — furnished with a three-piece couch set and Chinese elm table — would sit in perfect harmony with the house, the same sandstone columns were used. Even the tiles were specially made to match those used on the roof of the house.
"One of the things we tried to achieve was to make the garden inviting from inside the house to draw people outside. This was done by using the windows and sliding doors as 'picture frames' to capture snapshot views of the garden," says Guy.
"The planting on this job was the most fun. We had such a small amount of space for garden beds it was important to do something a little different. Two very large cordylines were craned in to give the upper level of the home a green outlook and to provide some height and impact to the ground floor. Because the courtyard gets quite hot in summer and water restrictions are currently in place, we used a lot of succulents, yuccas and native grasses. For fragrance, we added star jasmine."
For texture, poured Earth-coloured limestone paving was used. This is matched by the retaining walls which have been clad in bookleaf limestone and capped with sandstone imported from Sydney.
Ritz Exterior Design came to life in 2000 (formerly Ritz Landscaping), initially creating beautiful gardens for residential clients in Perth before director Guy Mouritz turned his hand from building and construction in rural Western Australia to landscape and gardens in the city. Maintaining a small team and restricting the number of projects undertaken allows Ritz Exterior Design to break the trend of mass production design and building. Fewer projects means time can be spent on the detail, projects run smoothly and the results speak for themselves.The design team consists of Guy Mouritz, landscape architects and an interior designer who work together to create the foundation of inspirational design and functionality. Thorough specification and documentation ensure nothing is left to chance.
Project details
Landscape design and construction by Ritz Exterior Design PO Box 518, Cottesloe WA 6911 Mobile 0404 064 004 Email guy@ritzexterior.com.au
Website www.ritzexterior.com.au Photography by Ron Tan