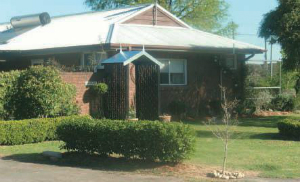 From plant stands to dramatic screens, metal can become a feature in any landscape
Sheetmetal manufacturer ALMEC has developed a range of unique metal products that can be used for a variety of applications, including as privacy or decorative screens or to enhance the look of any landscape, whether large or small.
Owner Alan Skinner explains that ALMECEC is a 20-year-old engineering company that has recently launched into developing its own products, drawing on the advice of two keen gardeners. "My engineers build well-engineered products that are cost-effective to the consumer," says Alan, "and our passionate gardeners ensure the products we develop are not only elegant but functional, too."
The product range includes screens, shade houses, gate houses, plant stands and benches, and garden tiles. You can opt for a design with cut-out motifs, which makes a great feature when lit up at night.
LandscapeScreens' products were exhibited for the first time at the ABC Gardening Australia Expo in Sydney in August, 2010, and again several weeks later at the Springtime Flora Festival at Mt Penang on the NSNSW Central Coast. "The shows generated a great deal of interest in the screens and the products have since been proven to solve many landscape problems as well as being enjoyed for their ornamental aesthetic," says Alan.
For example, you may have a garden or area within your landscape that needs something special to bring it to life, or perhaps you're searching for a feature that not only looks good but will add a touch of your own personality to the space. The addition of a LandscapeScreens shade house as a pergola with a decorative plant stand in matching powder-coated colours could be just what you need to give your outdoor space a bright focal point that can double as a casual seating area for two or a lovely spot to place some benches.
For more information or to view the company's range, call into the Auburn, NSNSW, showroom or visit the website