The indelible blurring between the previously discreet worlds where people live, work and play is redefining the "Aussie neighbourhood", while raising the bar on apartment living.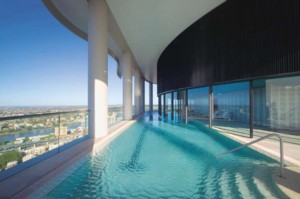 The by-product of greater acceptability for high-density living within our capital cities and some regional centres, mixed-used developments are now regarded by planners and developers alike as the future for urban Australia. Unsurprisingly, Paul Walter, director with planning and development consultancy City Plan Services, says the growth of mixed-used developments mirrors Australia's growing appetite for apartment living.
With apartment living gathering significant momentum in recent years, 2007 saw apartment dwelling approvals exceed residential housing approvals in NSW for the first time — and Paul says this trend is unlikely to reverse. "The public's perception of apartments has changed dramatically since the three-storey 'walk-ups' built in the 1960s were regarded as dwellings of last resort," says Paul. "Mixed-use developments with all their associate amenities are again raising the apartment living bar to a new level." According to Ian Briggs, director with Melbourne-based Plus Architecture, it's the connection between residential and commercial/ retail activities that generates a mutually beneficial critical mass of activity, population and placemaking within mixed-use developments. "It's helping to create a truly 'neighbourhood' feel within suburban developments that was once only found in our inner-cities," says Ian. He expects mixed-use projects such as Melbourne's Tooronga Village to serve as a guide for a new wave of mixed-use middle suburbia developments Australia-wide, where there's mounting pressure for greater population density. 
While Ian expects community resistance to be an ongoing challenge for mixed-use developments, he says it often reverses once the benefits are manifest for all to see. Admittedly, "shop-top" housing, with residential dwellings above and retail at street level, had its origins in the very birth of our capital cities, notably in Sydney's inner-city suburbs such as Paddington. But since then, mixed-use developments have evolved, along with Australia's demographics and rapidly changing lifestyles. While the "permanent population" within any mixed-use development provides a ready-made clientele/workforce for surrounding businesses, Paul says the residents living in these areas also benefit from the added security and "passive surveillance" associated with higher-density living. "That's especially true after dark, where a 'busy street' is typically regarded as a safe street," Paul says.
User pays: 
Over the years, humble shop-top housing has morphed into the self-contained "vertical village", where people not only live and work, but also holiday, shop, eat and be entertained, all within one compact neighbourhood. However, in response to mounting resistance to expensive body corporate fees, a growing number of mixed-use developments now offer a rich array of facilities on a user-pays basis, says Paul. Residents prefer to select the amenities they want, rather than pay for facilities they know they'll never use, he says. "There was a trend to put as many amenities into one project as possible and manage them through a body corporate," explains Paul. "Due to questionable usage, they've been significantly pared back and placed at the street, not on the private communal level within these developments." Included in the myriad facilities offered to residents of the Residences at Hilton Surfers Paradise on a user-pays basis is a 24-hour dining room service, concierge, valet parking and housekeeping. Due for completion late in 2011, the Residences at Hilton Surfers Paradise comprises apartments and hotel suites spread across two multi-level towers that interconnect at the lower two retail levels.
Transit-oriented developments: 
Much to the delight of city planners, Martin Zaltron of The Urban Development Institute of Australia says there are certain pockets where the environmental benefits of mixed-use developments are already paying dividends. Interestingly, car usage within some "transitoriented developments" (TODs), notably in inner-city Sydney and on the Gold Coast, close to work, retail and recreational amenities, social networks and transport, has apparently reduced considerably. More recent examples of TOD developments include the new suburb of Newington on the western side of Sydney's master-planned community at Homebush Bay. Residents within Eko, a new luxury mixed-use project currently under development within Newington, will be able to choose from one of three Cityrail train services from Olympic Park Station, ferries from Olympic Park Ferry Wharf and numerous bus services. Martin says while similar TOD developments are surfacing around Milton and Bowen Hills railway stations in inner-Brisbane, more elaborate examples can also be seen further up the river at the Portside Wharf development, Hamilton. Comprising a world-class cruise ship terminal, Portside Wharf is supported by an adjoining mixed-use development of high-class residential, retail and commercial property; all in close proximity to the Brett's Wharf ferry terminal to the Brisbane CBD.
Design attraction:
Based on City Plan Services research, what attracts people to mixed-used developments is not only proximity to work, friends, shops and supporting infrastructure, but also superior design elements. And when renowned designers collaborate with developers, Paul says the appetite for buying "off the plan" only accelerates. Iwan Sunito, CEO at the Crown Group, says buying off the plan is far less daunting once buyers know who's designing it, and where the benefits really lie. He attributes 90 per cent precompletion sales in Crown Group's $120 million Gallery residential development in Parramatta to buyer confidence in the overall quality of the project. According to Gabrielle Morrish, general manager with Urban Design Architecture, NSW's introduction of a residential flat code in 2002 has encouraged more mixed-use developments, while delivering better-quality outcomes. As well as putting people as close to amenities as possible, improved floor-to-ceiling height at front and back, plus the maximum number of apartments per floor prescribed by the code, makes for multi-unit apartments that simply perform better. Gabrielle adds that in addition to providing greater sunlight and better cross-ventilation, these regulations also help deliver apartments that respond better to the zone and character of the surrounding neighbourhood. "Part of balancing a connection with surrounding amenities and nearby parks and gardens with privacy is the need for a separate street address away from nearby retail or commercial activity," says Gabrielle. "We also expect other states to embrace this apartment building design policy, with South Australia, Victoria and Queensland having already registered interest." Also complementing the residential flat code is a new national framework for sustainable communities and precincts recently released by The Green Building Council of Australia (www.gbcaus.org). The framework complements federal government reforms requiring capital city strategic plans to comply with national criteria for transport, housing, urban development and sustainability.
Urban renewal: 
Over the past few years, a growing cadre of developers and designers has collaborated on smaller-scale mixed-use suburban "infill" developments. There's been significant redevelopment of tired-looking "big-box" shopping centres, comprising retail and little else, and the Totem shopping centre at Balgowlah on Sydney's northern beaches is a prime example. There's also no shortage of projects involving the redevelopment of heritage sites, and Salta Properties' transformation of the Mercy Hospital site in Melbourne's inner east into a 12-storey, 88-apartment complex is one of many recent developments. Another landmark business and residential hub developed by Salta Properties is the Victoria Gardens mixed-use precinct on the former engineering works site. Located four kilometres from Melbourne's CBD, stages already completed within Victoria Gardens include: 45,000sqm of retail space and 2000 car parks; 20,000sqm of office space and 430 car parks; plus four buildings comprising 99 apartments in a prime riverfront setting. Regarded as a development milestone in Salta's masterplan for the mixed-use regeneration of the Victoria Gardens precinct is its new medium-density residential hub, Aplacetolive.com.au. Designed by SJB Architects, Aplacetolive.com.au will comprise 355 one- and two-bedroom apartments, plus two-bedroom townhouses across a suite of buildings. Close to public transport, unlimited entertainment, retail and dining options within nearby Bridge Road and Victoria Street precincts, Aplacetolive.com.au is proving popular with investors and owner-occupiers alike. Sales have been particularly strong among professionals in the 25- to 40-year bracket, with Jade, the first of the residential offerings released within the Aplacetolive.com.au development in December 2009, all but sold out.
Regional developments: 
Similar sorts of urban renewal is now being experienced within regional centres such as Townsville, where a $93 million project, Harbourside, has been earmarked for future development. Expected to be operated by the Stella Hospitality Group under its Mantra brand, Harbourside will incorporate a combination of serviced hotel apartments, luxury residential apartments, plus restaurant and retail space. Other examples of similar regional developments include the waterfront Waldorf by The Sea project at the Entrance on the NSW Central Coast. Designed by Andrew Grieve of Homeplan Architects with curved roofs, balconies and walls to create an exciting maritime theme, this mixed-used development includes 63 residential apartments, 40 tourist units, 640 car parking spaces and seven commercial units.
Brownfields developments:
A handful of major developers, including household names such as Lend Lease, Stocklands, Multiplex and Frasers Property, have upped the ante on suburban in-fill developments by incorporating multiple city blocks within a single mixed-use development. Most of these are Brownfields projects, designed to redevelop older industrial inner-city sites from the ground up. These include iconic landmark developments such as the 30-hectare Victoria Harbour development on Melbourne's Docklands site, which is expected to include 2269 dwellings, 21,615sqm of retail, around 250,000sqm of commercial space and 15,000sqm of community facilities by completion later this year. Further north, other noteworthy Brownfields projects include Jacksons Landing and Victoria Park sites in Sydney, and Brisbane's Riparian Plaza. Winner of the Property Council of Australia Award for Mixed-Use Development 2008, Riparian Plaza comprises 53 levels of premium office space, retail accommodation, and world-class luxury apartments. Inside each apartment residents enjoy open-plan curvilinear living space and 2.7-metre nominal ceilings. While it's still in concept stage, Lend Lease is planning to create a $3 billion-plus mixed-use development on the former Sydney shipping area that's been given the moniker, Barangaroo. Located at East Darling Harbour, the 22-hectare Barangaroo site is expected to commence construction late in 2011 and will include office towers, residential apartments, a shopping centre and a park — with more than 22,000 workers and residents and 33,000 visitors daily. Meantime, Frasers Property plans to transform the 5.8-hectare Carlton and United Brewery site on Broadway into a new gateway to Sydney's CBD with a $2 billion Central Park precinct featuring commercial, residential and retail space. Commencement of an expected 1550 residential units earmarked for Central Park precinct is expected to start some time in 2010.
Masterplans: 
Beyond the redevelopment of older industrial inner-city sites, there are Greenfields masterplan developments where entire communities comprising apartments, townhouses, residential dwellings, retail and commercial are being built from scratch. These include University Hill north of Melbourne; the Tooronga Village Masterplan in Glen Iris, Melbourne; and The Waterfront, a secluded residential enclave at Homebush Bay in Sydney's inner west. Two masterplan developments within Sydney's lush Hills District include the GPT/ Lend Lease joint venture development at Rouse Hill, and Norwest Land's Bella Vista Waters project, an integral part of its Norwest Business Park development. In the past seven years, building firms such as Starr Constructions have helped transform Bella Vista Waters from undeveloped pasture into prestige communities such as Lindenwood, The Pointe, Macarthur Ridge and Waterstone, which boast an array of architecturally designed homes. Meantime, earmarked for development as a major regional centre in 2003, the Rouse Hill Town Centre will see $1 billion of residential and commercial development on a 120-hectare site over the next 12 years. Supporting an existing 76,000sqm of retail, entertainment and dining space, plus 10,000sqm of commercial and community-based developments, are an existing 104 apartments. A further 100 apartments have been earmarked for construction and up to 1800 residential dwellings are planned, along with community and recreational facilities, schools, plus 30 hectares of open space and new infrastructure.
The Village: 
Designed to set a new benchmark in integrated mixed-use developments, Stockland's redevelopment of the Totem Shopping Centre, Balgowlah, creates a new synergy between lifestyle and commerce. Completed in November 2009, the 2.1-hectare site comprises a Coles supermarket, 60 specialty shops, apartment living, a seasonally heated resort-style pool, private and semi-private landscaped gardens, plus residential parking on two basement levels. Acting as the focal point of the Balgowlah Village development, the landscaped plaza with colonnades, seating, public art installations and performance space draws local residents and shoppers alike. According to Reg Smith, CEO of key architects to the project, Allen Jack + Cottier, Balgowlah was identified as a casual suburb where people want to feel like they're on holiday. "Expansive balconies, steel pergolas, external sliding louvre screens and shaded windows enhance the beachside feel," says Reg. "And by using a blend of timber fences, glazed balustrades and offset blades, the apartments maximise district views and vistas out to the Sydney Heads." Balgowlah Village features 240 one- to threebedroom apartments across seven low-rise buildings, each with their own discreet street-level access. Capturing district views out to the Sydney Heads, the harbour and the northern Sydney coastline, apartments have been designed to enhance coastal living. And while some at the podium level boast 60sqm balconies, Reg says the inclusion of skylighting and cross-ventilation gives other apartments a distinct townhouse feel. "Through clever use of sloping topography, The Village allows the apartment entrances, residential car park and landscaped pedestrian walkways to operate separately from the retail facilities," says Reg. Clever design layout, adds Reg, has significantly reduced wasted voids between buildings without compromising privacy between either apartments or public and private spaces. In addition to finishing lightfilled interiors with eco-friendly low volatile organic compound (VOC) paints, apartments have also been equipped with energy-efficient ducted airconditioning, premium gas cooktops, rangehoods and water-efficient dishwashers. Collected from building rooftops, rainwater is filtered and stored in an underground 500,000- litre tank for use by retail and residential toilets, washing machines and landscape irrigation.
Portside Wharf: 
Regarded as one of Australia's most innovative master-planned urban communities is Multiplex's $1.3 billion mixed-use Portside Wharf development located at Hamilton in Brisbane's inner-north. Completed late in 2006, Portside Wharf comprises three low-to medium-residential buildings containing 171 boutique apartments, more than 7500sqm of retail and lifestyle precinct, with restaurants, cafés, gyms, cinema, function centre and art gallery, and the Brisbane Cruise Terminal (BCT). Regarded as the jewel of Portside's three residential buildings is Infinity, a waterfront residence where each of the 63 luxury apartments has access to a recreational pool, barbecue area and spectacular river and city views. Aimed primarily at the owner occupier market, all Infinity apartments feature premium finishes and fixtures, superior storage solutions and highquality elements not previously available within other developments. Infinity residents also enjoy house-sized kitchens up to eight metres in length with direct balcony access and separate scullery areas, plus the latest CBUS systems with additional capacity for expansion. Other unique features enjoyed by residents within the luxury Infinity address are a well-equipped ensuite with dressing room and fitted robes, powder room, media room and study, as well as generous laundry and fold-out ironing station. Each of the two penthouse apartments within Infinity (which sold for around $5 million respectively) features larger living spaces that open to numerous external balconies with extensive glazing and city views. They also boast ceilings up to four metres high, plus plunge pools, a library, study and theatrette, and a four-car secure garage. Multiplex recently began construction on its stage II project at Portside Wharf, The Promenade Hamilton Apartments, designed to suit the modern Queensland lifestyle. Located within the heart of Portside Wharf, Promenade will house 172 one- to three-bedroom apartments over 12 levels and will be serviced by four lifts. Tim Willing, Multiplex director of sales and marketing, expects the generous balconies within the Promenade Apartments to be used as a second living area. "Designed with comfort and space in mind, floor-to-ceiling glass maximises natural light, air flow and stunning views," says Tim.
Eko calling: 
Currently being developed on the last remaining parcel of land at Newington is Crown Group's mixed-use project, Eko. Designed with a sustainable focus by Joshua International Architects, Eko comprises 213 one- to threebedroom luxury apartments and penthouses. Spanning numerous low-rise residential buildings and 18 retail/commercial suites, Eko integrates well with the adjacent Newington marketplace. Designed with a strong emphasis on communal areas (including 35-metre access pool) and multi-function rooms throughout its five buildings, Eko encourages community integration through its 4000sqm of tranquil gardens offering varying degrees of privacy. In an attempt to create a resort-style living theme, each apartment boasts an elegant 2.7-metrehigh ceiling and a simple white interior palette, complemented by natural design elements such as rough stones placed in the entrance to each residence. Due for completion in 2010, Eko is located only 10 kilometres from Sydney's CBD and enjoys world-class transport links, and facilities including Acer Arena, the ANZ Stadium, the Olympic Aquatic Centre, Athletic Centre, plus golf and tennis centres. Designed to reflect the project's overall resort theme, Eko's three bungalow-style penthouses encompass a courtyard, and open-plan living that leads out onto an enormous 250sqm balcony offering sweeping vistas of the city skyline.
Tooronga Village: 
Destined to become the new urban-suburban heart of Stocklands' 10.6-hectare masterplan development at Glen Iris, eight kilometres from Melbourne's CBD, is the Tooronga Village. Regarded by Plus Architecture's Ian Briggs as the quintessential mixed-use development, Tooronga Village integrates community facilities, public spaces, retail/commercial tenancies and apartment living; all within 400 metres of the train station. An intensive urban renewal of what was a huge car park and adjoining "big-box" shopping centre, Tooronga Village will consist of 4000sqm of office space, 8000sqm of retail, and two towers comprising 297 one- to three-bedroom apartments once completed in mid 2011. "The architectural expression of Tooronga Village is governed by two archetypal elements: podium and tower," says Ian. "Users are able to access the development at multiple levels of 'ground floor' entry, while the roof of the podium becomes a ground plane for the towers, restaurants, plazas and gardens."