The design trendsetters are stepping up to the plate and becoming environmental role models as well. Take a peek inside the offices of some of Australia's largest and most influential companies, architects and designers to see what they are doing to help the environment.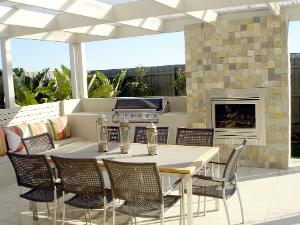 HUB furniture:
Georgia from HUB furniture describes the company's philosophy as being "reduce, reuse and recycle". Many of the things they implement are small and simple ideas that we can all apply in our own offices or even at home.
Actions include using sensor lights in the showroom at night instead of leaving the lights on and wasting energy, recycling office waste, and switching all computers off at the end of the day.
When selecting a manufacturing company to exclusively represent in Australia, Georgia tell us, "In our search for the best products, we demand that key requirements are met including original design, quality, performance, reliability, environmental stewardship and value for money." Georgia adds that the team at HUB feel that by representing products only of the highest quality, they are ensuring a long lifespan and therefore reducing the need for landfill.
A close connection between quality and impact on the environment is always sought after with suppliers using 'clean' non-polluting production processes and materials that are natural and where possible recyclable.
When asked how HUB's designers are taking steps to make their pieces and business more eco-friendly, Georgia says, "Environmentally sustainable design is integral with the development of furniture. Designers and manufacturers are streamlining their products to reduce the amount of unwanted furniture going to landfill. Our manufacturers are for longevity in product construction and aesthetic, producing furniture for a projected service life of more than 10 years."
Using materials such as vegetable tanned leathers, recyclable steel structures and CFC-free foams means the materials can be separated for reconfiguration, reuse and recycling.
One of HUB's major suppliers, Moroso, was the first and still one of the only furniture manufacturers in Europe to have been awarded the ISO 14001 Environmental Certification while several other suppliers have completed all relevant paperwork and are undergoing the rigorous assessment process for the certification.
Tips for you from HUB:
Going green at home is a case of being re-educated in ways to reduce your water, energy and waste. Imagine the environmental impact, not to mention financial saving, if we all reduced our water, energy and waste by 10 per cent over a three-month period and then a further 10 per cent after that?
People can learn of other ways to make their home more green by logging onto websites such as www.climatefriendly.com.au which has great tips for saving energy, such as turning off lights and switching your bulbs, insulating your home and body, opening the windows, turning off the air-conditioning, dry washing outside, paying bills online which will save paper, even working from home one day a month, which would reduce transport emissions.

Q & A with James Cooper from Sanctum Design:
Being an architect, James is able to directly influence a home's ability to be energy-efficient. "We have put a lot of emphasis into promoting Sanctum as an ESD-focused (ecologically sustainable development) practice over the past five to 10 years and up until recently, it has always been a bit of an effort to get the mainstream clients on board. We always have our 'committed' clients, but it has been more of an effort to educate the other (often wealthier) clients to see past space and aesthetics. Nonetheless, our clients have always responded positively on the ESD outcomes in terms of natural comfort in summer and winter, generous natural daylight, and reduced use of air conditioners and heating systems," he says. All in all, Sanctum is now increasing this emphasis as more clients come on board ESD and the company is now able to push other aspects of ESD, such as low VOC materials, reduced embodied energy and alternative energy solutions.
Do you feel that your clients are looking for a 'green' alternative now when building or renovating? Has there been a big shift in your clientele wanting a more sustainable home?
We are starting to see more people (particularly in the high-end) wanting to maximise ESD potential of homes and new developments. This has translated into increasing our services in the design analysis processes and being able to spend the time in achieving really sustainable outcomes. The other reason we are fielding more enquiries in this area is due to more publications allowing more specific target marketing in this area.
What are some of the things you implement in your designs to be more eco-friendly?
Our speciality is in relation to energy-efficient design — which is based around passive solar heating and passive cooling design. These are often expressed in our buildings with lots of north-facing glass, operable louvre roofs (for sun and shade), glass louvres for ventilation, clerestory windows for light and ventilation, exposed thermal mass floors and or walls, lightweight cladding materials and large eave overhangs and so on. A building well designed for most of our temperate climates will relate well to its surrounds, which in turn develops a typically "Australian" theme — our buildings are very visually responsive to their site context. 
How do you feel your suppliers or builders have taken steps to make their product more eco-friendly?
We now have several builders actively pursuing the 'green' design market, who also act as our agents to deliver pre-designed sustainable homes to the broader market. Builders and suppliers are not only getting more passionate from an ethical perspective, they're also seeing the burgeoning wave of change as a marketing edge. Many builders are training staff in 'Greensmart'-type programs, which helps them to understand the importance of building to a particular ESD specification.
Suppliers in their own right are rapidly developing new products and investing in more research with regard to the sustainability aspects of their products. New products are coming on board all the time in competition with the older, less-sustainable products, where eventually we will hopefully see a complete replacement of the poor-performing products.
What are some tips or what do you think readers can do to make their home more 'green' (without having to totally rebuild)?
The first thing I would suggest is to take the 'carbon footprint' challenge to look at your family's impact on the environment. By using a simple carbon footprint calculator you can get a good perspective of what your lifestyle choices do to impact on energy costs, pollution and CO2: www.epa.vic.gov.au/Eco-footprint/default.asp or www.greenhouse.gov.au/gwci/calculator 
To reduce this impact the best way to 'green' your existing home is to plan for the upcoming seasons to make the house more comfortable and to look at changing over the energy-guzzling appliances to reduce your overall consumption, such as: 
Change to solar hot water

Change from electric to gas-flued heaters

Install roof insulation

Install shading devices (external awnings and louvres) to cut out summer sun

Plant trees to help shade roofs and walls from western sun

Install ceiling fans

Install close-fitting blinds (roman) or curtains (pelmeted) for winter evenings

Seal up drafts around doors and windows

Choose 4- to 5-star appliances

Upgrade to a front-loading clotheswasher (water saver)

Plant a vegetable patch / pot

Use compact fluorescent or LED lighting

Change your habits — switch the lights / appliances off when not in use

Change to GreenPower options for your energy provider

Corporate Culture:
Corporate Culture has decided to take on a number of initiatives to reduce the office environmental impact. These include organising a comprehensive recycling system for paper, plastic, glass and aluminium as well as corks, plastic bags, printer and toner cartridges and office appliances. The team have also started using a compost bin (Bokashi bin) for all food waste, meaning that waste to landfill has been reduced by over 80 per cent. Another area that has been looked at is reducing energy usage; turning off appliances at the power point, keeping lights off in low-traffic areas, and choose energy-efficient appliances.
"We have a number of 'green' products in our collection," says Gemma Youlley from Corporate Culture, "including the Nobody chair, designed by Komplot for Hay, which is made entirely from recycled PET fibres (recycled plastic bottles). Also, our new boardroom table, Smooth, has recently been awarded an ecolabel through Good Environmental Choice Australia, meaning all materials and manufacturing processes have been third-party certified for their exemplary environmental performance. 
"A number of our collections, such as Extremis and Fritz Hansen, also stand out in terms of their commitment to reduced environmental impact. They have taken on a number of initiatives such as only using FSC-certified timber (Forest Stewardship Council certified), designing for disassembly for ease of repair or recycling, having their environmental management system certified by ISO14001, and creating products which are designed to last a lifetime."
Gemma says that designers such as Ross Didier, Dirk Wynants, Kasper Salto and many more are focusing heavily on creating designs that can be re-used or recycled, using only the highest-quality materials and manufacturing processes.
Tips for you from Corporate Culture:
There are some very simple ideas that can make a huge difference: switching to energy-efficient light globes, buying only energy-efficient appliances for the home, switching to green power, composting, installing a AAA shower head and tap aerator, purchasing clothes, shoes, furniture, appliances etc that are designed to last rather than cheaper, poor-quality items that will end up in landfill. There are plenty of ideas — check out the green home challenge run through the Australian Conservation Foundation: www.acfonline.org.au/greenhome 
Living Edge:
Sustainability and environment manager of Living Edge, Mary Holmes, tells us the standard is set very high when it comes to being eco-friendly and that the team is working towards ensuring all suppliers are SIO14001 certified. As with many of the other showrooms, efforts have been made to reduce energy use by switching off lights when not needed, turning computers off at the end of the day, installing energy-saving light bulbs, and printing on both sides of the paper when possible.
As for their pieces, there are many in-store that utilise recycling technology, such as the range by Herman Miller, including task chairs which consist of 94 per cent or more materials that can be recycled at the end of its life and already contains a large proportion of recycled material. In fact, all of the Herman Miller systems are more than 61 per cent recyclable.
Tips for you from Living Edge:

Buy locally made and seasonal produce; the further a product is transported, the greater the impact on air pollution and greenhouse gas emissions.

Visit local farmers' markets, source local organic produce where possible and buy in bulk.

Buy fair trade products such as tea, coffee and chocolate; these products are focused on human rights but often use organic or sustainable practices.

Source non-toxic eco-friendly cleaning products.

For food and green waste, set up a compost bin; compost is great for the plants.

Use timber from managed forests or reclaimed timber.

Select furniture that is durable and easily repaired.

Select furniture that has a high recycled content and is easy to disassemble.

And when you are finished with it, make sure it goes to a good home.