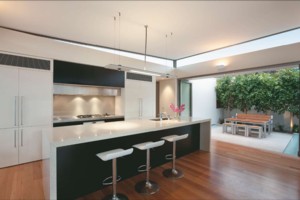 Replacing a weathered 1950s single-storey house with a contemporary-style dwelling became the focus for design firm Corben Architects and builder FS Hough. To embrace its stunning beachside location, this home was given special consideration to ensure every room had a view. Large sliding anodised-aluminium windows and doors, JWI operable louvres and timber screens line the home, maintaining privacy while maximising the surrounding views. Native plants were also chosen to complement the beachside environment.
For this three-bedroom home, environmental considerations also influenced the design. Rainwater tanks, energy-efficient glazing and insulated cavity walls were incorporated. The interior, however, is just as impressive as the exterior, with CaesarStone quartz surfaces used to transform both the kitchen and bathroom space. "When it comes to beautiful yet easy-to-maintain quartz benchtops, we choose CaesarStone," says project architect Mohit Keni of Corben Architects. The kitchen is cutting-edge modern, with simple yet sleek lines. The kitchen island, which doubles as a breakfast bar, is made from high-quality CaesarStone in Nimbus, and frames a dark-timber veneer panel. The cooking surface is made from stainless steel with a glass splashback chosen for easy cleaning and maintenance. The architect complemented these products with blackbutt timber flooring throughout, sleek veneer cabinetry and appliances, all enhanced by dramatic yet effective lighting. Leading into an enclosed courtyard on one side, and expansive living area complete with open fireplace and outdoor deck area on the other, the kitchen is the perfect space for entertaining or simply relaxing to enjoy the views. Operating for more than 20 years, CaesarStone has established itself as a leader in quality quartz surfaces. The product itself is made to withstand the toughest conditions, being resistant to scratching, staining, heat and chemicals. This surface, used in both the kitchen and bathroom, was the perfect choice for a young family requiring a low-maintenance yet durable home, while the product itself also maintains a sleek and contemporary aesthetic. The exquisite bathroom is truly unique. Both the shower and bath are tiled with a pink mosaic tile, which is a striking feature.
The Rogerseller taps were cleverly matched in the same bold colour. The benchtop is made from CaesarStone in Mangrove, and is ideal for the bathroom area as it is nonporous and both mould- and mildew-resistant. CaesarStone has been used in the kitchen and bathroom design industry for many years due to its combination of quartz, polymers and pigments, which makes it an exceptionally durable and colour-consistent product of the highest quality. In Australia, the range encompasses 38 colours and patterns backed by a 10-year limited warranty. Adding to the appeal of the home are the impressive coastal views offered from every angle, its dimensional design and the choice of quality materials used for the interior. It's no wonder this home is the talk of the town.