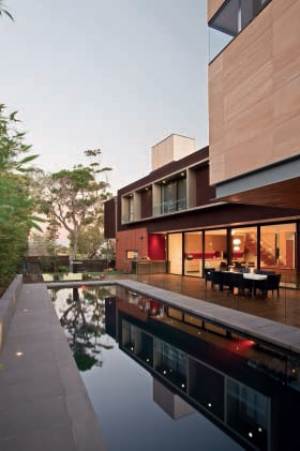 A creative design ensures a pool that fits hand in glove with its surrounds
Customising a swimming pool to suit the owners' needs and complement the property is what makes a pool project a success. In this instance, significant structural challenges also had to be taken into account.
Below-ground footing was required as the basement garage was built directly next to the pool. Pool construction also had to be timed to ensure that the one-metre surrounding paving slab and 500mm-high retaining walls were built at the same time as the pool. Thanks to its careful construction, the rectangular pool perfectly complements the home's striking, modern architecture and provides an ideal exercise and entertaining area for family and friends.
The pool, designed by Saaj Design and constructed by Baden Pools, is big, dark and bold to suit the house and overall landscape design. Black pebble was used for the pool interior to create a dramatic visual effect of infinite depth and guarantees the pool will be a central feature of the courtyard, day or night.
Measuring 17m long and 3.5m wide, this pool can be used as either a lap pool or a conventional swimming pool. With coloured underwater lighting, the pool not only provides a fun swimming spot for the family, it functions as a water feature for the property.
Frameless glass pool fencing ensures an uninterrupted view of the pool from the home and from the poolside decking. To create an enhanced sense of connection, a section of the decking cantilevers out over the pool.
An automatic water leveller is connected to an underground water tank to help the owners be water-wise and a pool cover reduces evaporation.