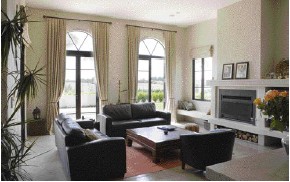 A whiff of upper-class English tradition reigns among the verdant, rolling fi elds of equestrian lifestyle blocks of Karaka in South Auckland. Yet as you arrive at the gate to the Bruford property, with its neat row of square motifs trimmed in ornate scrolls of wrought iron, you sense you're about to encounter something a little more exotic. Beyond well-watered paddocks, a vision of tall, frothy palms comes into play, swaying above a majestic Moorish-style building that oozes allure and secrecy.
Anne Bruford is a woman who likes a project. Her latest was inspired by her travels to North Africa. "We do a lot of travelling," she explains, "and we like to go to this part of the world. It's rich with ancient culture. When it came to building my new home, I wanted something diff erent, something timeless. I was tired of trying to suit the mass market with the latest designs. I chose Moroccan style because it's an elegant mishmash of diff erent cultures from that part of the world." There are few dominant characteristics in Moroccan architecture, so Anne sought to create an authentic look by incorporating thick textured plastered walls, gracious archways and keyhole arches. Particularly high stud heights give a sense of spaciousness, and some intricate decorative details and colourful accessories off set the overall simplicity of the design.
Borrowing heavily from books on the topic, her architect created the spaces and daughter-in-law Claire Bruford of Le Mieux Design gave guidance with the interiors and fi nishes. The design began with a rustic, tall, heavy timber door that Anne and husband Jim brought back from one of their journeys to Turkey. Centuries old, it encapsulates the faded, textural beauty of Morocco wearing thin layers of peeling blue paint, set with a chunky rusticated iron lock and bolt. In the entry behind a grand, keyhole arch, it opens to a large tiled foyer, the central point between two axes through the home.The foyer looks down through a particularly tall dining room with 4.6m stud and out through the loggia to the garden. A fountain cupped in a large, metal bowl spilling over with water onto a mosaic, geometric tiled square provides a restful focal point to this vista.
From the foyer, visitors can peer along the hallway through shaped archways, where a parade of rusticated metal wall sconces casts a glow at the entrance to bedrooms at night. Claire Bruford explains the design of the house is not traditionally Moroccan. "Because it's so hot, most Moroccan houses focus inward to cooling fountains in courtyards. That's a nice idea but it wouldn't work in the New Zealand context. We've opened it up and spread it out so every room maximises the lovely rural views." To keep the interiors simple and so as not to detract from the stronger shapes of windows and the fi replaces, most walls are painted in a low-key Resene Akaroa, a soft yellow-green. However, the formal lounge addsa shot of warmth, perfect for night-time entertaining around the fi re in a strong red brown, Karen Walker's Sanguine.
The use of colour plays a signifi cant role in Moroccan designs. Claire and Anne honed in on the green-blue of the big front door to set a consistent colour theme and they selected tiles to match for diff erent areas. In the courtyard mosaic and on the face of the steps leading down to the dining room, the tiles were sourced locally from Middle Earth in Auckland, whereas those on the kitchen splashback were imported from Morocco already made up into a design. "We sent away the colours and dimensions and it all came back in containers with the coloured pendant lights, including the one over the dining table and the wall sconces. It required a bit of a leap of faith but we were well rewarded when it worked out." Anne contrasted the light-coloured walls and neutral window treatments with dark-stained timber furniture, including an oak table in the dining room and oak cabinetry in the kitchen and bathrooms. The red of the formal lounge carries through to a luscious, deep-red upholstered fabric on the chairs. Anne's favourite space in the home is the kitchen. "It's the real hub of the house where everyone gathers. I love the big benchtop and the way the light glows through the laser-cut oak in front of the bench. It looks beautiful at night. It all comes to life when I light the candles. With all the colours and textures, it has a very romantic mood. When we entertain, we open the big bi-fold doors to the loggia and everybody sits outside by the fi re. For really large crowds, it's just perfect."