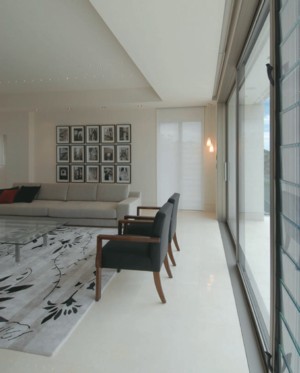 Luxury Home Design:

How did you begin your career in design?
Bianca Jones: The fi eld of design was a completely natural path for me to take, as my parents began their own building design company in 1988 when I was only seven years old, and the whole family has been consumed by it ever since — even my brother Ben, who began his own building company in 2007. I can still recall my brother and I spending weekend after weekend in the car with our parents visiting their design projects, display homes and the like — we didn't think it was much fun then, but it obviously had a profound eff ect. Even when I was in primary school, I would spend countless hours detailing the presentation of my assignments, only to be told that the content was much more important. It's funny how things work out, as now the quality of my presentations is what sells my concepts. As a youngster I actually had my heart set on fashion design, but after a school work experience activity with a fashion house, I soon decided against such a career. During a 12-month education exchange to Quebec, Canada, in 1997- 1998, I developed an interest in furniture design, infl uenced particularly by Australian designer Marc Newson and consequently upon my return to Melbourne, I applied to various institutes to study furniture design. Evaluating the future opportunities in furniture design, I felt interior design would provide me with more options and decided to also apply to study interior design, being accepted into RMIT in 2000.
At what point did you decide to branch out on your own and create your own business?
Following my graduation from RMIT in December 2002, I worked for a local Mornington Peninsula interior design company which unfortunately went into liquidation 12 months later. While seeking other opportunities, I was approached by a number of companies who had unfulfi lled contracts with my former employer and asked if I would be interested in taking over the contracts to complete their display home fi touts. I really wasn't prepared or organised to begin my own business at this point, as I was still only 22, however circumstances provided me with a rare opportunity, and I took it. I launched Bianca Jones Interior Design just two days before my 23rd birthday, from the study in my parents' Mornington home. Within nine months, business was so brisk that I had outgrown the study and moved into a studio in the Main Street business district. As my father was embarking on design projects in Asia and the Middle East and needed more support at home, his company Graham Jones Design asked me to become their interior design consultant. This would entail working on high-end residential fi touts, including joinery design and materials selections. Meeting with GJD clients also opened up numerous opportunities to design furniture concepts and supply complete furniture packages for their projects. I now travel regularly to the United Arab Emirates, where I am engaged in residential interior design projects in Dubai and Abu Dhabi for the royal family and other high-profi le clients. I fi nd this quite exciting as my contemporary interior concepts have been extremely well accepted by these normally conservative Arab clients, who have been quite prepared to embrace my western ideas.
What has been one of the standout projects you have worked on?
What makes a project so special to work on is not purely the design aspect, but also the relationship that can develop with the client during the process. My standout project so far was a unique home located on the "golden mile" in Mt. Eliza, with stunning views over Port Phillip Bay towards the city. Over a two-year period, I almost became part of the family, forging a friendship which will last forever. The trust and confi dence bestowed upon me by my clients was most gratifying — allowing me to make all major decisions on the fi tout and furnishings of this most contemporarydesigned home. I was given carte blanche to design most of the built-in furniture and joinery items, choose new furniture for the complete home, select artworks and then spend numerous days shopping for accessories with my client. I also worked closely with the designers and builders and was involved in consulting on numerous details outside my scope of employment. The clients were delighted with the result, but for me it was about much more than just completing a project successfully — it was about achieving beyond my own expectations and creating outcomes, which made me feel extremely proud.
Have there been any wild client requests over the years?
Being in the industry such a short time, I have so far managed to avoid the eccentric requests which one often hears about. However, a recent project I designed did take me out of my contemporary genre slightly. I completed a minimalist fi tout for a 1200-square-metre home in Melbourne, with the exception of one principal room — a themed game trophy and entertainment room. The client, a keen hunter, wished to display his prized trophies in an atmosphere which one could only imagine in a Hollywood movie, and although I was daunted by the prospect, I quite enjoyed the challenge and look forward to viewing the completed space early in 2009.
What have been some of your favourite interior trends in the past couple of years?
I do try to avoid getting caught up with interior trends where possible. My style of design has developed and evolved throughout my short experience in the industry and is very much related to the environment and location of each project as well as obviously being infl uenced by the style of the original design I have been presented with. The personalities of my clients also have a great bearing on the choices I make as it is important for me that they feel totally comfortable in the surroundings I have created for them.
Have you got any favourite materials to work with?
I really enjoy incorporating natural products such as stone and timber veneer into my interior concepts. Each piece is unique and in many cases, hundreds of years old. They have so much inherent beauty and interest in their variation. What do you feel are the coming trends for interiors in 2009/2010? Not being a follower of trends, I don't subscribe to what others may set as a standard or style to be followed — hence I would prefer to create my own set of rules and perhaps if others wish to follow, I may be seen as a trendsetter in the future. What is your personal style? My personal style is contemporary minimalist — I generally prefer a neutral palette with a splash of colour introduced through artwork and accessories.
Have you got any tips for readers looking to change their interior?
The most valuable tip I can give to those wishing to improve their interior space is to use the "KISS" principal (Keep It Simple Stupid). I occasionally visit display homes which are totally overdecorated, perhaps to compensate for a lack of design elements in the design of the home. I feel that clean lines and simple, well-chosen pieces off er much more class and sophistication rather than items which simply clutter up the space. For more information contact Bianca Jones Interior Design on 03 5975 2447 or visit www.biancajonesid.com.au