by Stephen Crafti
The term multiplicity suggests a multi-disciplinary team of architects and designers. However, the origins of this Melbourne-based architectural practice are even more complex than the name suggests.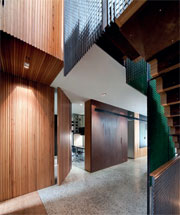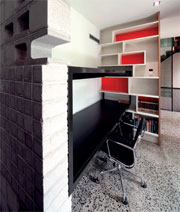 "When we registered the name Multiplicity in the mid-1990s it was a reaction to our previous work environment (architectural office). There, everything was driven by cost and instructions were to keep everything simple. Architecture in its purest form is complex. It shouldn't be dumbed down," says interior designer Sioux Clark, who works closely with her life and business partner, architect Tim O'Sullivan. 
Since registering as a business more than 10 years ago, the duo has built a small practice that now includes three staff. Working from their rudimentary home/office in Brunswick Road, divisions are measured in time rather than space (approximately 35 square metres). "At nine o'clock, Sioux and I have to be ready. Occasionally, we can be caught in the shower," says O'Sullivan who, with Clark, has been refining plans for a considerably larger home office in the vacant warehouse directly behind (almost 350 square metres). "We've just been too busy with other people's projects. I think we will be in this space for another few years," adds Clark despairingly. 
The first collaboration between O'Sullivan and Clark involved a design competition for Perth's foreshore. "The nature of competitions is that they're fast and furious. We were originally going to call the practice 'Designers on Speed' or 'Dead on Arrival'," says O'Sullivan. While the duo's design didn't win, it was shortlisted among the top 15 entries from a pool of 200 architects, both national and international. "The experience gave us the confidence to put out our shingle," says Clark. 
One of Multiplicity's first projects brought it considerable media attention, as well as clients. Under the same roof as the current practice, but abutting a rear laneway, was Tim and Sioux's first home. "Our original idea was to subdivide the rear warehouse and sell it. But the Brunswick market at that time didn't embrace living on a lane," says O'Sullivan. His parents echoed the market sentiment. "My parents thought we were mad," he adds. 
O'Sullivan's parents also raised their eyebrows when he and Clark started fitting out the warehouse themselves. "We used a builder to cut through some of the triple brick walls and provide the framing. But we laid all the pebble flooring," says O'Sullivan. Hundreds of pebbles were individually sorted to create the right texture and hue to resemble a river bed. O'Sullivan assisted Clark in creating the plywood floors and translucent fibreglass wall. "There was only the two of us, so everything had to be lightweight. We used materials that were translucent, with the main light coming from above," says Clark. As well as media attention, Multiplicity's fit-out earned it a commendation from the RAIA Victorian Chapter in 2000. 
The renovation of the warehouse also established Multiplicity's direction. "We love working with recycled materials and particularly found objects. We regularly go for evening walks and return with things found in a dumpster or left on a lawn for hard rubbish day," says O'Sullivan who is also known to bring home the occasional chair. 
While a disused door handle found in a dumpster may find its way cleaned and polished onto a door in a client's home, other materials end up as contemporary jewellery. "Look at this necklace I've just made for Sioux," says O'Sullivan, picking up a piece made from several intertwined Perspex specimen bottles. Resembling a small chandelier, the only problem is its size. "It's definitely not suitable to wear on family occasions when you need to kiss and hug everyone," says Clark. 
One of Multiplicity's most significant projects was the renovation of a bluestone church in central Victoria. Recipient of numerous awards, both state and national (including a DIA Award in 2005 for Residential Interior Design), the home features two "pods", one framed in a fluorescent acrylic, the other in cast plaster. "It gave us enormous satisfaction. Our clients were happy with the result, as was Heritage Victoria. And we didn't alienate the local community, who understandably were extremely guarded about the church," says O'Sullivan, who also organised a deconsecration ceremony for the building. 
On the back of the church renovation came a smaller project to extend the Shire of Daylesford's municipal offices. With a budget of only $150,000, Multiplicity created a new customer services department. Comprising a modular frame and adorned with timber columns, this modest building also received an RAIA (now AIA) Award. "We were up against significantly larger projects such as Greg Burgess's refurbishment of the Sidney Myer Music Bowl," says O'Sullivan, who recalls with delight joining Burgess at the podium that night. "It's extremely rewarding to get the support from your peers. We feel as though we must be doing something right," says Clarke. 
Just as commendable was the award-winning renovation of a 1940s warehouse renovation in Richmond, Melbourne. The two-level shell was transformed into a four-storey home spread across seven levels. Like the Brunswick warehouse, this home includes the use of recycled materials. Terrazzo flooring in the bathrooms was found in a recycle yard, as were the fluorescent lighting boxes used to activate the stairwell. "We wanted to create a city of lights with these boxes, but we also wanted to illuminate the stairs. Initially, the building only had one east-facing window," says Clarke. 
With awards and exposure over the past few years, Multiplicity has garnished a broad range of projects. On the drawing board is a new house at Diamond Creek. This low-budget house will eventually be rented out to low-income families. They are also currently involved in the conversion of a period coach house into a new home in East Melbourne. There is also the conversion of a bluestone dwelling into four apartments together with a new house in central Victoria. A recent addition to Multiplicity's schedule is the conversion of an old school in WestWyck (West Brunswick) into five apartments, as well as building 13 new apartments on the same site. 
"We still take on everything that comes our way. As long as the client is looking for an architectural outcome," says Clark. And although an architectural outcome is crucial for the duo, it's not at the expense of their clients' brief and aspirations. "It's important to push people slightly out of their comfort zones. But you need to be aware of their limits and aesthetics, as well as their budget," says O'Sullivan. 
Multiplicity can be contacted on 03 9388 0790 or visit http://www.multiplicity.com.au/ 
Photography Emma Cross