A classical façade blends harmoniously with a contemporary interior.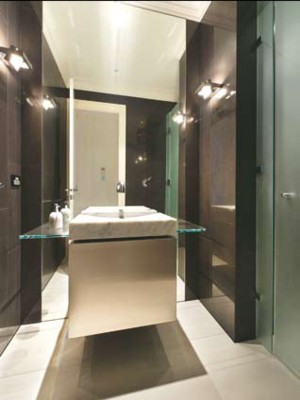 Designed and constructed by Englehart Homes, this residence incorporates a fine balance of contemporary furnishings with classical architecture. "The design is classic, contemporary and luxurious; it combines a classical façade with a thoroughly contemporary interior," says Ron Englehart of Englehart Homes. From the outside, the dramatic neo-classical elements are deftly handled to provide a pillared entrance that is both light and inviting.
Inside, a wide foyer and entry hall with vaulted three-metre ceiling creates an immediate sense of arrival into a light and luxurious space. A variance of interior architectural features throughout, such as recessed ceilings, floating bulkheads and vaulted spaces, imbue each space with a different mood. Divided into two distinct parts, the front half of the house offers an impressive lobby, square-pillared study, formal living and dining area with lofty vaulted ceiling, powder room, hotel-suite-proportioned master bedroom, resort-style ensuite and double dressing rooms. The second half of the house is an exciting reveal from the pair of glazed doors. The kitchen in this home is part of the open-plan living space. Deep storage drawers throughout keep the work surface clutterfree and it's this clever use of space that also enhances the size of the room. It's the seamless integration of Miele stainless-steel appliances and the choice of colour scheme — white surfaces offset by black accents — that further highlight this illusion of space. An island bench with sink dominates the space, allowing plenty of room to prepare meals. A standout design feature here is the oversized pantry with concealed appliance bench, supporting the sleek, clean-line look of the kitchen.
The ergonomic kitchen projects the entire home into a contemporary era, while still integrating the rest of the residence. A wing that comprises second and third double bedrooms, a luxuriously appointed main bathroom, and generous laundry are cleverly concealed behind a wall of cupboards separating the living area from the private zone. A large part of this home's appeal is the seamless integration of indoor and outdoor spaces. Every room is awash with natural light. The expansive kitchen, dining and living space is effectively doubled in size by an adjoining verandah. A continuation of the low-pitched tiled roof and dramatic overhanging eaves make this outdoor room a visual and practical extension of the main house. Accessed from full-height framelessglass bi-fold doors, it maximises space and is an irresistible place to eat, socialise and relax. A gas fireplace within a stone pillar provides an interesting backdrop and warmth during cooler nights. An adjoining barbecue unit is ideally located for outdoor entertaining.
The architectural features combine with fine Daniel Robertson brick work, and terracotta tiles ensure the house makes a stylish impression in the street. Many environmental considerations were taken into account throughout the home. Special glazing, external door seals, clever room zoning, recessed entry and concrete slab were just some of the low-energy Greensmart features. The result is a home that blends a modern interior with classical architecture. With top-ofthe- line fittings and a carefully crafted floorplan, the home is a delight to live in. Englehart Homes has created this dwelling as a place to experience luxury