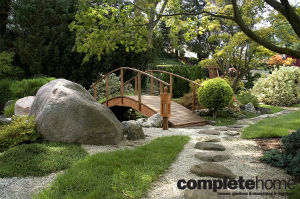 If your twin loves are sculpture and nature, make haste to the William Ricketts Sanctuary

Situated in Victoria's Dandenong Ranges, the William Ricketts Sanctuary is a place of immense natural beauty. But it's not just the fern-lined pathways and impressive stands of mountain ash that draw visitors from far and wide. It's the myriad sculptures — more than 90 of them — that peek out from behind ferns, rise up from rocks and emerge from tree trunks.
A place of near mystical qualities, the sanctuary demonstrates how art and nature are inextricably linked — and we have self-taught sculptor William Ricketts to thank. In the 1930s, he bought a four-acre parcel of land near the top of Mount Dandenong, built a wooden hut, dubbed the place Potter's Sanctuary and began carving sculptures inspired by his travels in Central Australia and his experiences with the Pitjantjarra and Arrente people.
Many of the sculptures are made of kiln-fired whiteball clay sourced from the Bendigo region but some are carved out of trees, providing surprises at every turn.
In the 1960s, the sanctuary became the property of the Victorian government and more land was added. The sculptor continued to live on the land until he passed away in 1993 when the place was renamed the William Ricketts Sanctuary.
The William Ricketts Sanctuary is located on Mount Dandenong Tourist Road, Mount Dandenong. It is open from 10am to 4.30pm and is about an hour's drive from Melbourne. For more information: www.parkweb.vic.gov.au
The amazing Amazon waterlily
For those who lean towards the tropical, a visit to the new Amazon Waterlily Pavilion at Adelaide Botanic Garden should be on your 'must-see' list. The Amazon Waterlily Pavilion, as the name suggests, houses specimens of the Amazon waterlily (Victoria amazonica). The original waterlily pond is housed in a central room and there are three antechamber galleries that serve as entry foyers and interpretive galleries.
The structure is made mostly from toughened, clear glass panels to allow optimal light penetration, supported by branch-like steel beams attached to the roof. Amazon waterlily flowers, which are white tending to soft pink, were used as a colour guide for selected glass panels and fittings.
The Adelaide Botanic Garden is located in the Adelaide suburb of North Terrace and the Amazon Waterlily Pavilion is open seven days a week from 10am to 4pm (until 6pm during daylight savings). For more information: www.environment.sa.gov.au/botanicgardens/adelaide