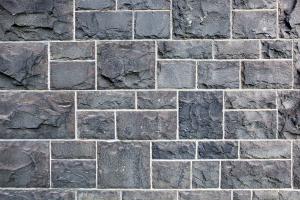 Blending strength with sophistication, long-lasting bluestone has timeless appeal

Bluestone is a richly coloured natural stone with an appealing texture and the kind of character that transcends design trends, giving it a timeless appeal. Specialising in the production of unique Australian bluestone, Victorian Bluestone Quarries describes the stone as "nature's gift".
Offering impressive slip and scratch resistance, this long-lasting stone can be used to create pavers (for both internal and external use), tiles, feature walls, wall cladding, water features, capping stones (for use on kerbs or around pools) as well as myriad other landscaping and architectural details. The possibilities are endless.
The beauty of using bluestone lies in the uniqueness of each individual piece. No two pieces are identical and this lends a character and distinctiveness that is not easily attainable in other products. By using natural stone, you will add a distinctive touch to your project that cannot be reproduced.
Bluestone provides you with a non-intrusive canvas on which you can create your landscaping dream; it will also set the base for a creative landscape design. Suitable for both classic and contemporary designs, bluestone definitely stands the test of time.
With more than 35 years experience in the Australian stone industry, Victorian Bluestone Quarries has built a solid reputation. Its state-of-the-art dimension stone facility and quarry in Lara, south-west of Melbourne is one of the most advanced facilities in Australia and it is located adjacent to the quarry to ensure continuity of supply. Diamond wire and multi-blade saws, as well as various other stone-cutting machines, allow them to manufacture Victorian Bluestone to the most exacting specifications.
While bluestone is an ideal stone for residential landscapes, it is also a hardwearing and sophisticated choice for commercial, retail and civic projects. Over the years, Victorian Bluestone Quarries has supplied various projects including school grounds, shopping centres, council paving, Flemington Racecourse and the Qantas Club at Melbourne and Perth airports, as well as many other commercial and residential developments.
VICTORIAN BLUESTONE QUARRIES
61-63 Williams Road, Coburg Vic 3058
Tel: (03) 9350 6600
Fax: (03) 9350 5262
Email: sales@vicbluestone.com
Website: www.vicbluestone.com