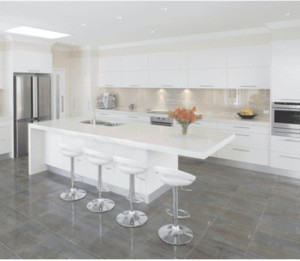 Art of Kitchens keeps it simple, sophisticated and stylish.  
To create a contemporary space, Art of Kitchens called on its in-house professional colour consultant for help to deliver its client a design that sings in both natural and evening light. Far from the closed off and cramped room it once was, this new kitchen is as delightful as a summer breeze and at the centre of a large, open-plan space looking out over a picturesque swimming pool. It sets a scene ideal for entertaining and the remarkable functionality of the design makes it up to the task. At the kitchen's core is an impressive island bench ready to cater for all types of functions or provide a place for friends and family to pull up a seat for a coffee and chat.
The sleek design hides a multitude of storage with an abundance of drawers and lift-up cabinet doors providing easy access to utensils, crockery and groceries. There's even a cabinet to hide the wine collection. This extra space and storage was made possible when Art of Kitchens brought down a dividing wall that previously sectioned the area into poky rooms; by replacing the old U-shaped kitchen with a practical L-shaped design, Art of Kitchens utilised the full width of the area to produce a chic and efficient kitchen that offers an easy and enjoyable way to live, with a breathtaking neutral aesthetic.