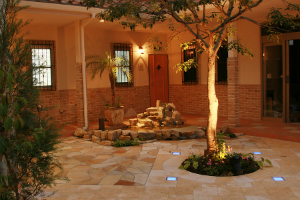 When it comes to creating a beautiful garden, size really doesn't matter

Story: Natalie Raad
Given that dimensions define the size of a space, not the style, what you can achieve when designing a small garden is limited only by your imagination. In small garden design, the trick is to work with, not against, the problems small spaces present. Although challenging, small gardens are also rewarding and with the right approach, can be everything you want your outdoor space to be — and more.
The key to making the most of a small garden is in the planning. "Small gardens demand careful planning to use space efficiently and maximise the perception of space," explains Paul Urquhart in his book Small by Design: Gardens for Any Space. "This is essential in any small space, whether it is a garden or a room inside the house."
By manipulating the viewer's perception of space, small gardens can appear larger than they actually are. This altered perception is easy to achieve by applying certain design principles.
"Landscape professionals use tools, often referred to as 'design principles' to manipulate space. These are the tricks of the trade…used well, they can make the difference between a great small garden and an ordinary garden," says Paul.
To make a small garden appear larger, place taller plants in the foreground and smaller ones beyond. This creates a visual shift and changes the perception of depth and distance in the garden.
"Transition is a helpful tool to alter perception and create the illusion of depth in a small garden," adds Paul.
In addition to making a garden look pretty, colour has another, more valuable purpose when it comes to small gardens. "Colour can impact on our perception of space, making objects appear closer or further away. It all depends on which colours you use and where you place them," he continues.
Landscape designer Nick Kennedy from Art in Green agrees. Nick believes keeping colour variation to a minimum is key in a very small space. "Too much colour can clutter a garden," he says.
In a short garden, Nick recommends using cool colours at the back and warm colours at the front. This will create a false perception that the cooler colour is further away than it actually is.
In her book, Balcony: Gardening in Small Spaces, Helen Young follows the golden rule — the smaller the garden, the better it has to look.
"The more thought you give to selecting the right colours, materials, accessories and plants to make the most of that precious outdoor space, the more pleasurable the final results will be," she explains.
It is also important to minimise clutter in a small garden. Tiny outdoor spaces benefit greatly by having hidden storage areas where things can be concealed. Screens are a good way of hiding things while having an added aesthetic appeal.
Screens also come in handy if you want to create an intimate garden space that is private with a secret feel to it, says Nick. Given that blocks are smaller and our neighbours' gardens often feel like they are on top of our own, screens help address issues of intrusion to create a sense of privacy and feeling of being ensconced within your own space.
Helen agrees and says although total seclusion is sometimes impossible in small gardens, "a sense of privacy is needed to make outdoor living spaces feel comfortable". Vines are a great way to create a screen, and can, in turn, end up being a feature of the garden.
In small gardens, using slightly smaller pavers will make the space appear bigger than what it actually is. Decking can also be overdone in a small garden, Nick says. The trick is to not make the deck too big so that it dominates the space.
When it comes to garden furniture, Nick recommends sticking to clean, sleek and simple designs. "Opt for stools as opposed to chairs in order to maximise the space you have," he says.
Incorporating built-in benches and barbecues that run along the wall will also ensure nothing is intruding into the space. Similarly, low retaining walls and planters can be used as extra casual seating.
Another important element of a small garden is focal points. Because of its size, a small garden tends to be viewed all at once, explains Nick. As such, you should create a main focal point, one main item that is the focus of the garden. "It can be as simple as a specimen plant or an urn. You could also use a wallhanging feature — but keep away from overly large sculptures as these tend to eat into the space," he says.
Paul also places emphasis on these standout elements but stresses the importance of careful placement. "A focal point attracts our attention. Once our attention is grabbed, we are generally drawn towards it and then also to the surrounding garden. Therefore, focal points need careful placement," he explains.
Focal points can also be used to draw attention away from undesirable elements, adds Paul.
In addition to making small gardens aesthetically pleasing, it is also important to be able to integrate people's particular lifestyle needs into the space. Whether you use your garden for entertaining or have small children who need a place to play, small garden spaces can cater to everyone's needs if you adopt a flexible approach to the design.
Lighting is another element that should be taken into consideration when designing a small garden. This is particularly important if your garden is used for entertaining at night. "You should avoid football stadium lights in a small garden," says Nick. Rather, using soft, subtle lighting creates a more comfortable setting. "The nice ambience that results from soft lights is perfect for entertaining at night."
Combining the indoor with the outdoor enhances the size of both the garden and the indoor area and soft lighting that flows from the inside to the outside area helps to achieve this, Nick explains. The most effective way to achieve a space-maximising indoor-outdoor connection is to have bi-fold doors that open up to link an interior living area with an outdoor deck or paved entertaining area.
To cater for young children, you may want to incorporate lawn and a play space. The key is to make some parts multifunctional, says Nick. Integrate a timber day bed in a sand pit and have a removable lid on rollers imbedded in the deck. This will maximise the space you have.
Nick believes you can actually do quite a bit of planting in a small garden. "To succeed, you first need to look at the space you have and then choose plants accordingly," he says. He suggests using a restricted plant palette to avoid the space looking too busy.
Today's garden, although shrinking in size, is increasingly becoming a sanctuary, a place where we go to unwind and relax. As our lives get busier, we are becoming reliant on our gardens to offer us an escape from the real world. With the right design principles, any garden, regardless of size, has the capability to transcend us from the here and now, from the hustle and bustle to the calm and serene.
Incorporating unity into your garden to create a coherent theme is a good way of turning your garden into a sanctuary, says Paul. "Mass planting and repetition are the simplest ways to create unity."
Following a consistent theme will result in garden unity and balance. "Maintaining consistency between the hard landscape components and planting themes creates harmony," says Paul.
Water tanks pose a challenge in a small garden, but there are ways around it. Being a small garden, the space won't need much water hence a small water tank will suffice. This can be concealed under a deck to minimise space, with slimline and modular small units integrated into benches. If you choose drought-tolerant plants, however, you won't need much water.
The limitations of a small garden need not be seen as a hindrance. Rather, with the right approach, these obstacles can make designing a small garden space all the more intriguing and the end result all the more pleasurable. Whoever said bigger was better?