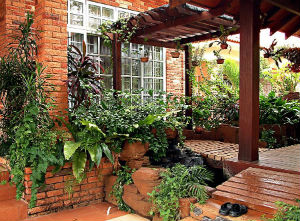 Sustainable havens filled with lush plants … garden design is heading in an exciting new direction
Story: Catherine Stewart, FAILDM
Where is garden design headed in 2008? Overall trends indicate gardens that will be more informal, kid-friendly and environmentally sustainable. Big-ticket items will be water recycling systems rather than, or at least in addition to, large outdoor kitchens and many designers are predicting gardens filled with plants rather than hard-scaping as we become more aware of our ecological footprint. Texture is still dominant over colour with timber, metal and stone essential contrasts to soft foliage masses. Here some of Australia's top award-winning designers share their thoughts about garden design in 2008.
Expect the unexpected
Georgina Martyn of BoldSimplicity Garden Design in Melbourne sees a strong move towards sustainability in garden design, not just in environmental ways such as greywater recycling, solar lighting and rainwater harvesting but in gardens that sustain our lives and souls. By moving away from more formal and conventional landscapes, we can make imaginative places for children to play and to which adults can retreat. Repetitive mass plantings will give way to unexpected combinations of more unusual plants with lots of foliage and contrasting textures balanced by harder elements of wood, stone, water and metal. Georgina also sees less reliance on clean lines and angular shapes, with circular and figure-eight shapes proving perfect for enclosing comfortable spaces that develop a soothing energy.
Gardens for living in
Matthew Cantwell of Secret Gardens of Sydney sees a trend towards embracing eco-friendly solutions in garden design that also make for more family-friendly outdoor living spaces. He feels that many people are moving on from status symbol gardens and are now putting function before form to make gardens they really want to live in. Shade, soft areas for sitting, decking and interactive natural play spaces for kids make a garden that can become the centre of family living. He sees people looking for a more intimate connection with their natural environment and appreciating clever combinations of local indigenous plants, plants that show seasonal change and beautiful small trees such as tuckeroo, banksia, water gum and ornamental pear. Allowing funds for proper maintenance is the key, he says, to protecting your investment in a new garden.
Sophisticated palettes
Jim Fogarty of Jim Fogarty Design in Melbourne sees people better understanding exactly what climate change means for our Australian gardens. While drought has affected much of the country, plant-scaping needs to be more sophisticated than just using xeriscape plants, he says, as flooding rains will inevitably arrive. Also, many will come to understand the necessity for filling their gardens with plants rather than hard-scaping as part of their environmental contribution. He sees garden owners also becoming more appreciative of the heritage value of gardens as an integral part of the streetscape in older suburbs and that the creating of a "garden" will become more prominent rather than creating a "landscape".
Extension of the home
Ted Maguire of Camouflage Landscape Designs in Brisbane feels we now really see our garden as a true living space that is an extension of our home. He sees environmentally conscious clients moving away from swimming pools, large water features and big outdoor kitchens and instead investing in water tanks, dams and outdoor pavilions. Appealing textures in good quality natural stone and metal screening will be contrasted with softer plantings rather than the strong architectural-style plants of recent years. Neutral tones of coffee and chocolate work well with current interior fashion but greys and silvers are definitely becoming more popular, he says. Pavement such as aggregate seeded concrete is an interesting trend and well-designed lighting is a must for taking the daytime garden into the night-time place to be.
The productive garden
Dean Boone of distinctive in Sydney sees landscape design becoming more focused on planting rather than hard-scaping. With drought conditions has come a greater appreciation of passive solar design principles, the need for a garden to provide shade and the value of growing your own good quality food. Good planting design can cater for all these things. No matter how small the garden, you can grow your own herbs, fruit or vegetables, says Dean. This does not mean that the garden has to be any less stylish — in fact, incorporating productive plants into garden designs will be the way of the future. There will still be plenty of room for foliage contrast and texture, flower colour and perfume, hedging and structure. The emphasis will be on creating your own sense of space in a garden that does more than just look pretty.
Connecting with nature
Wendy Clarke of Dirtscape Dreaming in Melbourne believes we're now into nurturing nature. The impact of climate change is beginning to dawn on us, and hard concrete landscapes feel so out of place now. Our desire to connect deeply with nature is unsaid, but the garden as sanctuary and place of solace is something that now feels right. Earthy connections are instant with home veggie gardens (on any scale) as we begin to take control of household budgets. Vertical garden developments mean no one misses out. Wendy says we will breathe relief at more soft-scaping and design spontaneity. Our respect for natural materials will take knotted timbers into an art form, recycled metals and stone into a softer organic finish, and trees will finally have their place back as shade structures.
A sense of invitation
Janine Mendel of CultivArt Landscape Design in Perth sees the continued evolution of the contrived landscape in accordance with the design of more environmentally sustainable housing. As we try to contain our urban footprint we will still be dealing with small outdoor spaces, however, we will discover the innate beauty of our own indigenous plants and use these in unusual combinations and as sculptural focal points. The return of the tree as a desirable commodity is imperative for our harsh, water-impoverished country. Gardens will be less "sharp edged", though there will still be a need for structure. Outdoor rooms will give way to "gardens" and the softness and sense of invitation that encompasses that notion. The use of stone, wood and water will still be prominent but we will use these elements in pleasing combinations to merge with the landscape rather than as stand-alone features. We will want to create spaces to not only look at, but to be in — cooling, inviting and environmentally sustainable.
The garden sanctuary
Georgia Harper of ghld in Melbourne sees gardens having a more important focus in modern life. The garden will be a place where people can retreat from the pressures and manic pace of their "outside" life and focus on their "inner" life. Georgia predicts lush dark foliage, sculptural trees, soft leaf textures and fragrance will be complemented by comfortable, casual furnishings and soft lighting at night. In short, gardens will be become a safe haven where true relaxation can take place, either by oneself or with friends. People are realising that creating such a space is within the means of most and that it has the ability to enhance our quality of life on a daily basis, giving us a healthy home environment and creating an important buffer zone between us and the world.
Farewell to minimalism
Peter Bachak of Osmosis Design in Sydney sees the end of the stark, minimalist garden. By carefully blending the exterior with the interior, Peter feels we can create gardens that are more individual and nurturing and that better reflect an outdoor living ideal that matches our climate. Planting and maintaining trees should be a fundamental part of that, as they give the garden the essential design aesthetics of framing and screening. Texture contrasts will tend towards sandstone random walling and paving and elegant metal screening. Water features and outdoor cooking are here to stay but will be smaller and simpler. Grasses are not always reliable so clever combinations of clipped and informal shrubs will become more accepted as a great drought-proof way to make beautiful plant pictures.
Combining old with new
Scott Brown of Scott Brown Landscape Design in Melbourne sees the effects of climate change and the ongoing drought becoming better understood. As familiarity with the issues increases, so will people's awareness of the many techniques open to them for having an outdoor environment that is not only sustainable but visually stimulating and functional. With improvements in rainwater storage, greywater treatment and soil improvement technologies, not to mention surface treatments like mulching, Scott believes the drought-tolerant garden of the future will enjoy a broader palette of plants. Combining exotic, native and indigenous plants (within horticultural constraints) will enable the "old" to be mixed with the "new". This in turn will open the way for gardens that blend with a wider range of home designs and architectural styles.