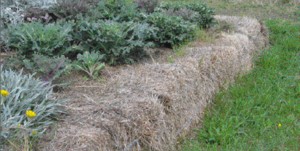 By Donna Macpherson
Here's a fantastic option to consider for growing vegetables, especially if you have poor soil or no soil: it's the no-dig method. This is a particularly fast option as you can construct and plant a no-dig garden from scratch in just one day. There is no removing grass from your site, no digging, no improving the soil, no borders or beds to build. You can even construct your no-dig garden on concrete if that is your only option. The no-dig garden constructed the way we do it will provide your organic vegetable patch with all the nutrients it needs to grow fabulous fresh produce for all the family. The only downside to this type of vegetable garden is it can be a little expensive to buy enough lucerne and compost to get you started, and you will need to plan ahead to source enough newspaper to put down as your first layer. But once you have it established you'll be amazed at the results.
Contructing a no-dig garden
1. As with conventional vegetable beds you will need to site your no-dig garden in full sun. If the position you have chosen is full of grass or weeds, mow them as low as possible. If you are constructing your garden on concrete, begin with a layer of sticks and leaves to give drainage.
2. Next, whether working on grass or concrete, cover with a thick layer of overlapping newspaper or cardboard to about 1.5cm thick. Wet this layer.
3. Now add biscuits of lucerne hay butted up together till you have covered the entire bed. Water again.
4. Next, add a generous sprinkling of manure, blood and bone or organic fertiliser over the entire bed. Water again.
5. Now add another layer of thick lucerne or pea straw (anything up to 20cm thick) and water again.
6. Add another layer of well-rotted animal manure sprinkled over the top and water yet again.
7. Now make partings in the straw or lucerne and fill the divots with compost and plant into these pockets.