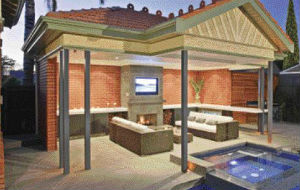 A successful marriage between Federation architecture and modern landscape design
Owning a magnificent Federation-style home is to be envied, but creating a garden that complements the architecture yet caters for today's outdoor lifestyle can be tricky. When the owners of this property decided the time was right to update their rear garden, they looked no further than award-winning designer Steve Taylor of Creative Outdoor Solutions and his expert construction team.
The owners wanted to renovate the dated pool and its surrounds to create a stylish entertainment area that would include an outdoor room, fireplace, barbecue, spa, sun decks and state-of-the-art inclusions such as an outdoor TV and sound system, but they wanted the new design to stay faithful to the integrity of the period and style of the home. Cleverly, Steve created a design that meshes the traditional look and feel of the old with the modern, clean undertones and technology of the new.
Put simply, the transformation is breathtaking. The alfresco lounge pavilion boasts a cosy bluestone fireplace made for entertaining, commercial bar fridges, plasma TV and state-of-the-art sound system, as well as a large stainless-steel barbecue complemented by well-crafted cabinetry.
The stunning symmetry of the spa adds to the modern feel of the space, while the two sundecks add to the multifunctional nature of the overall outdoor entertaining area.
For the planting, Steve decided to use a mix of traditional-style plants and old favourites, including Buxus spheres, Hellebores, fragrant gardenias, crepe myrtles, climbing Gold Bunny roses and the new Magnolia grandiflora 'Teddy Bear'.
For all the stone work throughout the project, Steve opted for bluestone supplied by KHD Stone Merchants. This high-quality natural stone, which was quarried in Victoria, was custom-cut to order to ensure a meticulously constructed end result. For example, special 80mm-thick pool coping, the fireplace hearth and mantle were all custom-made with millimetre precision. To complement these precision-cut pieces, the raised garden bed wall features bluestone off-cut strips.
When designing the landscape, environmental considerations were uppermost in Steve's mind. A 30,000-litre underground tank was installed along with a rain sensor-controlled drip-irrigation system that replenishes all garden beds.
Since 2000, Creative Outdoor Solutions has been designing and building masterpiece gardens in and around Melbourne, country regions and recently interstate. Concept designs, working drawings, liaising with town planning, obtaining building permits and liaising with engineers are just some of the services they provide. When you combine their full-service design and construction capabilities with their knowledge, commitment, skill and professionalism, it comes as no surprise that Creative Outdoor Solutions has won a multitude of state and national awards.
Project details
Landscape design and construction by Creative Outdoor Solutions Pty Ltd PO Box 99, Glen Iris Vic 3146 Phone (03) 9764 8788 Fax (03) 9764 1288 Mobile 0409 597 707
Email steve@creativeoutdoorsolutions.com.au Website www.creativeoutdoorsolutions.com.au Stone supplied by KHD Stone Merchants 1279 Malvern Road, Malvern Vic 3144
Phone (03) 9822 2748 Email khitchcock@ozemail.com.au Website www.stonemerchants.com.au Photography by Tim Turner