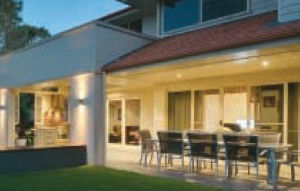 A unique feature wall creates a stunning backdrop for a contemporary entertaining area
For the owners of this home in the eastern Brisbane suburb of Carindale, a new entertaining area and courtyard style garden was the order of the day. They had already embarked on some building work to extend their covered alfresco area and had replaced their back fence with a new block wall, but then they were stuck. To complete the area which would be seen from many rooms of the house and become an entertainment centrepiece, they realised they needed professional design advice so they turned to Utopia Landscape Design.
"My first goal was to extend the undercover space to integrate with a sitting area," explains Aaron Worth, founder of Utopia Landscape Design. "To achieve a seamless effect, I used the same floor tile. Family or guests can now sit comfortably near the cooking area or the outdoor dining area rather than being separated, as is often the case.
"The large bench seat is constructed using a combination of rendered concrete block and a removable timber top for easy maintenance. It defines the space, invites use and leads the eye to the garden and the features beyond."
The block wall had been painted to match the house, but the creamy yellow colour wasn't right for the new landscape. "We changed the colour to something sophisticated and understated (Colorbond's Woodland Grey) that would harmonise with the paving and I decided to turn the wall into a design feature in its own right. Three feature panels were custom-built for the wall. Each was designed with a stainless steel frame and feature tiles with a metallic copper appearance."
The panel closest to the sitting area was deemed the perfect backdrop for the water feature and the sound of running water from the custom-made stainless steel spout provides great ambience.
While some original plantings still remain at the fringes, tropical plants such as Cordyline 'Rubra', Cordyline 'Pink Diamond', giant bromeliads (Alcantarea imperialis 'Rubra'), black mondo grass (Ophiopogon japonicus 'Nigrescens') and variegated mondo (Ophiopogon jaburan 'Variegatus') provide contrasts of vibrant colour and form. A large on-site water tank supplies the automatic irrigation system, which gives the owners peace of mind and looks after the gardens and the lustrous Velvetene turf which was used for the lawn.
Outdoor lighting has achieved a beautiful result in the garden and entertainment areas. The lighting scheme utilises down lights, single and bi-directional wall lights, garden spots, underwater lighting and ground mounted lights fitted flush with the tiling. LED fittings have been used wherever possible to minimise overheating and energy consumption.
Project details
Landscape design and construction by Utopia Landscape Design PO Box 4015, Gumdale Qld 4154 Phone (07) 3890 1400 Mobile 0419 665 402 (Aaron Worth)
Email aaron@utopialandscapedesign.com.au Website www.utopialandscapedesign.com.au Photography by Glenn Weiss