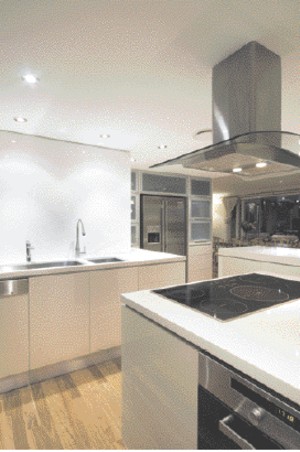 This well-appointed, eco-friendly kitchen provides the ultimate cooking and entertaining experience.
Recognising the need to blend the kitchen with the existing décor of this Mediterranean-style home, Sublime Cabinet Design was conscious to preserve this flavour throughout the renovation.
Earthy tones, such as the pearl-finished two-pack paint on the cabinetry, were selected to enhance the existing surroundings. The gold light reflecting off the doors provides the space with instant sophistication while the marble and timber surfaces bring the design back to its natural riverside setting.
This design provides this busy family with innovative storage solutions in its use of drawers in lieu of cupboards to offer a more ergonomically sound use of space. Thanks to appropriately placed storage inserts, every utensil is within easy reach while cooking or entertaining.
An expansive pantry, which doubles as a place to use and store everyday appliances, is hidden beautifully behind frosted glass doors that glide open and closed seamlessly with the clever use of a recessed track in the timber floor.
Every entertainer's dream is created with the front island housing a Vintec wine fridge and beverage centre. The large section of essa stone in this front island makes even the largest gathering a dream to cater.
With quality European appliances, ample storage and designated preparation areas all wrapped up in an attractive sustainable design, Sublime Cabinet Design has succeeded in creating the owner's dream kitchen.
Details:
Sublime Cabinet Design
Phone: (07) 3715 6009 begin_of_the_skype_highlighting            (07) 3715 6009      end_of_the_skype_highlighting
Fax: (07) 3715 5003
Email: admin@sublimegroup.com.au
Address: 6/45 JiJaws St, Sumner Park, QLD, Australia, 4074