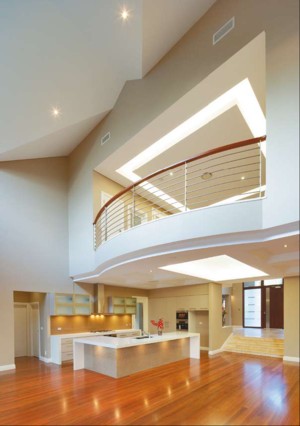 The 2004-square-metre block and 13-metre slope challenged the design. "The steep site meant that a design was required to make full use of the land in a practical way and incorporating tiering was the ideal solution," says the principal of Livbuild, Michael Rimac.
Not only the solution, but the idea to introduce different layers comprising the tennis court, pool, lower patio, two grassed levels and three levels of the home at the rear also proved to be the major feature of the property. As a result of the slope, the land at the bottom level was designed to be the home's entertainment centre with a billiard room, theatre room, wine cellar, sauna and a bar that can serve inside and out through the use of servery windows and a marble shelf. The living and bedroom levels of the home were designed as open-plan living, with a large outdoor alfresco area. The design incorporates large open spaces in the foyer, kitchen and family room area and a retreat area on the top floor. This exquisite home has five bedrooms, five bathrooms, a study, formal lounge and dining, kitchen and family room. The large six-metre-high foyer area with a unique front entry is a standout feature for the home. This space is finished off with travertine marble floors, unique ceilings and lighting, an oversized timber front door and glass entry. The adjoining kitchen, meals and family room has a ceiling height of eight metres. Both of these areas introduce natural light through glass gables that follow the shape of the raked ceilings. Another key feature is the installation of a home automation system. With a main control room operating from the study, it can be upgraded easily to accommodate integrated TV systems, audio, security, and a computer main frame that can simultaneously run all the home computers and automation.
The design and construct project was managed and built by Livbuild. Established in 1991, the company specialises in custombuilt luxury and prestige homes, extensions and refurbishments, pools and landscaping and difficult steep sites. Michael Rimac of Livbuild and local architect Russell Scott worked together on the home design, achieving great success. Originally built as a display home, this modern-classic design showcases the quality and scale which Livbuild is capable of achieving. With an emphasis on light and space, the home doubles as both a family retreat and an entertainer's delight.