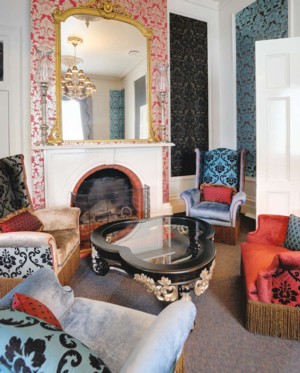 Mark Wakeling of Timeless Interiors recognised enormous potential in a weathered building in the Victorian regional city of Warrnambool. With the general structure and layout of the building remaining intact, the main focus for this major renovation lay within its interior.
"The interior décor has been reworked with the original history and integrity of the building," says Mark. The client brief for the project was to give the property a complete upgrade, creating a warm and welcoming space that doubled as an entertainer's retreat. The body of work consisted of a complete interior fitout of the casual and formal dining room, living spaces, front entrance hall and foyer. The exterior of the building has also been revamped with a stunning paint colour scheme to make a more welcoming façade, hinting at the opulence of the interior design. The colours and fabrics selected for each of the rooms were carefully chosen for their opulence and dramatic impact. These furnishings complement the building, further highlighting and creating an individual sense of style and flair that reference European interior design. The colour of the building's original exterior was very neutral and bland and the building had little street appeal, according to Mark. For Timeless Interiors, it was imperative to choose a heritage colour scheme that would make the property stand out, becoming more prominent and attracting the attention it deserved. The careful positioning of each colour was equally important to create balance and highlight the best features of the building. As with any successful interior design it was important to create a balance and flow from room to room using beautiful fabrics, dramatic colours and stunning furniture.
Using the highest-quality furnishings, Timeless Interiors created an opulent and luxurious interior space that held a sense of grandeur and splendour. For Mark, one of the standout features of the design is the clever use of custom-designed and upholstered chairs and ottomans that were positioned carefully and collectively, spread throughout many different rooms. "We used a combination of King William high-back wing chairs and lower-back parlour chairs. The chairs feature matching scatters and opulent fringing around the base," he adds. The French-inspired wall panelling with wallpaper inserts is another feature that further complements the colours featured in the fabrics. Timeless Interiors has thought about every detail, from selecting floor coverings and feature lighting (which includes chandeliers and lamps) to designing and manufacturing an array of luxurious window furnishings. "We've brought the building back to its former glory, injecting a sense of style, elegance and beauty into the interior spaces while maintaining the history and integrity of the heritage-listed building," Mark says. "I believe we have created a beautifully unified and balanced interior space that will maintain its grandeur for many years to come." It's true what they say: everything old becomes new again — just take one look at this newly renovated building.