Create your own pool room and spend more time enjoying the great outdoors.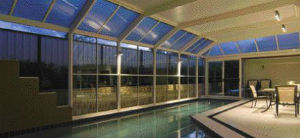 Imagine spending more time in the pool this summer without having to worry about the sun's harmful UV rays. Imagine enjoying a refreshing drink by the pool or on the patio after a hot day at work without having to worry about being eaten alive by those fun-destroying mossies or midges. Imagine not having to spend the first couple of hours each weekend cleaning the pool before you can use it.
There are many benefits to having a Suncoast enclosure, starting with pest elimination. Each enclosure is individually designed to cover your pool and/or patio area, in most cases without any internal posts, so insects such as mosquitoes and midges can't get in. It will also stop other unwanted visitors such as toads, ducks and snakes.
Minimal maintenance is another benefit. Each enclosure stops leaves and other debris from entering the recreation area, freeing your time for more enjoyable pastimes than pool cleaning. Because the frame is constructed from powder-coated aluminium, very little maintenance is required. Unlike a wooden patio, it needs no re-painting and will not rust as steel has a tendency to do.
Depending on the roofing materials, enclosures can reduce the effects of the sun's rays by 30-100 per cent. This means that the family can enjoy more time outside or in the pool without having to worry about sunburn. All you need to do is incorporate a full or partial weatherproof roof and walls to reduce the effects of wind, and you will be able to spend more time outdoors, in both summer and winter.
Increased resale value is another important benefit. Each enclosure is custom-designed to suit the style and colouring of your house so it looks like part of the home's original design. This ensures that your investment in the original property as well as the enclosure itself is not only preserved but increased.
For more information visit www.suncoastenclosures.com.au