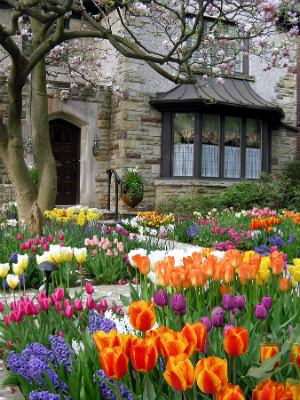 How to imbue your garden, large or small, with a touch of intrigue and romance
Story: Dean Boone, MAILDM
Romantic gardens are about creating a deeply defined mood. They are not always tidy but instead often ramble, roll and flower with the seasons. Most of all, a romantic garden has an air or mood about it that draws you in, makes you forget and entices you to linger.
A romantic garden can take on many forms and can be achieved in just about any climatic zone. There are no strict rules about what should be included and, as a designer, it's a style of garden I find lends itself to any form of architecture — from the sleek and modern to classic Georgian or colonial — and that makes it a very exciting style of garden design to work with.
The romantic garden movement is not new and had its roots in traditional English and European garden styles. The original peasant cottage garden was the prototype, where everything and anything was planted. Plantings were mixed and matched in no particular order within a limited space to create a delightful and simple garden.
The modern romantic garden is about capturing the feel and look of this intermixed tapestry of colour and texture. It may be a meadow garden of red poppies along an unmown grassy drive or a flowering perennial bed with successions of seasonal colour. Each garden creates and evokes a romantic mood; it's tantalising and stimulating to the eye with visual texture always being the key.
Romantic gardens can adapt to any location. In Australia, we have a wealth of flowering plants that can be incorporated into this style, and drifts of paper daisies would have to be one of my favourites. Sweeps of elegant kangaroo paws and a plethora of other foliage shapes and colours can all be found in our own backyards.
I think, too, that a romantic garden reminds us of our grandparents' gardens, when landscaped gardens were unheard of and people just planted whatever they loved; an era of simple times and simple ideals.
Romantic gardens are for gardeners, not people who want a landscape. The difference is these gardens allow you to visit your local garden centre at any time of the year and grab just about anything that captures your eye. One way or another, you'll be able to work it into your own little design.
A romantic garden is always evolving and changing and that's perhaps what makes them so enduring — there is always something more to do in them and that's just what real gardeners love. A romantic garden utilises plant material very carefully, the aim being to create soft lines, a restrained use of flower colour and masses of the many shades of green.
If you're starting out, select a simple colour palette to work from. The simplest is to offset silver-grey foliage with green for year round interest. I would go for drifts of something like clipped native rosemary and sedum (a flowering, low-growing succulent) and then just layer your colours of pink flowering roses and blue salvia or drifts of pincushion and white waratah. Layering flower colour onto a backdrop of foliage colour and structure can be easily achieved with just a little forethought.
Hedges are our way of taming nature and, if you really aren't that keen on too many rambling plantings, add some hedges for structure and form. The result will be instantaneous and the neighbours will think you're a genius.
A romantic garden just has to have something in it that will self seed at random. My favourites are poppies and cosmos (a daisy-like annual), which both feature bright, bold flower heads, but I have found rocket to be absolutely brilliant. It produces nice little white flower sprays and, best of all, it's edible. On that note, most herbs make a great addition to the garden, so always use some thyme or oregano somewhere for colour, foliage and flower interest.
If you really aren't that good with your plants, perhaps you'll need to get some professional help. I can put planting combinations together in my sleep, but for others the language of gardening is quite foreign and that's where designers can really help you.
Romantic gardens are about passion, sensuality and the love of all things green. Throw out the sharp geometric lines and rectangular lawns and start planting a woodland or a meadow. Give me colour and texture by the bucketful and drown my senses in fragrances of lavender, rose and gardenia. Romantic gardens are for real garden lovers and lovers of real gardens.
About the author: Dean Boone is a Sydney-based garden designer and founder of Distinctive Gardens & Interiors.